Artist Spotlight: Forester McClatchey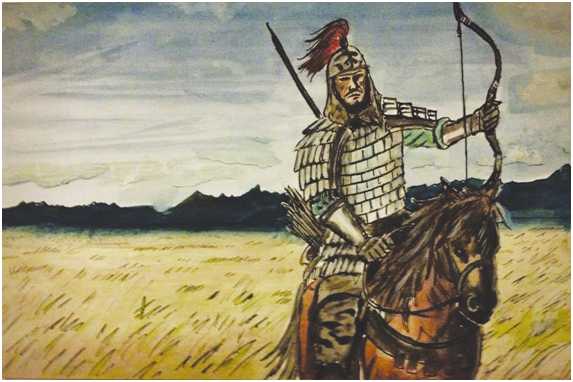 Since the sixth grade, senior Forester McClatchey has been working to master the arts. His path through the arts has led him to drama, painting, sculpting, and even to the written word. He began his artistic career with the creation of a leopard mask in Mary Cobb's art class, a piece that now sits on permanent display in the junior high.
According to Cobb, McClatchey's ability to focus was key to his success.
"You can imagine a sixth grade art class is pretty busy," Cobb said. "For some people it could be very distracting, but not Forester. He was zeroed in on what he was doing."
Ultimately, his focus led to the creation of the mask that inspired McClatchey and allowed him to continue his artistic career at Westminster.
"That was the crux of me realizing that what I was doing could be appreciated," McClatchey said, "rather than it being something I had to pursue completely on my own."
As he entered high school, McClatchey got involved with Evolutions, exploring writing as a way to express himself.
"My favorite form of art is creative writing," McClatchey said. "Especially poetry and creative non-fiction."
McClatchey credits his passion for writing to the various English teachers he's had over the years, but he credits his junior and senior year English teacher, Maggie Blake, with helping him the most.
"I would come to [Blake] with a poem, and she would read it and give me feedback. She made me go outside my comfort zone in terms of writing things that were a little more unconventional."
Furthermore, McClatchey's interest in the arts extends to his recent involvement in theater. In fall 2011, McClatchey played the role of Chuck, a flamboyant assistant of Roger Debris, in The Producers, after a spontaneous audition for theater director Eric Brannen.
"I came to support [senior actors James Franch]," McClatchey said. "Mr. Brannen made me audition, and then gave me a pretty good part."
The musical along with its touchy subject matter ended up helping McClatchey, as it freed him to be less dependent on the judgment of others in art.
"I guess [the subject matter] inspired me to not be afraid of disapproval in art," McClatchey said. "I mean, there were a lot of people who were actually horrified when the play came out that it went too far."
McClatchey now finds himself working hard off the stage as well.
"Now," said McClatchey, "what I'm enjoying more is directing."
McClatchey agreed to student direct Almost, Maine after being approached by Blake. He believes there is some correlation between acting and directing.
"I think when you're directing, you need a little acting knowledge," McClatchey said, "but [directing is] more about the vision."
This year, as McClatchey finishes up his high school experience, he is taking an AP art course, a goal of his for quite some time. His dedication to the arts is not overlooked by his current art teacher, Ben Steele.
"I think the thing that jumps out to me most," Steele said, "is that he approaches his work with a real sense of purpose."
As many of his former teachers and advisers have attested, it is his sense of purpose that drives McClatchey to continue on his artistic journey. His diverse range of talents span multiple arenas of creativity and bode well for his success for the future.