Weaver innovates with art
Interrobang. This is the concept of a question mark combined with an exclamation point that visual artist and dancer Damari Weaver centers his work around.
"I would like for [my work] to be awkward, [like] that question mark part of it," said Weaver. But, [I also want] people to get excited about it, and still like it, just like an interrobang. When you're reading it, you think it's a question mark and people tend to overlook it. But the people who dwell on it will see the importance of it and grow to appreciate it. I want [my art] to look simple, weird and awkward at glance, but if you appreciate it, it can be cool."
Benjamin Steele, Weaver's AP studio art teacher, also mentioned this thread of uniqueness. "Damari always comes from a different place. His ideas are incredibly intense and very labored over, very well thought out," said Steele. "You'd probably be able to look and guess that a piece was his without knowing that he did it"
Senior K.K. Huang, co-captain of the dance crew Cloud 9, remarked, "Damari's style, it's pretty unorthodox. There are some basic moves that you usually see, and he kind of changes it up so it looks sort of weird in a good way."
Weaver, passionate about dance as well as visual art, does not confine himself to just one form of art.
"I really enjoy dancing more than art, though," said Weaver. "I like the moving and I don't always trust my artistic talent. I've been doing art since I was two, [but] I guess I was doing it because everyone said I was good at it".
In contrast to his visual art experiences, Weaver's interest in dance is more internal. "I was watching America's Best Dance Crew," Weaver said. "I was a sophomore, and my friends were in a dance crew here, [Cloud 9]," said Weaver. "I saw them dance and I thought it was really cool and wanted to join, and I did the next year." He barely knew anything about dancing at the time but according to Huang, he learned quickly.
"[His style] features a lot of bone breaking, waves, and isolations," said Huang. "When he comes up with choreography, he is very meticulous: he always tries to hit every beat, tries to be right on the lyrics, and portray the lyrics."
Weaver is not only a talented artist, but also one artist dedicated to his community. This summer, he interned at the High Museum as part of their Teen Team program.
"Teen Team is a program for 15 teenagers who come together and try to get other teenagers involved [with] the museum," said Weaver. "Over the summer we worked every day during the week, learning about how the museum works and different areas of the museum. We're trying to get people to recognize that the museum is not just for stuffy old people."
Weaver has been involved in the implementation of such projects as Teen Night at the High, and the Beltline. Additionally, he is part of the Sustaining Community group, a new club started by Steele. The club consists of 16 students and meets monthly to visit a public space or an event linked to art and the community. Weaver tries to bring the philosophy of interrobang into all of these extra art-centric pursuits.
"I think that one of the things that impresses me most about him is his involvement in creativity in a lot of ways. He's just one of the students [for whom] that is the connecting thread throughout all the things he does," said Steele. "There's a very internal sense of motivation here. You don't have to twist his arm to get him to work hard. He's here because he wants to be."
About the Contributor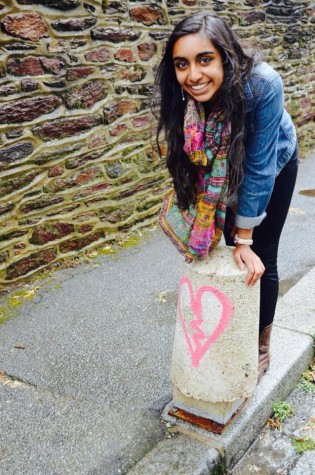 Tara Subramaniam, Head Editor
Head-Ed Tara Subramaniam (12), loves to travel, learn new languages, write, run and read. She is a self-proclaimed social media junkie, and she strives...