Kevin Dodt drops filthy beats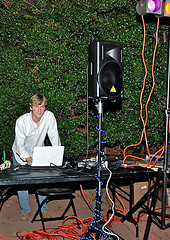 The sound of a heavy bass reverberates across Westminster's campus. On Love Patio students jump and dance to the familiar beat of "Party Rock Anthem." Between two large speakers sits a table where senior Kevin Dodt works, choosing songs to play, taking requests, and making sure a continuous stream of the most popular party music flows through the speakers. With lots of experience mixing beats for high schoolers, Dodt has become a staple of Westminster dances.
Dodt first got into deejaying by chance as a sophomore when he talked to Robin-Lynn Clemmons, who was student events chair at the time, about his potential interest in deejaying. Two months later, Wiley Ballard, a classmate of Dodt's, talked to him and had him submit a list of 300 songs. After that, Dodt became the unofficial school DJ and started helping out at dances.
"I just went for it," said Dodt. "I was surprised at how well it went, because I had never had any experience deejaying."
While Dodt has been an important element of school dances all the years he has spent as DJ, his methodology has evolved since sophomore year. He has replaced the old methods of creating playlists with a more active deejaying technique.
"Now I start off with what will get people in the mood and excited about the dance and then break into the more party songs like 'Disco Pogo,'" said Dodt. "Also, I didn't use to take suggestions very much because I thought I knew better, but after two dances I got a lot better."
With a combination of confidence and experience, Dodt was able to figure out early on how to successfully DJ.
"I was surprised when I got into it that it wasn't that scary. It's sort of like having to speak in an assembly, except for three hours long," said Dodt. "If you have enough confidence to stand up and say, 'I think this is going to turn out well,' it usually does."
For Dodt, being a DJ extends beyond just playing music at parties. Maintaining equipment, finding music, and preparing for the dances keeps Dodt busy.
"I probably buy 50 or 60 songs a month so I don't have to search for the songs that are popular, I just have them all."
He also notes that he has to pay attention to picking songs that are a mixture of popular, upbeat, and school appropriate. In addition to collecting music, Dodt prepares for deejaying with upkeep of equipment. He owns all of his own equipment, including the speakers used at dances. A lot of his job focuses on taking care of his equipment as well as knowing how to set up and what to do if something goes wrong, such as a problems with the power.
Dodt's interests have expanded, and they now include the planning and decorating side of dances as well as the music. He has many ideas regarding more interesting set ups to the dances.
"I really want to have a dance in Broyle's Foyer, because it's one of the more clubby, intimate locations on campus," says Dodt. "Ideally there would be one or two smoke machines, black lights, and a laser machine to decorate."
Dodt's favorite part of deejaying is the end result.
"The payoff for me is seeing everyone freak out when you play that one song," says Dodt. "There's always one song people ask for and ask for and you just have to reassure them that it's coming, and then it's great seeing everyone's reaction when you finally play it."
After three years, Dodt still hears about new songs every dance.
"Half of the songs people request I haven't heard of, " says Dodt, "But every now and then a great song comes through that I don't have, and I end up playing it and loving it."
Well into his senior year, Dodt is focused on his future plans in the music business and the legacy he will leave behind at school.. Freshman Remi Matthews is currently Dodt's apprentice and is preparing to fill Dodt's role next year.
"There's only so much advice you can give," said Dodt, reflecting on his teaching. "There's no manual you can give on how to throw a good party. I feel confident because from what I've heard about him, he's in a good position to take this role on. He does his own deejaying on the side and seemed enthusiastic about it."
As for Dodt, he is going to Belmont University in Nashville to study in the music business program, a degree designed for people interested in a music label, or as a manager or agent.
"A lot of people consider Belmont 'the other Vanderbilt,'" said Dodt. "It's another good university in Nashville, but Vanderbilt seems more aimed toward medicine and law, where Belmont is a more creative school and has a great music program. It's crazy because in this kind of music program you have the opportunity to work with people who know people in the music business, from Faith Hill to Carrie Underwood."
Dodt has contributed to the Westminster community greatly through his work as a DJ for school events. Many who have enjoyed the dances will be sad to see him go, but Dodt's leadership ensures that the service he has done will continue. As new members of the community step up to fill the role of student DJ, Dodt will continue pursuing his interest in music through college.