Steele's Art Show Inspires Curiosity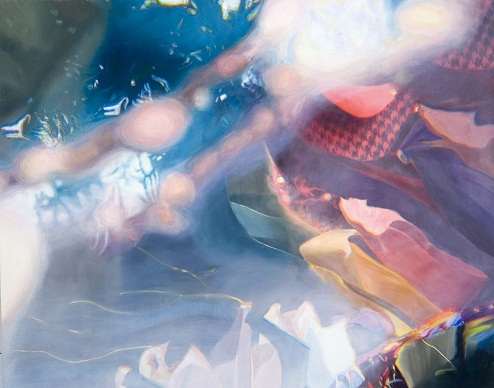 Art teacher Ben Steele hopes that viewers will be somewhat mystified upon looking at the paintings in his series titled 'Sixteen Sided Crystal.' The show, which opened on Dec. 9 and will run until Jan. 28, is located at the Kiang Gallery.
"I want them to be confused as to how it was made," said Steele. "Not just what it was that I was painting, but even in terms of categories: was it natural? Was it constructed? Is it synthetic or digital?"
In reality, the process behind forming the distorted images in his paintings is quite complicated. Using mostly paper, he sets up landscape-inspired scenes in his studio and then takes photographs of them through a crystal. This process creates images with aspects such as distortion and repetition. Finally, he uses oil paints to transfer his photographs into paintings.
Steele, who started painting seriously during his junior year of high school, has dabbled with different kinds of projects through his experience.
"You don't just want to come up with an idea that you will be happy working on for a year, you need to come up with something so interesting you can work on it for ten years," said Steele, quoting advice he had received from professors throughout the years.
Steele thinks he's found his "ten-year idea" in his prism and crystal distorted images.
"The work right before this series was based on a similar process. In grad school I did a whole series titled 'The Garden,'" said Steele. "They were all of images of my actual garden, but seen through a prism. They felt like these really huge landscape spaces, you couldn't quite tell where the space was, there were all kinds of distortion."
For Steele, art shows are nothing new. His first art show was at an art collector's house during his sophomore year of college and was comprised of assignment-based artworks he had completed in class. "When you're in school, usually you're responding to assignments," said Steele, comparing those original pieces of art to his latest. "When you really become an artist, it's like giving yourself an assignment. Sometimes that's the most challenging part."
The sense of surrealism, or the estrangement of the generally accepted reality, has taken a part in his artwork ever since he's had the chance to give himself his own assignments.
"While my work is still evolving and changing from series to series," said Steele, "there's still a really strong connection between what I'm doing one year and the next."
One thing Steele is looking into for future works is the way visual effects cinematography was done before modern digital manipulation was invented.
"They used rear projections, and mirrors, and smoke, and all this stuff," said Steele. "I'm looking into ways that I can create things that look impossible, actually physically there, and be less reliant on one object or device to do so."
In Steele's paintings, the images appear to be products of modern digital editing.
"A lot of the distortion that you see that you sort of interpret as Photoshop, or digital, or something that has been digitally messed up in some way is actually created by the object, like a crystal," said Steele. "I think painting is really about what an individual can accomplish in the physical world. In my own way, I rival what I see as being really interesting and eye-catching in other media, and I prove that all special effects originated in the physical world."
In his eighth year of teaching, Steele deliberately tries to connect his students to people he's met through his experiences as a professional artist. Students in his AP Studio Art class experience things such as getting to go to artist's studios, meeting art curators, and seeing private art collections. Every year, a visiting artist has had an art show in Broyles gallery and gotten to work with some of the more advanced students on projects. While Steele's life as a professional artist helps his students, being a teacher also helps his professional life.
"On the one hand, being involved in academia connects you to people constantly. I think sometimes artists can be very isolated, on their own, and being engaged with my students and dialogue about critiquing, and talking about work, [help] to make it better," said Steele."Sometimes I'll think about something, an assignment I've given, or how students' responses to it could affect my own work."
Even as Steele's connections to other artists affect his students, his position as a teacher helps build relationships with other artists.
"I think that it's a really good platform to connect myself to the art community, too," said Steele. "Since I am a teacher, I can contact somebody and say, 'Oh, I saw this show, and I would really love to take my students here, because I think it would benefit them.' Every one [is] always willing to talk to students. It's a good way to give my students really authentic and real experiences. For me, it's a good way to meet some people I wouldn't otherwise."
About the Contributor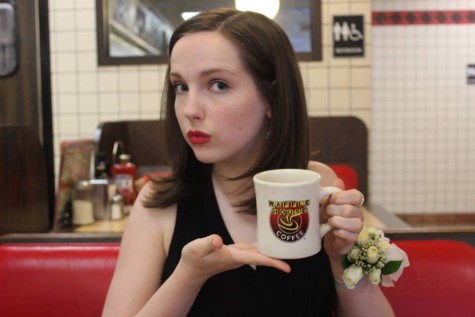 Laura Russell, Online Editor
Laura Russell is the Online Editor for the 2014-2015 school year. When she's not updating the Facebook page or inputting new Bi-Line articles, you can...