Artist Spotlight: Turbayne wows world with oboe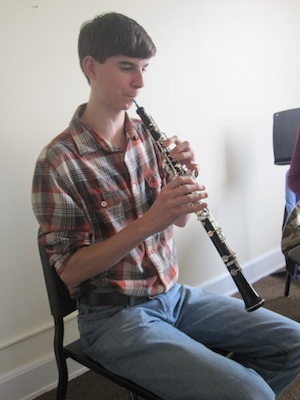 Senior Graham Turbayne loves a challenge. That's what prompted him to start playing the oboe at age 11.
"The oboe is an especially difficult instrument," said Turbayne. " primarily because it has a reed consisting of two pieces of cane rather than just one, creating a unique and mellow tone."
The warm, harmonious sound of the instrument was what captured Turbayne's attention seven years ago, and he hasn't looked back. Beginning his musical career in junior high, Turbayne owes much of his success to band teacher Scotty Jones and high school band director Freddy Martin.
"Mr. Jones taught me that the opportunity to make music is truly a gift worth working for and that it can be extremely fun," said Turbayne. "whereas [Martin] showed me that a persistent, thoughtful approach is a key to success both in music and in life."
Although it's difficult juggling academics, band, and extracurricular activities, Turbayne says that keeping music a priority in his life has been "one-hundred percent worth it." His dedication and devotion has surely paid off, as one can see in his precise, engaged playing during band concerts and performances.
While Turbayne does not plan on becoming a music major, he certainly is looking forward to auditioning for one of the performance ensembles at Duke, where he will be a freshman in the fall of 2012. He even plans on joining Duke's marching band and is being taught tenor sax by Mr. Jones. New and different experiences such as marching band keep Turbayne excited for whatever his musical future holds.
"Finding a passion or hobby that's the perfect balance of an ongoing challenge and a fulfillment of one's curiosity and joy makes life infinitely more interesting," said Turbayne. "Having something like the oboe to go home to, on which I can work hard to master a piece or simply fiddle around, has been both educational and entertaining."
What's more, Turbayne also views his musicianship as a gateway into valuable social opportunities.
"Playing music has also given me the chance to bond with other musicians," he says. "Band is a period during the school day in which I can forget about grades and academic pressure and simply focus on the music in front of me, while making friends and working collaboratively as a band to sound good."
At times, Turbayne steps back and considers the tremendous ways in which his time in the Westminster bands has affected his life.
"The whole package of personal practice, mastery of pieces, social engagement, and having directors to look up to has made music an all around fantastic part of my existence," he affirms.
Westminster, and the oboe, have surely made an impact on Turbayne, and one can only imagine how he will return the favor.