Music unites
Music unites. The A Cappella Palooza, dubbed Acapalooza, was Westminster's first ever all-A Cappella evening concert and gave the Westminster population an opportunity to witness the real power of music. On stage with Westminster's men's and women's A Cappella (MAC and WAC), were adult A Cappella groups, Sound Investment (men's) and Octave (women's). This concert wasn't just about showcasing MAC and WAC but an event where everyone could enjoy the beauty of music.
"I guess the feeling that we all got around [Acapalooza] was, you see these adults who are in these groups together, and they're all very different, all have different jobs, different backgrounds, went to different schools and we're singing too and we're all so different," said Caroline James, a senior and one of the WAC leaders, "yet, we were all kind of united by the fact that we all love doing this."
The concert itself blossomed out of the yearning for a chance to "celebrate A Cappella music," said Mr. Thad Persons, Westminster's dean of faculty and a singer in Sound Investment.
"Mr. William Scott, Mr. Adam Fry and I sat down, and I said, our group is always looking for fun venues to perform at. We like to be able to do something where we can invite everybody and it's free," said Persons, "and we also really wanted to do something fun with other groups. We want to try to keep A Cappella music alive, so that students could say 'hey, I could do this for the rest of my life.' All of that was a chance where I came and said, 'Could we be the guests of MAC and WAC?' We worked to find a date and we made it happen."
With a men's group secured, WAC needed a women's group, and Octave was the most likely choice.
"We'd heard Octave last year," said James. "And they have such a fun sound and dynamic, that we wanted other people to get to experience that too"
The concert was bound to be a blast with such different groups all coming together!
"I think one of the best parts of the events was at rehearsal the Wednesday before and every person from our two visiting groups got up and spoke about their musical background and professional background," said Adam Fry, one of the A Cappella faculty advisers. "It was really cool, because we had doctors and lawyers and teachers and all sorts of different professions, but the one thing that everybody shared was their passion for music."
Persons echoed this statement, saying, "Really the high, in some ways, was the rehearsal before the concert, when all of the guys came in and the female group came in and we got to introduce each other, and we got to meet those groups."
The highlight for James continues this message of unity and togetherness.
"The best part for me was definitely when all the groups together sang 'Somebody to Love,' which Jason Friedman and I arranged over the summer," she said. "Arranging it was really tedious, but then the first time that we heard it with all of us, you know, these like 60 people, it was just really fun because we're all singing the same arrangement and it's such a big, booming song, that it was one of those wow moments."
Music can stay forever; it's a love that never dies.
"I thought that [the older groups] were a really cool thing for our students to see," said Fry. "That even if they don't become professional musicians, music can continue to be a vital part of their lives."
"For Sound Investment, the concert just reminded us how much fun we had in High School," said Persons. "Because all of us sang in high school in some way, and how much we really enjoyed that. To be able to come back and still do it as adults, except for a church choir or often religious pieces, it's harder for people, I think, to find ways to sing in groups, and we just really feel fortunate to be able to do that and make music together."
Music allows these people to sing their hearts together out just like when they were in High School.
"What we enjoyed most is, we were sitting out in the audience watching the other groups and when it came for time, we didn't want to be backstage rehearsing, we wanted to see people sing," said Persons. "That was what was really fun, and it did feel really family, because I would say almost 90 percent of the people there knew someone from one of the groups. And that just makes it fun."
Acapalooza showed that concerts like this can help make our community closer and tighter.
"Acappella music in general is something that really can be uniting to us all," said James. "If you ever want to try out for MAC and WAC, do it! It's such a great experience."
About the Contributor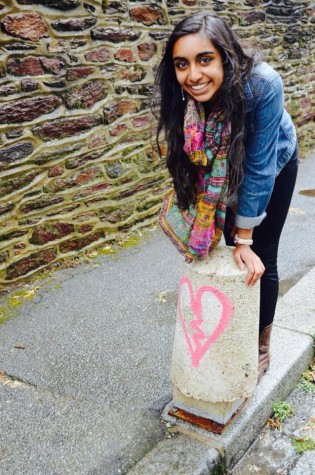 Tara Subramaniam, Head Editor
Head-Ed Tara Subramaniam (12), loves to travel, learn new languages, write, run and read. She is a self-proclaimed social media junkie, and she strives...