Teen Night at the High
"By Teens, For Teens." That's the premise of the High Museum's Teen Night. At its core, Teen Night is an opportunity for teens to go to the High and truly enjoy the museum, teen-style.
"To me," said sophomore attendee Katie Christy, "Teen Night is just a chance for people to go to the High Museum and have fun and be able see all the art that's being displayed and all the exhibits that they have there, because most people won't go to the High Museum for fun."
Teen Night is all about giving teens a positive experience in a space that often has negative and often strict connotations.
"Usually you go to museums and you have to be quiet and you can't really talk," said Christy. "Here it's loud and fun. It's more open and not so restricted. [Teen Night] definitely made [the museum] more interesting and made me want to go again or just go to the High on the weekend or something to see everything they have there."
The excitement at turning the High into a place teens want to be, begins every summer with the "Teen Team."
The Teen Team is "this group of kids that work at the high and they represent different schools around the metro Atlanta area. Last year we had a member from Westminster, Damari Weaver, and I'm a member this year," said senior Noah Reyes. "We had a summer job working at the high, four days a week. We got to meet lots of artists, both local and international, and got paid which was amazing. Also, all the kids are great. Nobody's negative or anything. Everybody is just awesome. But basically, we plan Teen Night. We plan what goes into it, what musical acts, and if there's going to be any scavenger hunts."
Once the first group of teens has planned out their ideal night at the museum, it's time for the party to start.
Teen Night "happens twice a year and has live music and various live acts. The time before last, we had DJ's," said Reyes. "There's lots of music, and everyone is all around the galleries. There's just a lot going on: we have dance performances that actually go through the foyer of the museum, and we have poetry slams in some of the galleries. This year, we introduced a photo contest where kids in and around Atlanta could submit photos and we printed them out and hung them up," continuing the theme of teen involvement.
At Teen Night, "they make it fun for everybody," said Christy. "They have a DJ and different crafts to do and you can pretty much go wherever you want in the museum and look around. It just makes it more of a fun time and it's not boring. Sometimes there is art by teens there, depending on what time of the year they're doing it. They also have all the normal exhibits out that the High is just having at that time of year. In certain parts, later during the night, they have a fashion show with teens that have made their own dresses or outfits. Teen Night is definitely catered to teens with the music that they have, the photo booths, and all that they do."
Since Teen Night is so teen centric, attending the event is just an all around good time.
"Being there is really fun," said senior San Williams, also an attendee. "There are a lot of people there, whom you wouldn't expect to be there. It's a very diverse group of people, not homogenous. My favorite part was seeing all these different people, and hearing the live music. To me, Teen Night is special because there are a lot more teens and it's not [strict, like] a field trip. It's more of a party. Like refined and nice and fun and not crazy, but just teens being teens. Exhilarating! I've been to every one, and everyone should definitely go."
"Fun." "Amazing." "Inviting." "Diverse." "Exhilarating." Teen Night is all that and more. No matter what word defines the night for you, it's sure to be an event you aren't likely to forget. Be sure to check out the next Teen Night, taking over the High in March.
About the Contributor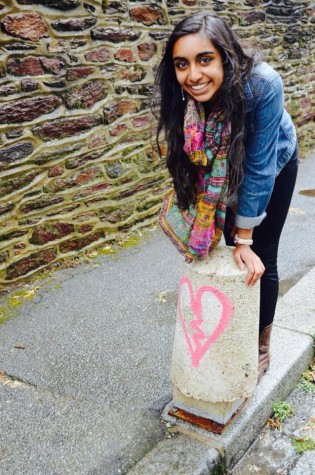 Tara Subramaniam, Head Editor
Head-Ed Tara Subramaniam (12), loves to travel, learn new languages, write, run and read. She is a self-proclaimed social media junkie, and she strives...