Pepe Serna visits students
Westminster has had the privilege of hosting many famous faces through the years, from singer Amy Grant to comedian Ed Helms. On Oct. 4, Pepe Serna joined this extensive list.
"Pepe Serna," said director of Hispanic student development Daniel Searl, "is a recognized and long-term actor, performer, and master teacher."
Serna has had great success in acting, performing in high-profile films such as Scarface and The Jerk.
"He was here through our partnership with LISTA [Latinos Information Science Technology Association],"  said Searl. "[They] organized the first Georgia Latino Film Festival, and that was Friday [Oct.5]. As part of it, they brought Pepe Serna to town from California, and he offered a workshop here on campus."
A few lucky students got to work with Serna in close quarters.
"The workshop was for three Spanish classes and a few others," said Searl. "It was an acting workshop, if you will."
Despite Serna's fame, he displayed different characteristics from a typical Hollywood star.
"[He was] very congenial . . . easy to get along with," Searl said. "Quick to engage in conversation, and understands his audience really quickly."
Serna had such an audience at Open Mic that afternoon, where he performed a piece that had mixed reactions.
"He's got a little schtick," said Searl, "a little stand-up thing where he talks about Mexican stereotypes and he acts them out."
Sophomores Avanti Joshi and Christina Voss were surprised by his act.
"I thought it was a very interesting burst of culture," said Joshi.
"A lot of the kids' faces were sort of disturbed," said Voss, "but it has a deeper meaning."
"Everyone says, 'Oh, how can you do stereotypes?'" said Searl.  "But if you talk about them you get them out there, you can say, 'Oh, I guess there is some truth, but maybe we push things too far.' When he can kind of deliver that in person, it makes it funny, but also informative."
While not all Westminster students may have understood the humor and jokes Serna used, his performance certainly made an impact, proving that stereotypes need to be discussed to be fully understood.
About the Contributor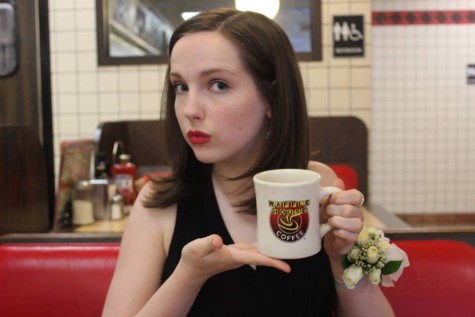 Laura Russell, Online Editor
Laura Russell is the Online Editor for the 2014-2015 school year. When she's not updating the Facebook page or inputting new Bi-Line articles, you can...