Junior Margaret Wilson student-directs Junior High play
Can you imagine all the work that goes into a typical Westminster theater production? The lights, costumes and acting all must come together to form an exhilarating production. Junior Margaret Wilson student directed for the middle school play, The Diary of Anne Frank, performed November 2nd and 3rd. As a partial director, Wilson was responsible for making sure all elements form an effective production, a task partially delegated
Debuting on Broadway in 1955, The Diary of Anne Frank is a stage adaption of The Diary of a Young Girl, Holocaust-era hideaway Anne Frank's diary published posthumously. In 1940's Nazi-occupied Netherlands, the Jewish Frank family had no choice but to go into hiding in secret rooms in Anne's father's office building to avoid deportation to concentration camps. Teenage Anne kept a diary journaling her experience living in close quarters with her family and the others that joined them. After living for two years completely inside, the family was tragically betrayed and forced into concentration camps, where Anne and her sister died of typhus. Anne's father prepared her diary for publication, where it found a wide audience.
The passion of Wilson, who was also a cast member in The Pajama Game, for theater caused her to take interest in a leadership role for a middle school production. "I was especially interested in participating in the inspirational story of The Diary of Anne Frank," said Wilson. "Having participated in shows at Westminster for the past six years, I wanted to student direct because I enjoy assisting with all aspects of a production. I particularly enjoy working with and mentoring junior high students in acting and drama because the theater is a creative place to express oneself in a different way than in the classroom."
Wilson's student director duties included practicing lines with the actors, working on the voice-overs for the taped portions where Anne Frank was reading from her diary, giving notes and feedback to the actors after practice runs and working backstage.
"Margaret possesses the unique combination of creative talent, strong work ethic, and desire to help others," said Director Susan McMillan.  "These qualities are vitally important to directing the show, and even more important to being a student director because there is not a lot of glory in it.  The performers on the stage are the ones getting the "glory" which makes being a student director difficult for some, but not Margaret.  What Margaret is able to do is turn the focus onto the production…She is willing to do this work for which there is very little glory, but is vital to the success of the show."
The Diary of Anne Frank cast members Wilson student-directed extoled the benefits of working with her.
"Margaret was an excellent student director because she didn't try to replace the real director," said eighth-grader Josephine Thrasher, who played Anne's sister in the production. "She was always on book for lines and blocking if we forgot, had lots of great advice if Mrs. McMillan wasn't around and helped us along with the overall production of the show."
"Margaret shared great ideas that really helped me become a better actor," said eighth grader Max Motley, who played hideaway Peter in the play. "She helped me connect with what my character was thinking and feeling, improving my performance."
"Margaret showed her dedication by being at practically every practice," said seventh grader Katherine Taylor, who played the lead role of Anne. "She gave great feedback and improved the play by constantly being there for us. She was really helpful throughout the entire process whether it be helping with lines during the earlier rehearsals or with hair and makeup backstage."
"Margaret was also exceptional at taking notes, the feedback from the director taken during a run-through," said McMillan. "She would see things that I would overlook.  It is always helpful to have another set of eyes watching a show not only to catch mistakes or things that must be worked on, but to also gain another perspective."
Student directing was undoubtedly not only a positive experience for the actors; Wilson recalls the experience with fond memories.
"My favorite part of student directing was seeing the whole show come together," said Wilson. "The junior high students did a phenomenal job on this show, and the result was a powerful and moving portrait of a brave, young girl who confronted unimaginable hardship with strength and grace. I was so proud of the cast!"
About the Contributor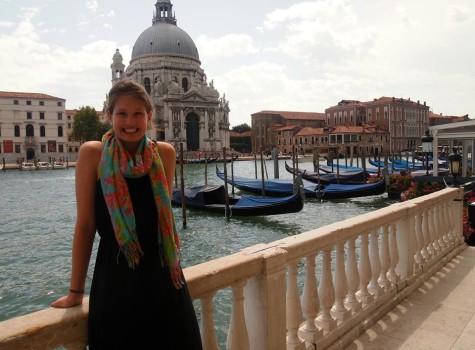 Catherine Benedict, Head Editor
Catherine Benedict is a diminutive senior who has become co-editor-in-chief with the help of excessive force, cajolery, and several six-figure bribes routed...