Passion and rejection: Teachers on getting published
"Read, read, read, read." According to English teacher Jack Morgan, that's the first step to creating work good enough to publish. Within the halls of Westminster, there are teachers who have been brave enough to put their words out there and get published. Morgan and fellow teachers Maggie Blake and Jennifer Dracos are a few who have attempted this often daunting process recently. For people who have ever wanted to see their names in print, these teachers, with their different perspectives, serve as great role models for understanding and surviving the intricate process of getting published.
"Generally," said Blake, "you see when journals are accepting submissions and you have a cover letter and the submission packet and you have to wait six months, maybe even longer, and a lot of places don't allow for simultaneous submissions so you have to send some poems to one place and some poems to another place and wait. I had a poem published in the Southern Poetry Anthology's fifth volume on Georgia Poets. For me, this process was much easier. I was working in a class with a professor who is the editor of the anthology, and he asked me to submit a bunch of poems to him and [then he] picked one."
"A lot of people get into publishing through writing contests sponsored by major publications. The magazine Poets and Writers has a bunch of contests that also have prize money, which is nice," said Dracos-Tice. "I've submitted to a few of these contests and had no luck, which is typical for many writers. I submitted one locally to this writer's club I'm a part of and I won one of their contests, which was really cool.
For me, publishing is a spur of the moment type of thing- both submission and publishing deadlines. One of the avenues to publication for many people is through MFA programs. MFA's basically work so that at the end you come up with a full manuscript that you send out for publication. Along the way you take pieces and get them published. It's a very definite avenue into publication.
Dracos-Tice also offered advice for students trying to get their writing published. "For students, there are lots and lots of contests and competitions out there and there are journals that publish only student writing," she said. "The main thing I'd say about submission is that you find journal and publications that you already like before you send your stuff to them. For fiction and creative writing there are also more and more online publishers that are legit."
From contests to spur of the moment submissions, the ways of getting one's work out there vary, as do the reasons each writer has for wanting to get published and their inspirations for writing.
"I'm inspired to write by my family", said Dracos. "I'm inspired to write because I sometimes have a hard time talking. Writing is a way for me to express things I want or need to express and sometimes it's a way for me to deal with things that are very painful in my life or the world around me. I'm also inspired by what poetry does to me—the reactions and responses and the transcendence I get from reading poetry and that I would like to create as well."
Morgan's inspiration also stemmed from his family, saying, "I lived in a house full of words. My mom was an English teacher and we probably had around five thousand books in my house: paper backs on every wall, magazine on the top of every table. My dad used to write poetry on the bulletin in church and I wanted to be just like my dad, so I started to think about poetry."
Blake's inspiration is derived more from her surroundings and what she sees daily.
"The pieces I submitted probably covered ten years of writing, because I was not sure what he was looking for," said Blake. "He picked a poem that was quite old that I wrote about a beach that my family goes to in Cape Cod after a hurricane hit it. I constantly translate what I see into little tidbits of poems and then I forget most of them. I'm always taking the world and seeing if I can fit it into a poem, so I'm always writing in my head. I would like to participate more in the community of poets who are writing contemporary poetry right now, so I've been trying to take a couple steps in that direction in the past couple of years. One is that I'm in an MFA (Master's of Fine Arts) program now for poetry and I got to my third summer of it this summer. It's a five-year program for six weeks every summer in Sewanee, Tennessee. I write every summer. Another is that I meet with a poetry group in Atlanta every couple of weeks at a house in Buckhead with this professor Will Wright, so I'm trying to write during the year, which is a little trickier. The third is to try to make it not just a private endeavor, but also a public endeavor. So, there was this submission to the Southern Poetry Anthology and some others things that I have in the pipeline for the next couple of months. Fingers crossed!"
Getting published, or the far more common occurrence of getting rejected, is a heavily emotional moment. Thanks to their own experiences in both areas, Morgan, Dracos and Blake have some wise words to impart upon those who want to venture into the world of publication.
"While the competition is fierce," said Dracos, "you just have to jump out and do it. Although people need to really be ready before they submit. Make sure it's work that's been work-shopped and edited and proofed and really clean. I advise those who want to write to find different programs where they can write in community with other writers, and get feedback and constructive, positive support."
"I think you have to have a tough skin," said Blake. "There's a lot of rejection—even the best poets get rejected frequently. You have to be writing for yourself. You still have to enjoy it regardless of the outcome. And you have to be tenacious. Valuing your own voice, and trying to share that voice is always valuable, regardless of the outcome."
Morgan added upon Blake's comments valuing the individual voice.
"Good poetry and good stories aren't written for other people. Make sure first that it says what you want to. It needs to be true to what you think and what you feel and your metaphor. Try, try, and try every time to make the reader see what you see. Give them room to make their own meaning but try to make them see something that's old in the new way that you see it. Don't just let it be the same old thing," said Morgan, before dishing out advice on overcoming rejection. "I would say I'm more a rejected poet than I am a published poet. I've published maybe seven or eight poems total, and I've sent out probably 300 different publications. At first, it stings to get rejected. Some of the rejections are just brutal- you may send out the poems and they come back in the same formation they were in and you can tell they just pulled out the poems without opening them and the crease is actually tighter than when you sent it out. But then on the other side of rejection, I submitted a bunch of poems to the Greensboro Review and a very gifted poet named Fred Chaplain, one of the best writers in the state of North Carolina, took the time to hand-write probably four to five hundred words of pencil scrawl on the four poems I submitted and he commented on every image and was very positive, even soliciting more of my manuscripts. It runs the gamut, what you hear as far as rejection."
Although rejection hurts, the joy that comes with getting published is something Blake is now familiar with.
"The editor of the anthology told me yes very quickly and I sat in my house, in my pajamas, just totally freaking out and didn't know what to do," said Blake. "Then I called everyone in my family. No one answered the phone, so I ended up talking to my grandmother, who's sort of a mixed bag. Then I told all my friends and I told Facebook. When the books actually came, I came home from Christmas with my fiancée to a big box of books and I was just jumping and giggling and making him read it eight times over. I think I probably hugged the book a bunch. I'm on page thirty- I feel very cool that I get my own page. I think with a lot of things in life you think that once you get what you want that you'll be happier and then you get it and there's just the next thing to do. While there's more I want to do, this just feels awesome."
About the Contributor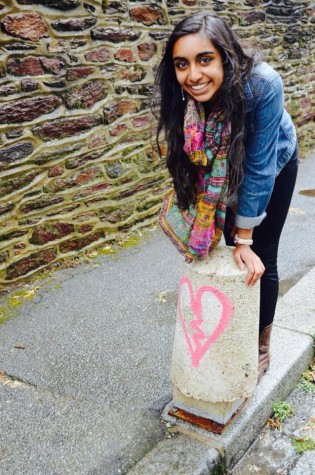 Tara Subramaniam, Head Editor
Head-Ed Tara Subramaniam (12), loves to travel, learn new languages, write, run and read. She is a self-proclaimed social media junkie, and she strives...