NaNoWriMo promotes student writers' creative expression
While most of the nation anticipates a brief respite from work during Thanksgiving break, thousands of writers will continue to ramp up the word count for National Novel Writing Month, where they each attempt to write a 50,000 word novel during the month of November.
National Novel Writing Month, dubbed NaNoWriMo, is a nonprofit organization designed to attract writers of all backgrounds to channel creativity and encourage writing worldwide. The program also provides free opportunities to foster community building through writing.
"[NaNoWriMo] has grown exponentially," said upper school librarian Carly Pansulla. "And it's only been around for a couple of years!"
NaNoWriMo features writers from all ends of the spectrum, from amateurs with a penchant for writing to professional novelists such as Rainbow Rowell, who wrote the first draft of Fangirl during the 30-day time period.
NaNoWriMo accommodates for students that don't have sufficient time to write 50,000 words – or students who prefer to write poetry, among other forms of writing. The Young Writers Program allows students to change the word count goal to maintain the challenge without overshadowing other priorities.
Among these young writers are those in the Writing Fellows, a class taught by Jennifer Dracos-Tice, that promotes advanced writing skills in upper school students. At the end of the course, all students must submit a series of final written projects. Many are using NaNoWriMo to streamline this process.
"From my perspective, we're trying to use the urgency of NaNoWriMo to generate writing towards the final projects at Writing Fellows," said Dracos-Tice. "All of these are towards a final end, and they're fun to do."
Some students chose to work simultaneously on several projects, others started from scratch to create research-based novels, and still others decided to write one poem every day.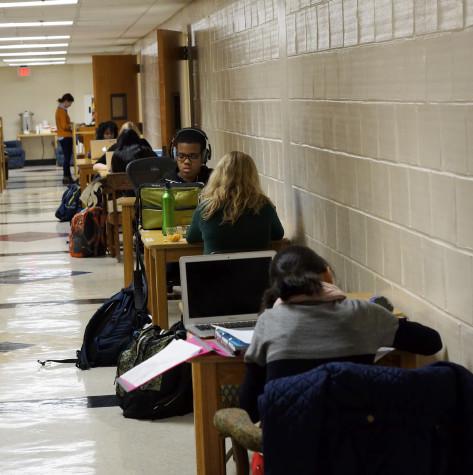 Needless to say, the process is time-consuming.
"For me, I do a lot of research for my writing. Straight writing is two hours [a day], but with the research, maybe four," said sophomore Myles Hudson. "I know this week was especially hard for me. I'm a bit behind right now, but hopefully I'll catch up."
Sitting down and writing a certain amount of words each day comes across as contrived, as writing typically seems to be a  spontaneous process.
"It's a different energy, even within [NaNoWriMo]," said Dracos-Tice. "For me, it's focused time. "
Because of participants' high word count goals, there is absolutely no room for the writers to constantly and revise as they write. Generating several thousand words per day requires uninterrupted focus.
"I think that not editing is really difficult," said junior Kensey Cochran. "There are definitely a couple [poems] where I'm thinking, 'This is the worst thing I've ever written in my entire life.' It's just about getting past that."
Students agree that satisfaction with the draft at the end of the month is nearly impossible. Most participants spend months revising the rough drafts that they created during the month of November.
However, students also agree that the experience is invigorating and rewarding. If the writer wins the challenge by completing the word count goal, NaNoWriMo sends five printed copies of the completed novel.
"It feels really good when you win – when you finally finish something," said senior Erika Schumacher. "You look back and say, 'That's an entire book.' It's really easy to get started again after that. Winning is the best thing that can happen to a writer. Once you've done that, it's so much easier to consider yourself a serious writer and to have the motivation to keep going."
Achieving the final goal isn't the only source of motivation. Aside from promoting creativity, NaNoWriMo encourages community support in the process of writing.
"Whether it's a group like ours or the online source [that] sends you constant encouragement," said Cochran, "it's a great way to get started just because of all the support that the community provides."
 The program's website features pep talks written specifically for NaNoWriMo writers from distinguished authors such as Veronica Roth and John Green, authors of the Divergent series and The Fault in our Stars, respectively.
Pansulla and Dracos-Tice have partnered in the effort to encourage writing at Westminster by hosting write-ins on Nov. 12 and Nov. 19 in the Askew library. The faculty members hope to encourage positive peer pressure among students to promote writing.
"I believe in the power of story to bring people together, to inspire people, and to encourage people," said Pansulla. "It's a form of art, and art changes lives in really wonderful ways."