Band and chorus experiment with new holiday music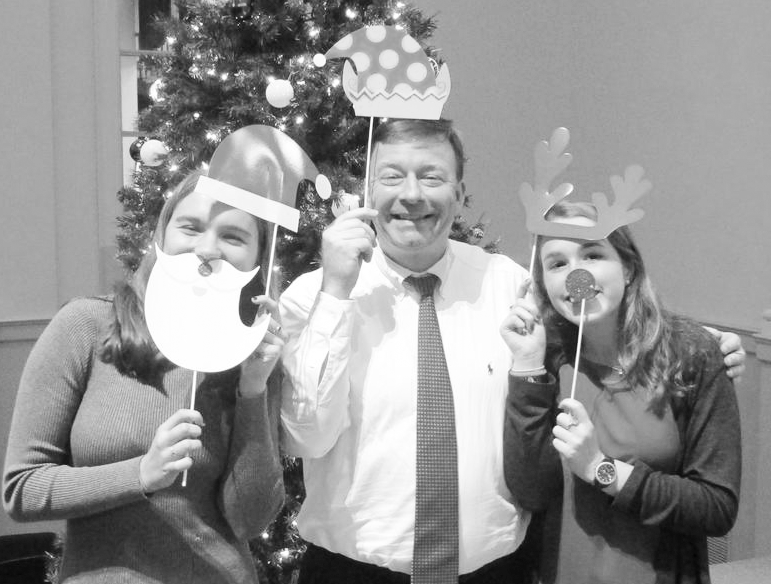 With hot cocoa, sweaters, and pine trees all around, it is only fitting that Christmas carols are as well. This holiday season, on Dec. 4 and 7, the Westminster band and chorus held their annual holiday concerts. With a mixture of traditional, foreign, and collaborative pieces, faculty and students alike were eager for the festive music to begin.
The Upper School band first performed during a Thursday assembly and then again Thursday evening. Though it featured a more orthodox seating arrangement than last year, the program included some more contemporary carols.
"We'll play traditional Christmas music, such as 'Greensleeves,' and everyone's favorite, 'Sleigh Ride,'" said sophomore saxophonist Cyrus Faruque, "but this year we also incorporated newer pieces, such as Angela Lansbury's 'We Need a Little Christmas.'"
Faculty members were especially fond of the addition of "Greensleeves" to the repertoire, an archetypal Christmas song that was new to the band.
"Greensleeves is beautifully set in a way, very idiomatic," said band director Scott Stewart. "The arranger clearly understood the instruments, what they were capable of doing, and how they interacted in these really neat combinations."
While new music is always intriguing, Westminster students have a tendency to appreciate Westminster traditions the most. Pieces such as Handel's "Messiah" and Anderson's "Sleigh Ride" are often well executed because the conductors and players are familiar with the music and have perfected it. Students in the audience also enjoy these pieces more as they can follow along.
"Of course we'll play different music. We have new selections every year that develop us as musicians while still being enjoyable for all to hear," said Faruque. "But we all love 'Sleigh Ride.' I think its because it's such a fun piece, something we all have played before and truly enjoy playing."
In addition to blending tradition and newer music, the band's program also mixed sacred and secular music.
"It's a really interesting combination between sacred and secular Christmas music," said Stewart. "There were all kinds of neat instrument color combinations and just really smart, diverse music for the holidays."
Although the band typically plays the same compositions during the assembly and evening concerts, this year they presented several different pieces at each performance.
"The Upper School changed the program from the morning to the evening, to give more variety for people who might be attending both," explained Stewart. "So we engaged some of the members of the choir and 'Spamalot' cast to join us for the assembly to sing 'We Need a Little Christmas' and 'The Christmas Song' as well as the entire student body to join us in singing all of 'Auld Lang Syne.'"
The choir's Music of the Seasons Concert is only three days later, on Sunday afternoon. This year the playlist is centered on light.
"It's called Music of the Season so that it has primarily Christmas music, though this year we threw in a gospel tune as well," said chorus director Fred Scott. "The entire concept of the program is the coming of light, so we end with an anthem by a South African composer called 'Torches' with the rest of the concert featuring pieces like "Bring a Torch,' 'Candlelight Carol,' and 'This Little Light of Mine'… [The concert] represents any kind of epiphany moment whether it be a moment of love, peace, or light that touches you this season."
In addition to "This Little Light of Mine," the gospel, other distinctive songs on the set list include the Ensemble's rendition on a Spanish villancico called "Riu Riu Chiu." Like the band, the chorus also incorporated numerous secular songs into their repertoire, including "Ding Dong Merrily On High" and portrayed light as a representation of love, not necessarily Jesus.
In terms of the music itself, there will be several collaborations with percussion players during the concert and in "Ding Dong Merrily On High" Michael Dauterman, chorus director, and junior Robert Cushing will play the piano simultaneously.
The chorus concert is an exceptional opportunity to listen to each choral group at Westminster.
"The concert is representative of all the choral groups," said Scott. "The ninth through tenth graders, the eleventh through twelfth graders, the ensemble, and both a cappella groups. They each sing independently, and at the end of the concert, come together to sing some carols together. That is quite rare, as we don't get to sing with each other outside of the holiday season. It really shows the Christmas spirit."
Regardless of religious affiliation, language, or era, the Westminster Chorus and Band concerts both focused on Christmas music, a uniting theme among an eclectic collection of songs.
"Any other time of the year you can perform whatever you want to, but if you are going to have a concert in December at Westminster, there's bound to be Christmas music," explained Scott. "I suppose that in and of itself makes these concerts unique."