Bjork sees world as physics teacher and painter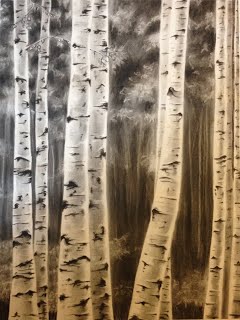 Students who have attended one of Westminster's faculty art shows may have seen and appreciated several pieces by physics teacher Meghan Bjork. Her beautiful, detailed canvases hold great personal meaning, and her love for painting makes it an ideal hobby whenever she has some extra time on her hands.
"I usually like to do different landscapes and things in nature," said Bjork, describing her subject matter. "A lot of my work is based off of where I have lived, like Minnesota, which is where I grew up, as well as Colorado, which is where I've lived for a good amount of my life."
 Since making art is a passion, Bjork, who works primarily in acrylics, charcoal, and pencil, paints whenever she has the opportunity, though a busy schedule can make finding time to work difficult.
"I do quite a bit of art in the summer, because I obviously have more time," said Bjork. "I also try and do as much as I can when we have short breaks or long weekends, but sometimes there isn't enough time."
In addition to occasionally exhibiting her work in various shows, Bjork sells most of her finished paintings. Art aficionados even have the opportunity to request a specific piece or ask questions through her website.
"Most artists participate in shows all the time, but since I don't have a huge body of work I could use, I usually submit a piece or two instead," she explained.
Many colleagues in the Westminster community are aware of Bjork's penchant for painting, including photography and graphic design teacher Kristin Brown, a great admirer of Bjork's pieces.
 "I love her work," said Brown. "The first time I saw something of hers was when I saw this beautiful tree landscape painting hanging above her couch. I asked her who painted it and she said she did!"
Bjork has impressed many, showcasing her multiple talents through her work. Her artwork continues to shock, as most do not expect a physics teacher to be an artist as well.
"I was very impressed, because as an art teacher, I love learning that other people also do art," said Brown. "Ms. Bjork is a physics teacher, and she still does art on her own, which I find amazing."
Brown and Bjork both submitted pieces to the faculty art show that was held at the beginning of the school year and that gave everyone an opportunity to learn about the multi-talented staff.
"We did the faculty show earlier this year, and I think that's where I got the idea from her about people I didn't know did art," said Brown. "We decided to put some pieces outside of the cafeteria to show that it isn't just art teachers that make art in the school."
Like many faculty members featured in the show, Bjork developed her love for art as a child. Though ultimately choosing a slightly different career path, she has continued to paint.
"When I was in college, I had to decide what I wanted to major in," said Bjork. "I narrowed it down to either physics or art, and I ended up majoring in physics but getting an art minor on the side."
Over time, Bjork has been able to explore different color palettes and styles, allowing her to perfect her paintings.
"The colors in her work are very pretty and they have a great feel," said Brown. "Her pieces are all very detailed as well. Mrs. Bjork is a pro, and since I am not a painter, I am really able to appreciate how well she paints. I absolutely love her work, and I wish I owned a few pieces myself!"
Bjork's family also encourages her passion.
"Art for me is like a fun thing to do on the side in my spare time," she said. "My husband is really supportive with my art career as well. He was the one who created the website for me, because he knows I love it. He also helps promote me and sell pieces."
Bjork remains a bit on the shy side when it comes to her work, but those who have gotten the opportunity to view her paintings respond with admiration and enthusiasm.
"I haven't told many people at Westminster about my art business," said Bjork. "Luckily, I have a lot of different people who support and help publicize my art, so I'm very thankful for that!"