Stewart hosts radio show on 90.1 WABE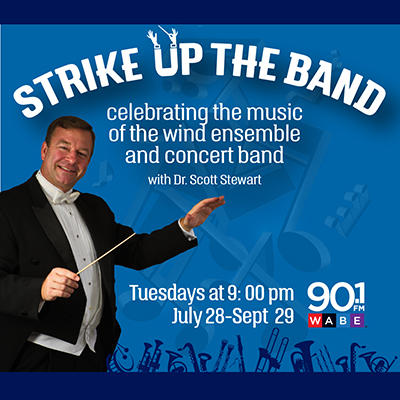 Have you ever tuned in to WABE FM 90.1 on Tuesday nights at 9 p.m.? You may hear a familiar voice hosting the show "Strike Up the Band." The man behind this voice is none other than Westminster's Upper School band and orchestra conductor, Scott Stewart.
Apart from his job at Westminster, Stewart has continuously manned the WABE radio show for nine consecutive seasons. Having been acquaintances with WABE program director Lois Reitzes, Stewart had previously done a couple of guest spots.
"WABE was looking for more local content and I've always wanted to show people about wind band music." said Stewart.
The show began as a summer program called "Summer Winds" to fill the slot of Atlanta symphony broadcasts when its season ended, but as popularity grew, the name was changed to "Strike Up the Band" and has plans to be syndicated nationally.
"'Strike Up the Band' is a famous George Gershwin tune," said Stewart. "It has a bit of history and recognition in the music world."
The format of the show has not changed much over the years. Stewart selects pieces to play for that day's show, makes commentary after each piece by giving some background information about the composer and work, and then finishes the show with an outro. There have not been any guests or interviews yet, but Stewart hopes to make some changes in the near future.
"Right now, it's me and music," said Stewart. "We are thinking about what would add a little more variety to the show in the future, such as including interviews and rehearsal footage."
Each week's show consists of a specific theme, and all the pieces relate to that key theme. For example, if the theme was water, the pieces that day would either have a title relating to water or a sound that is reminiscent of water.
"That's my favorite part, actually," said Stewart, "cooking up a theme. It's a game. It's a scavenger hunt."
Through this show, Stewart wants to convey a message and break the stereotype that band music is often not elegant. The classical music played on radio shows is almost always orchestral music.
"In the history of bands, it has been a second-class character," said Stewart. "It has been lumped into a not quite so artistic group."
Stewart's mission is to expose the amazing music literature out there because he believes there is something for every person to like in the wind band repertoire.  The show serves to highlight, celebrate, and spotlight high quality band music that may not usually be heard.
"A lot of people have played in bands in school but never hear the music celebrated on the airways," said Stewart. "Making a connection from their school experience to their listening experience was important to me."
Wind band music showcases an especially different set of instrumental colors. The term "new music" is often correlated with wind band music, which can be unattractive to classical music listeners.
"It has this stigma sometimes of being too modern and wacky so people can't grab on to it," said Stewart. "However a lot of contemporary music is very tonal, rhythmically interesting, and fun to listen to."
Along with communicating this idea, "Strike Up the Band" showcases the talents of the local Atlanta community. Every year, one show is dedicated to wind ensembles and concert bands located in Atlanta. Emory, Georgia Tech, UGA, the Atlanta Youth Wind Symphony, and even a middle school band are just a few examples of local ensembles that have been featured.
"We actually get the most comments on social media for the local show," said Stewart.
Doing "Strike Up the Band" has benefited Stewart's musical perception and musical knowledge in many ways, and he views it as furthering his musical education.
"It's almost a refreshing school that has no grades," said Stewart. "The show keeps me on my toes. I keep learning, listening, and opening my mind." 
Always asking for composers and band directors and musicians to send recordings in, Stewart experiences a constant stream of new music to listen to and is able to find new pieces and new ways composers are expressing themselves through music.
"That's why I'm in the business," said Stewart. "Something about music that's so special is that it affects people whether they're listening to it or performing it. I never want that to get stale or routine."
Not only does Stewart  benefit personally from the experience, he also uses it as another learning tool and musical platform for his students.
"I did not know some of the composers," said sophomore Adam Liang. "Now I can remember the great wind pieces that I hear on the talk show."
His students who frequently tune in to the show can sense his passion through his animated introductions of pieces.
"Dr. Stewart creates an atmosphere that makes wind music approachable to all listeners," said junior Cyrus Faruque.
With "Strike Up the Band" on the radio show scene, not only do aspiring orchestral musicians have access to the radio as a resource for furthering their musical skills, but so do aspiring wind musicians.
"If you want to hear a good orchestra, you listen to the Berlin Philharmonic and base your playing off of that," said Faruque, "What do you do if you're a classical tenor saxophonist? You listen to 'Strike Up the Band.'"
Feedback from his students confirms a successful communication of Stewart's passion for music through the show.
"I have a passion for new music, for conducting wind music, and for youth," said Stewart. "I think that is projected out of the show."
Stewart has explored his passions of his music extensively through his WABE radio show, "Strike Up the Band," and has some advice for young aspiring musicians.
"Whether you intend to be professional or not is not important," said Stewart. "What's important is that you find a way for music to add to the quality of your life. So become a great musician. And keep being a great musician."