Messiah to take on digital format due to COVID-19 pandemic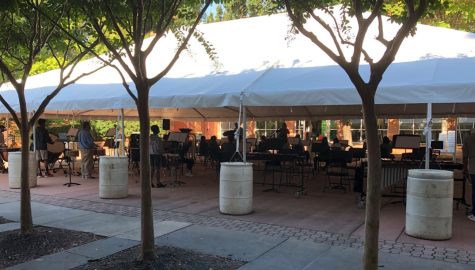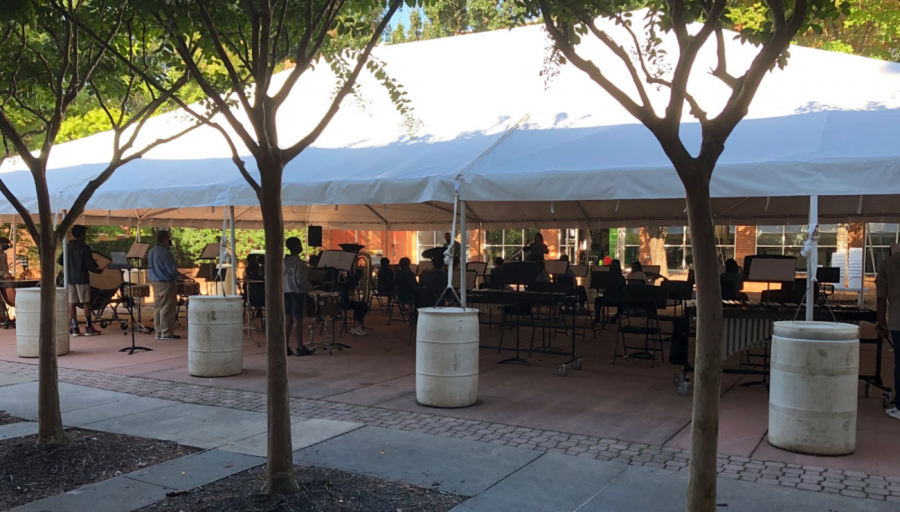 This year, the annual late fall assembly for Handel's Messiah is adapting to the unique environment introduced by the ongoing COVID-19 pandemic. Given the current circumstances, rehearsing music effectively while simultaneously upholding safety precautions poses a great challenge to Westminster instrumentalists and singers. Even more, Messiah will have to take place in a different format this year to ensure the safety of students, teachers, and members of the audience.
Messiah plays a vital role in raising Westminster spirit and preparing everyone for the spirit of the winter holiday season. Westminster musicians have been performing Messiah annually since the early years of the school's establishment.
"It is a really special event that's a part of this community," said Scott Stewart, the director of the Upper School orchestra. "It is a text of hope, generosity, kindness, and the festive spirit of the season that Westminster has valued in presenting every single year."
A prominent musician of the Baroque era, George Frideric Handel composed Messiah in 1741. The piece consists of 53 movements in three parts and demands great technical precision of the instrumentalists and choralists.
"It is very unusual for a high school anywhere in the world to mount a production like this," said Stewart. "This composition is typically reserved for colleges, community groups, and professional musicians." 
Despite the challenges of preparing the music, the Messiah performance is universally enjoyable for both the musicians and the members of the audience.
"I really enjoyed performing Messiah last year; the songs are fun to sing, and it is a reminder that it is almost Christmas break as well," said junior Abigail Walters, a member of the Upper School chorale. "My favorite song is probably 'O Thou That Tellest.' Although short, the alto part is really fun, which contrasts with the lackluster alto parts in many songs outside of Messiah." 
In addition to the changes to the Messiah format, numerous COVID-19 procedures have been put into effect to avoid the spread of the virus within musical settings. 
"Chorale, ensemble, and WAC all have similar procedures. Classes take place outside, and Westminster has given us special masks for singing and distanced chairs to have as little contact as possible," said Walters."They are also having us take home our folders and music, instead of leaving it at school."
One of the many challenges of the adjusted format of chorale classes is reproducing similar acoustic properties as McCain Chapel, where most concerts take place. Nonetheless, the Westminster performing arts faculty have thought of creative solutions to adapt to these issues. 
"They have still been trying to allow us to sing in interesting ways, like bringing us to sing in a parking deck so it can emulate the echo of the chapel," said Walters.
Since Messiah consists of three distinct parts, typically totaling almost three hours, the Westminster chorus and orchestra only select certain sections to perform. 
"We usually do most, if not all, of Part I of the oratorio," said William Yu, a sophomore involved in MAC and chorale. 
This amounts to about an hour of music. However, this year's selected pieces will only take about half as much time as in previous years in order to better accommodate the viewers' available time. 
"We've reduced the scope and length of Messiah," said Stewart. "But we have put in some familiar choruses, such as the Hallelujah chorus, and some arias that feature soprano, alto, tenor, and bass voices."
Student musicians have ideas of what this year's Messiah will look like. 
"I do think they will try to ensure that Messiah is still in person," said Walters. "Or at least, we sing in person together and get filmed."
Recently, Stewart has confirmed that Messiah will take place in a filmed format. 
"It will be a produced video that will last no more than 30 minutes, and it will be shared in advisement," said Stewart. "Families will be able to access it on WCAT and Westminster YouTube. Everybody is preoccupied at this time of year, so we didn't think that students needed a full one-hour production to watch during advisement."
Despite the circumstances of the pandemic, Messiah will continue to be a treasured holiday tradition on the Westminster campus.