Westminster Chamber Orchestra's Upcoming Fall Concert
The Westminster Chamber Orchestra gathers every sixth period on the McCain stage to rehearse for the upcoming Fall Concert under the new director of the Upper School Orchestra, Joli Wu, as well as new faculty member Brianna Slone. This year, the Fall Concert features three Baroque pieces by Bach, Tchaikovsky, and Vivaldi, as well as solos from students.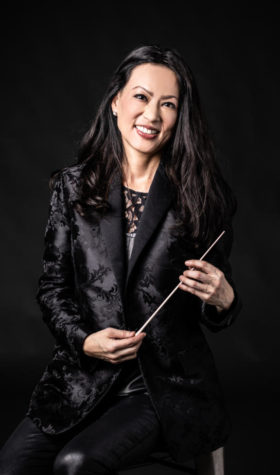 Wu, who has been at Westminster for 17 years, is a full-time faculty member this year. Wu has not only taught at Bethwood Suzuki School of Music previously to Westminster but is also the principal violist in the Atlanta Ballet. 
Slone, in addition to being the conductor of the Emory University Wind Ensemble, has also joined the Upper School Performing Arts Department and teaches the orchestra alongside Wu. Previously, she was the assistant band director at Hillgrove High School and a music library assistant with the Atlanta Symphony Orchestra.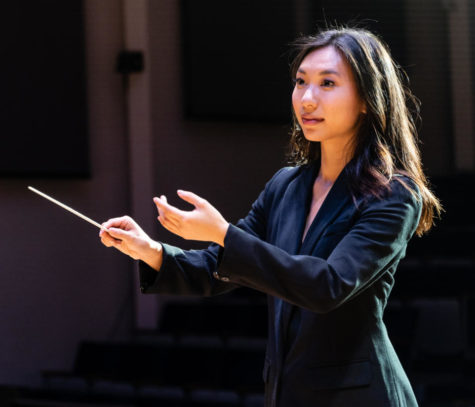 Other than the faculty change this year, the strength of the orchestra is much larger than in previous years. This year, there are a total of 53 musicians in the orchestra, 27 of whom are freshmen. The upperclassmen in the orchestra find these changes wonderful. "I think Ms. Wu definitely makes a great orchestra director, and adding Ms. Sloane really helps to bring together the whole orchestra," said junior concertmaster Sophie Wang. "There's a great balance between seriousness and enjoyment."
Every E day, the Chamber Orchestra splits up into sectionals, where specialists work with each section individually to improve their parts. These specialists include cellist Dr. Alexis Lee, bassist Emily Damrel, and violinist Shadwa Mussad. During sectionals, musicians have an opportunity to not only work on their specific struggles but also their sound as a whole section to better prepare for the concert.
The fall concert pieces are all from the Baroque period, which dates from the 17th and 18th centuries. Baroque music is characterized by its incorporations of solos, contrast, and ornamentation. Specifically, the orchestra is playing the third movement of Bach's Brandenburg Concerto No. 6, the second movement of Andantino Tchaikovsky's No. 4, and Vivaldi's L'estro Armonico. 
The concert starts with L'estro Armonico, first published in 1711 in Amsterdam, and dedicated to Ferdinando de Medici, the Grand Prince of Tuscany. It consists of short, fast notes and is traditionally played in a chamber orchestra slightly smaller than Westminster's.
Andantino, the second piece, begins with a flowing, voicelike solo, performed by Sophie Wang. This piece was composed by Tchaikovsky during a period of personal struggles, which he reflects with a tempestuous, chaotic tone. However, the melody, while pleasant and lyrical as opposed to abrupt, is melancholic, reflecting his state of mind. 
 The concert ends with the Brandenburg, which has a lengthy viola duet played by Wu and Anastasia Waid and is accompanied by junior Jaia Alli on the cello and freshman Haley Culp on the harpsichord. The Brandenburg concerto is characteristic of a Baroque piece, and is highly conversational.
"My favorite piece is the Brandenburg concerto, not only because I have the wonderful opportunity to have a solo, but also to have senior Anastasia Waid to solo on viola as well," said Alli. "I love this piece because there are several moments where I am communicating musically with her through notes and phrases, responding, and it makes one big conversation that is really beautiful to listen to."
The Fall concert on September 21 not only features the Upper School Orchestra but the Middle School orchestra as well, showcasing their hard work over the past month. 
"I'm looking forward to the wonderful music-making everyone's going to do and I think the repertoire is quite wonderful and presents the audience with a great sense of what this orchestra is capable of," said Alli. 
Besides performing, chamber orchestra members also enjoy the social aspect of concerts.  "My favorite part about orchestra is the community," said Wang. "I've met a lot of people from other grades in the orchestra and made many friends."
Edited by Kelsey Li