Faculty art exhibit in Broyles
Every year, the Westminster art departments from the Lower, Middle, and Upper schools spend their summers experimenting with new techniques to produce works for the Faculty Art Exhibition. The show allows all students, including those not enrolled in visual art classes, to develop a deeper understanding of the work teachers create in their free time. Pieces of various disciplines, including sculpture, photography, painting, and ceramics, are showcased on the walls and in display boxes in Broyles.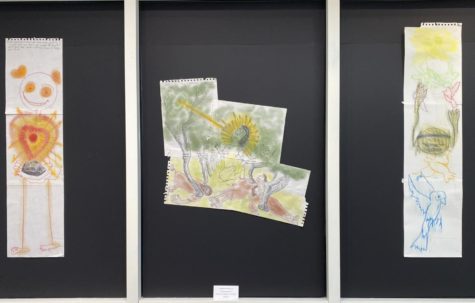 The development of a new art piece always begins with inspiration, which can be discovered in many forms. Photography teacher Michael Reese draws inspiration for his work, "Leash Your Dog, Please," from a current societal issue. His triptych, made from archival pigment ink on canvas, depicts three birds which serve as an allusion to his inspiration.
"My inspiration was [an incident with] Christian Cooper, a bird watcher, in Central Park [that] gives light to misrepresentation and weaponized responses as it relates to racial identity," says Reese. 
This incident from May 2020 occurred when Christian Cooper, a black man, was birdwatching in Central Park. He requested a white woman to leash her dog, but she refused whilst unjustly calling the police on him.
  "[My piece] speaks to the complexities of why groups think and [why] stereotypes are flawed responses to understanding differences," says Reese.
In a different medium, visual arts chair Ben Steele expresses the connection between being bound to Earth and beyond through his installation, "The Shape of Things to Come." Through these pieces, he juxtaposes ideas from the distant past to convey his vision of futurism.
"I love combining the ideas of the future with ties [to] the notion that anything we build in the future will eventually become ruins," says Steele.
Steele's installation, consisting of 35 cohesive oil paintings, depicts a combination of Italian architecture, sci-fi literature, and his surroundings. His careful selection of color aids in conveying a sense of a world separate from reality and demonstrates an entrance into a world unlike any other. However, upon installation of all of his works, Steele encountered a series of difficulties. 
"I found it very difficult to hang them against the ceiling because they were extremely high up, and I was scared of damaging any of the pieces," says Steele. "I really had to problem-solve by screwing a wooden bar to the wall for stability."
The process of experimentation manifests as a quintessential aspect of artwork creation. Ceramics teacher Jen Marie Wentzel also shares her difficulties while developing her Raku 3D tiles, "Testing Boundaries," and how she overcame them.
"When I fired my pieces the first time, one did not come out the way I wanted it to," says Wentzel. "I had to refire it on the opening day, and when it came out the second time, I really liked it, so it was worth it." 
One of the most rewarding aspects for the artists was the opening night; after the immense amount of work and time the art faculty allocated for the exhibit, the pieces were finally put on display and able to be enjoyed by students and faculty across campus. Refreshments were provided to commemorate the occasion, and viewers had lots of time to peruse the works. 
"This year, the reception was amazing, and we had a lot of students, faculty, and staff who attended the show," says Wentzel. "The energy in the room was a great start to the school year, and I loved sharing [my work] with my fellow colleagues in and out of the art department."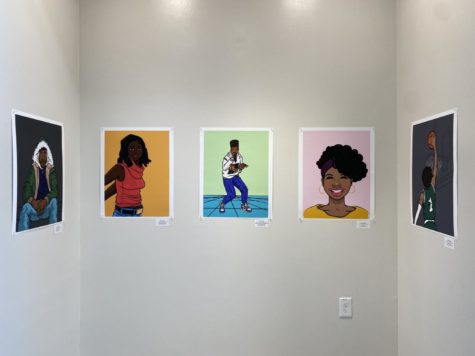 The amount of people who attended this year's opening event exceeded that of past years, allowing the faculty to receive an influx of recognition for their work and creating a positive environment for everyone involved.
"My favorite part was the atmosphere because everyone who had come was there to see the art, and [it was] overall just a really nice atmosphere that brought everyone together," says sophomore Dylan Song.
Many art students who attend the exhibit can observe their teachers' work and find their inspiration in the unique artwork displayed in the gallery. 
"The faculty are all incredibly talented, and their works provided inspiration for my own concentration," says junior Alexis McDonald. 
The exhibit appeals not only to students enrolled in Westminster's visual arts curriculum but also those who are not. Even students not involved in arts at Westminster find the exhibit interesting and share their admiration for it.
"I really enjoyed it, and I think that a lot of other people will enjoy it whether it's the food, art, or atmosphere," says Song.
While the opening day has passed, the exhibit remains open for all audiences to view. Students may visit the exhibit in and out of their class time.
"I would absolutely recommend the exhibit," says McDonald. "I also think that attending a reception is a great way to learn more about the art community for students who aren't enrolled in a visual arts class." 
The faculty art exhibit ran from August 24 to September 24, 2022. For all who enjoyed the current exhibit, the art department has numerous more planned for the upcoming school year, like the student-produced Upper School Exhibit. 
Edited by Alexandra Kent