Les Misérables Takes the Stage Again
Autumn has arrived, and in its stead trails cold weather, pumpkin spice lattes, and most notably, fall musicals. In just two months, the stage-cats produced an action-packed production of Les Misérables.
This year's show was not the first time Westminster put on Les Misérables. The musical was highly anticipated, as many recalled the impact of the 2017 production.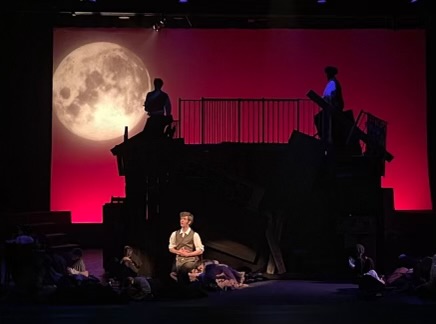 "I saw Westminster do this 5 years ago, and it was incredible," said junior Laura Gracey, the musical's stage director. "I want to give this experience to someone else."
Her feelings were echoed by many others throughout Westminster. 
"Students love it," said Mrs. Morgens, director of the musical. "Faculty love it. On campus I will constantly have faculty come to me and say 'I'm excited to see this show!'"
While the 2017 production remains special, this year came with its own improvements. 
"In this, the sets are a little bit more complicated," said Morgens. "We have more fog. It gives it a lot of ambience."
In addition to technical improvements, the scenes themselves were also altered since the last production of Les Misérables. 
"There are lots of fights and deaths, plus cool set designs," said senior James Rosenblath, who played the lead, Jean Valjean. "It's one of a kind." 
Of course, this year's production could not be complete without this year's standout cast members. The actors had to focus on minute details, perfecting their conditions and their characters. Senior Joe Kuester, who played the main antagonist Javert, had to refine the various subtle quirks in his character.
"I'm doing a lot of work with a stance to look very composed," said Kuester. "I try to put a lot of inflections [in my voice] to make it sound snarly."
Aside from curating an accurate portrayal of their characters, several actors also took precautions to maintain their vocal chords. 
"For the past two weeks, I've been dairy-free and drinking a ridiculous amount of water," said Rosenblath. "In vocal folds, dairy can inflame them and make it a little harder to sing." 
These deliberate measures, however, paid off to develop a strong team of actors. 
"The actors are just extraordinary," said Morgens. "They are really good individually, and they're really good together."
The backstage crew was also integral to the success of the musical, playing important roles behind the scenes to support and manage the show.
"I'm there every rehearsal, helping play music, writing down blocking, choreographing, running lights, substituting in for a character, giving cues, telling spots when and where to spot," said Gracey. 
As costume director, junior Sarah Kim was busy with the various designs and attire. 
"Everyone has more than one costume, so I'm making and organizing design clothes during show week when something is not right and looks visually appealing."
 While the process had been mostly smooth, it had not been without bumps along the way. 
"Sometimes, I feel like I kill it when I sing a song and put all my effort into it and then sometimes Mrs. Morgens or someone will say, 'can you take this one thing and do this instead,'" said Kuester. "It can feel demoralizing but at the end of the day that's what we're here to do. They're going to push you to go further."
Another considerable obstacle for the cast was the timing of fall break this year. 
"Having a fall break right before we do our show next week means we had to stop in the middle of our momentum," said Morgens.
Despite these challenges, the cast and crew were able to put together an incredible show, full of highlights and fond memories. 
"One of the best parts about being in any show is that it's a community of people to have your back," said Kuester. "It's just a really nice dynamic because we're in this together."
The theme of togetherness extends past the theater community to the audience as well, especially in difficult times.
"It is a really good message during covid to show that human-to-human connection is valuable," said Mrs. Morgens.
These connections, along with the extensive preparations, culminated in a successful week of performances. Les Misérables performed three sold-out shows on October 21, 22, and 23.
Edited by Kelsey Li