Octubafest returns for a second year
The Westminster band program finished off October with their second Octubafest in school history on October 27. Composed of students from the Symphonic Band and Wind Ensemble, this event brought together all members of the low brass section–the tuba, euphonium, and trombone–within the Upper School bands to create a once-a-year event that is shown to the entire Westminster community.  
Octubafest is inspired by Oktoberfest, a German folk festival that began in 1810 as a horse race. Originally created by Harvey Phillips, a professor and devoted tuba player from Indiana University, the first Octubafest documented was in 1972. Former director of bands Scott Stewart decided to begin the tradition of Westminster's Octubafest, but the event has since been continued by Will Pitts, Upper School band director.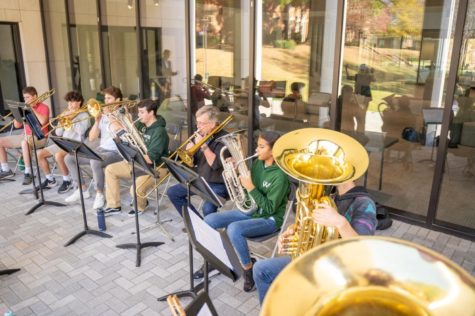 "We just wanted to do it here as another chance to perform and kind of get out in the community here at Westminster to spread joy," said Pitts. "It's kind of purposefully jovial music and joyful music, and we just wanted to do something fun for sure."
The student-and-faculty-led preparation process began around the beginning of October and did not stop until the actual event on October 27. Low brass students met during various times to rehearse for this event, sometimes on Wednesday mornings, others during class, which fell on second and fourth period, but most of the rehearsals happened during sectionals and studio classes catered to each individual instrument.
Professional musicians came once a rotation to help fine-tune and solidify their respective instrumental sections for auditions, concerts, and events like Octubafest. 
"The low brass teachers that we have here sort of put together a rehearsal schedule, either through the studio classes or they'll meet on a Wednesday morning or something like that to start putting things together," Pitts said.
Participants learned songs and recycled songs from the previous year to perform, but in the matter of setting the stage, students only needed to bring their instrument, a chair, and a music stand to begin the performance.
"For the most part, it's a low stress event," said Bo Koebler, a senior who participated in Octubafest. "Unlike most formal performances, it requires far less set up and far less preparation…in terms of organizing it, maybe a little bit stressful at times, but in terms of actually playing, or even being in the audience or setting up for it in the moment, I'm really looking forward to it."
Although the logistics of the event were not very difficult to put together, the student participants in this event often found rehearsal schedules trickier than usual.
"So it's complicated because Octubafest is comprised of only low brass members of the ensemble, so that means that when we're in class, we would have to either rehearse in sectionals when we're all in smaller groups together," said Koebler. "Or we'd have to pull out of larger group rehearsal for other pieces that we probably ought to be using that time to work on."
In terms of music selection, Octubafest featured cheerful genres of music like polka and renaissance style, including lighthearted marching songs.
"It's a lot of polka, it's really German, you know, think Oktoberfest, obviously, polka it's kind of dancy," said Frances Munger, a senior also participating in Octubafest. ""Loch Lomond" is, I think, more of like a Scottish, more like an heir, like a ballad, but it'll mostly be the polka kind of dancey stuff." 
"Loch Lomond," even though it was not as upbeat, was a beautiful, chorale-style piece that featured solos from a wide range of the partaking low brass instruments. 
Aside from "Loch Lomond," the event featured many traditional German folk songs such as "Octuba Suite" and "The Tubameister Polka."
Besides the performance and preparation aspect of Octubafest, participants were excited about being able to perform and spend time with their friends in smaller ensembles. 
"Octubafest is a great catalyst for bonding in a smaller section, particularly the low brass," Koebler said. "Generally, most Wind Bands are separated into three groups: Percussion, Woodwind, and Brass. Though each of these sections often get time to practice within those groups, it's less common to further separate into chamber groups, which are smaller, and therefore typically more involved, casual, and cohesive."
In addition, Octubafest allowed for a gathering of fellow students and teachers. Because the event took place during the school day on the steps of Barge Commons, students and teachers who are typically unable to attend community events–such as evening band concerts– could watch and celebrate their peers' success. 
"I kind of get to be an audience member, that's probably my favorite part," said Pitts. "You know, most band things, I'm stressed about conducting or making sure we're doing the right thing, and for this one I kind of just get to be an audience member."
Edited by Evvie Morgan