Amplify DEI amps up again this year
Throughout the year, the Diversity Equity Inclusion office (DEI) hosts Amplify, an open mic event. Amplify was recently hosted on Nov. 28 and featured acts from students across grade levels, showcasing their artistic talents.
The primary purpose of Amplify is to provide students with a space and opportunity where they can express their art in a way that is not high-pressure. Performing an act at Amplify was open to students from all grade levels, and students could sign up through the link in the Wildcat announcements or through the paper signups, which were available on the day of the event.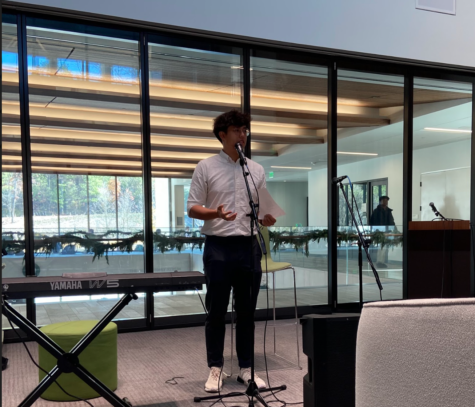 "I think it's important for events like open mics to exist because students can have an informal and safe space for them to try to express themselves through art that is more experimental and not something as large as an assembly, a show, or a musical," said DEI coordinator Eric Khong. "In an open mic, you can mess up, and you might flub a line or two, but you are really able to express yourself in a different way than a polished assembly."
An open mic event is a session where any participant is welcome to perform an act regardless of its contents. The hope was that someone else's performance would inspire and encourage them to experiment and perform. Participating in open mic events also builds a student's confidence while sharing their talents with others.
"It's also important for people to see all different types of artists on campus," said Khong. Seeing people that you wouldn't expect to be performing is a powerful tool. It awakens the artists inside all of us. 
This tool proved effective; signups poured in following the first few performances after students were inspired by their peers. 
"We have three or four signups during the event, which shows us that it's good when people see others perform," said DEI coordinator Sabrina Johnson.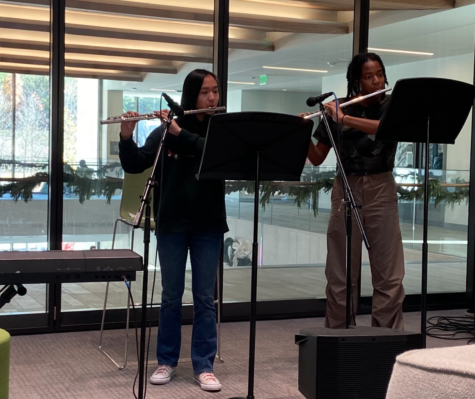 Students and faculty showcased various talents, such as reading poetry and writing, singing, and playing instruments. Faculty participating in the event included Khong and Upper School English teacher Mario Chard, who each read their poetry. Students who participated in the event included senior Kelsey Chambers, senior Melanie Zhang, freshman Kirsten Liang, and freshman Caroline Kent. Kent performed an excellent singing performance, and Zhang and Chambers played a captivating flute duet. 
Liang, whose writing reached the national level of the 2021 National Flash Fiction Day competition and the national level of the 2021 and 2022 Scholastic Writing awards, read her flash fiction piece titled "Ink," which won the Wintermute writing contest this year. 
"I signed up for Amplify DEI because it was just an opportunity to share my work, and I thought that would be fun," said Liang. "Yes, originally I was a little bit nervous, but I found as I really sank into my writing and just the whole story of it, I began to get more comfortable as I went on."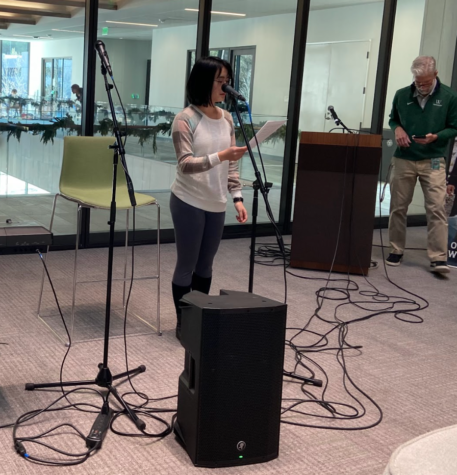 These events can be vital to building character because it allows students to express themselves freely through the arts without fear of judgment from peers. 
"I think that expression through poetry, music, and performances of any kind can show someone's true emotions. Oftentimes at school, we are told to act and present ourselves a certain way that your teacher and friends want you to present yourself," said Johnson. "To have an event like Amplify allows people to show their true selves."
The acts weren't required to be rehearsed, but even with minor mishaps and mistakes, the event had positive feedback from students and faculty. Many were cheering, clapping, and recording the performances.
"I thought the event went pretty well. I think we would have wanted it better attended," said Johnson. 
Despite the lack of attendees due to coming off of Thanksgiving break, the event was still an overall success. If you missed the open mic Amplify DEI event this time, do not fret. 
"We will definitely do this event again," said Johnson. "We will have one in the spring and hopefully continue this for the years to come."
Edited by Kelsey Li