Forget Lenox, Phipps: school offers shopping alternative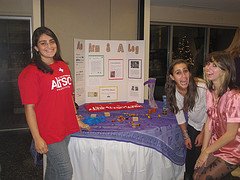 Each December, the Alternative Gift Fair provides an opportunity for Westminster community members to shop for holiday gifts, but not in the conventional sense. The gift fair consists of more than thirty nonprofit organizations setting up booths that feature gift items available for purchase or donations that can be given in honor of others. The entire Westminster community contributes to the mission of these organizations even as they honor those on their gift lists. In effect, the gift fair helps the Westminster community turn the holiday season into an opportunity to help those in need.
"I vividly remember someone giving their uncle a tie every year at Christmas and spending around $40 on each and every tie, even though their uncle neither wore one nor wanted one," said community service director Stan Moor. "Therefore, students began thinking that it would be better if money in those types of situations was used to support a good cause that could benefit many people. Instead of buying your uncle a $40 tie, you could make a donation to the Make-A-Wish Foundation. That money would be going to help fulfill the wish of a child."
Westminster's summer course Philanthropy 101 in 2006 first began to discuss the idea of having an alternative gift fair. The dialogue was centered on how those in the Westminster community could become better stewards by supporting others in need. Five years later, the Alternative Gift Fair has become a Westminster tradition in which students, parents, and nonprofit organizations can spread awareness on multiple issues.
"We decided to do the first fair in mid-November," said Moor. "Unfortunately, we did it the night of our last home football game, thinking that would draw some people to come, but first it was too early and people weren't thinking about the holiday season at that time, so we only got maybe 20 or 30 people. Therefore, we decided to push the fair near Christmas season, which eventually led to us reaching 500 people attending and participating in the fair."
At the fair, both members of the Westminster community and nonprofit representatives sell a variety of gifts, ranging from books and jewelry to art pieces and crafts made by local artisans. However, many nonprofit organizations represented at the fair offer less tangible gifts, simply accepting donations in order to support their causes.
"The fair is a wide variety of half tangible things and half donations," said Moor. "I purchased a goat from Global Health Action, which is being given to a family in Haiti that will give them sustenance and help out on their farm. At the fair, the Make-A-Wish Foundation, which grants children with life-threatening diseases wishes, sold stuffed animals for $15, so in the purchase of your stuffed animal, you could subsequently give a gift to a child, thus helping support their cause. Project Open Hand was selling bricks at the fair to help build their new warehouse since they are in the middle of a building campaign. Instead actually buying a brick, you would buy a brick in honor of somebody. Furthermore, Trees Atlanta attended the fair, selling trees for $25. Once again, you don't actually get a tree, but instead, you get a certificate to give to a loved one in their honor. Some people do sell tangible gifts, others just promote symbolic gifts."
Moreover, the Alternative Gift Fair promotes students taking action and creating projects themselves. This year, many high school students created their own booths, advocating programs that help estranged people in North Korea and provide cleaner water for children in Zambia.
"Many students have their own special passion or interests," said Moor. "For example, Meg Gore has a foundation that she started on her own called An Arm and a Leg, which provides prosthetic legs for children in India. Daniel He and other students created a booth representing an organization that supports alienated people in North Korea. Basically, if a student has a project that they're working on that's trying to raise money for some good cause, the Alternative Gift Fair is the perfect setting to advocate and promote it."
This year, many students gathered together to support many Westminster-sponsored service programs, such as the Guatemala trip. These initiatives not only help raise awareness on the state of affairs in countries worldwide but also provide a way for students to educate others about their projects.
"About 20 sophomores and I are helping the Guatemala initiative by selling coffee from Antigua, bracelets and angels from the elementary school," said sophomore Ben Hauser. "The goal we are trying to reach is $16,000 so we can go to Guatemala and build three houses. We hope that we can expand the Guatemala project so we can help more people in impoverished areas. The fact that we will also be able to help the school and a medical center with the donations and purchases really justifies what we're doing. I'm glad to be a part of something that helps charity causes become more applicable and provides an alternative to conventional gifts."
Other student-run booths raised awareness on community organizations and establishments, such as schools, hospitals, and homeless shelters, with each program displaying its own unique background and future goals. However, what all of these booths had in common was that they all serve to help those in need around Atlanta.
"My booth is for the Lionheart School, which is a prep school in Alpharetta for kids with autistic spectrum disorders," said senior Peter Bryant. "My brother went to school there for ten years, so that's why I decided to help and support the program. I feel that doing this is my own way of giving back to the school for all the great things it did for my brother."
The Alternative Gift Fair serves as a way for the entire Westminster community to reach out across the globe, helping local, national, and international organizations and fellow students achieve their goals of supporting those in need. The fair has proved to be an amazing alternative to the typical rush of holiday shopping and allows people to share their experiences, ultimately creating a deeper and fully integrated community centered on the gift of service.