Helms opens up to students about past, present, future
Students buzzed with excitement in the pews of McCain Chapel on Nov. 22, quoting The Office and recounting scenes from The Hangover as they waited. When a smiling Helms finally walked onto the stage, his joviality did not betray his nervousness.
"A lot of my high school anxieties and insecurities and fears are bubbling up now that I'm here," said Helms in a WCAT interview with junior Henry Quillian. "I come back here and all the sudden I'm just that nerd I was in high school again!"
The cheering died down as attendees quieted in anticipation, only to start cheering again when Helms' tested the microphone with "go Wildcats."
Interviewed talk-show style by Theater Arts Director Eric Brannen, Helms spent the majority of the assembly speaking about the development of his acting career. He started with his time acting with the Westminster Players, jokingly saying, "wow, that was torture" when an old VHS tape of one of his performances was played.
Helms played lead roles in both eleventh and twelfth grade. According to Brannen, Helms had an unmatched knack for humor, particularly for roles involving "deranged, neurotic" characters. He radiated energy whenever he performed, and he loved to be in front of an audience. Brannen also said that Helms was a fairly quiet person in high school.
Brannen filled in information about Helms' life with his own memories. He told of one time when the players were working on a play called Cotton Patch Gospel, which required a banjo player. No one knew how to play the banjo, so Helms bought a banjo over Christmas break and learned how to play it in two weeks.
Helms also expounded on his time after graduating. He joked about studying geology for a year at Oberlin College before switching to film. Helms began his acting and comedy career doing stand-up comedy in New York and became a member of "The Upright Citizens Brigade" before coming to the attention of Comedy Central. It was more than ten years before Helms landed his role on The Office. That role then initated a run of success that would culminate, at least for the time being, in the film, The Hangover. Instead of taking a break after filming The Hangover, Helms took the money that he had made and produced a smaller film with an indie-feel: Cedar Rapids.
Alumni who had been in plays with Helms while in high school were invited to a luncheon with him afterward, and the Westminster Players were able to meet with him and take pictures. Brannen describes the current Westminster Players as "the next generation" of Helms' theatrical family.
At the gathering with fellow alums, Helms waited in the chorale room until every last person who wanted an autograph or picture got one, despite Brannen's offers to turn people away.
Students were not the only ones anticipating the return of actor and comedian Ed Helms to Westminster; close to 1,000 parents and alumni had purchased tickets weeks before to hear from Helms later that night. Brannen's conversation with Helms was largely the same, with a few changes to the clips shown of Helms performing on The Daily Show and The Office. Few students anticipated how amiable and "downright normal" Helms would be. Others, who expected Helms to be as hilarious as he is on camera, were disappointed by his lack of comedy during the assembly.
"I think that the people who were underwhelmed expected Andy from The Office or Stu from The Hangover. He wasn't being either of them. He was being Ed Helms," said freshman Sarah Zoellick. "He was up there to talk to us, not to be a comedian."
In the end, even those who wished Helms had been funnier thought he was very amusing. Everybody was too excited about having such a famous person on campus to care. Moving forward in his career, the Westminster graduate has multiple films due to be released soon, including a part in The Lorax, a 3-D animated film based on Dr. Seuss' children's book about environmental stewardship. Helms also has a role in Jeff Who Lives At Home, due to be released in March. And of course, he will also continue starring in The Office, in which he recently assumed Steve Carell's old role as the hapless office boss.
About the Contributor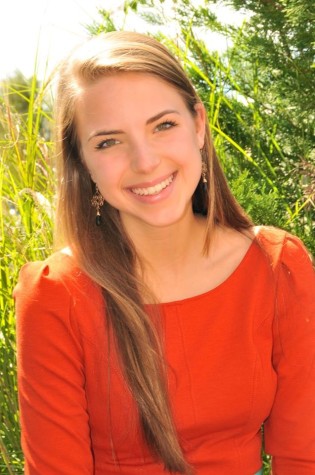 Hannah Gay, Head Editor
Hannah has been with the Bi-Line since freshman year as a writer and a news section editor. She plays Varsity and club soccer with Concorde Fire, and does...