Islam assembly prompts conversation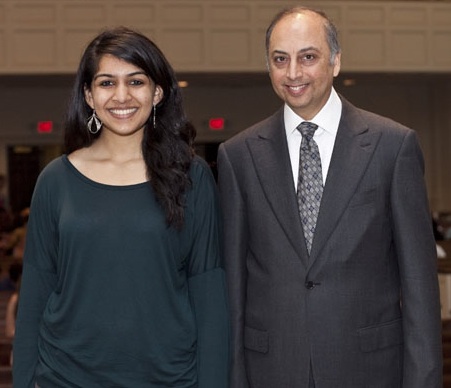 On Tuesday, March 23, students gathered as usual for the regular Tuesday assembly, many not even knowing the topic. The speech they heard was anything but ordinary.
Dr. Mahmoud Eboo, the president of His Highness Prince Aga Khan Shie Imami Ismaili Council for the United States, Australia, and New Zealand, spoke to the high school student body about Islam. During the assembly, he urged students to recognize that Christianity and Islam share the belief in a single creator and that both of these religions call for the respect and care of others. Eboo encouraged students to think critically and engage in the world as a means of helping to heal religious differences among cultures.
Eboo explored two main themes: explaining the nature of pluralism and debunking popular myths about Islam and what it means to be a Muslim. He spoke about the strength of pluralistic communities, explaining that when individuals within a community hold different beliefs, the community is stronger because of the amount of wisdom gained from different views.
By dispelling common myths about Islam, Eboo sought to point out to the audience that Islam is not so different from Christianity and that a middle ground exists between the two. Eboo's main point was that many characteristics non-Muslims associate with Islam, such as "Sharia Law" and the way some women dress, are stereotypical generalizations that reflect ideas and habits of only some specific societies. [I HAVE CHANGED THIS SENTENCE TO WHAT I THINK IS A MORE ACCURATE EXPLANATION OF WHAT EBOO'S MAIN POINT WAS (RATHER THAN SIMPLY "CULTURAL DIFFERENCES"). CHANGE AGAIN IF YOU HAVE A DIFFERENT UNDERSTANDING.–EC]
The assembly was part of a series of events that the Student Diversity Leadership Council (SDLC) has conducted to explore the idea of pluralism. On Feb. 14, SDLC held a REEL talk (an after-school event aimed at addressing controversial issues through discussion) about Islamophobia, which raised the questions that were addressed by Eboo. The REEL talk was the lead-in to the speaker, and there will be discussions in the future as followups to address any additional issues.
The mission of the SDLC, as stated by diversity education coordinator Judy Osborne, is to bring interesting people to campus who challenge students' understandings of the world and broaden their perspectives.
"We thought that it would be really interesting to bring some different perspectives to campus," said Osborne, "to clear up a lot of the misconceptions about Islam in general but also on a broader note to talk about what pluralism is."
The SDLC had identified Islamophobia as an issue to be addressed earlier in the year. During the previous school year, high school math teacher Nurfatimah Merchant talked to Ralph Geeza's bible classes about Islam and spoke to Geeza about the idea of sponsoring an assembly on the subject. Merchant suggested to Frances Fondren, the dean of girls, to invite Eboo to speak, but it was impossible to get the event on the assembly calendar for another year.
"Not everyone in this community is Christian," said Osborne, "so we need to represent people who do not speak from a Christian perspective but speak from their own worldview."
Eboo's talk was preceded by an introduction by junior Sarah Hakani, an SDLC member and practicing Muslim. Osborne asked Hakani to add a student's perspective in order to show the student body that there are people in the community with a wide range of faiths. Hakani also emphasized that there are countless similarities between Christianity and Islam, though her main motivation to speak was for the students to learn about another faith.
"Just being at this school and learning so much about Christianity has taught me that it's really important to learn about other faiths," said Hakani. "I feel like Islam is one faith that many people don't really know about. That's what really inspired me to speak up."
Student opinions of the assembly were varied. Most agreed that the content of the assembly was educational and that they had not known most of the things that were said. However, a lot of students were deterred by the length of the assembly.
"I thought it was good," said junior Jillian Puskas. "I thought it was a little hard to follow because it was more of a rant than structured questions, but I thought it was a great topic for Westminster to hear a different side of."
Other students were slightly less impressed, namely the freshmen, who were too far back in McCain to hear well. "You couldn't hear him," said freshman Conoly Cravens, "so it was hard to concentrate."
Students would have also preferred that Eboo interact more with the audience, which they felt would have kept students focused during the long assembly. Despite a few shortcomings in the assembly itself, the mission of raising discussion about Islamophobia was accomplished. Those involved in the organization of the assembly are optimistic for the future of this topic.
"I really hope that this is just the beginning to a larger ongoing conversation," said Merchant, "and that we can become a truly pluralistic community.
About the Contributor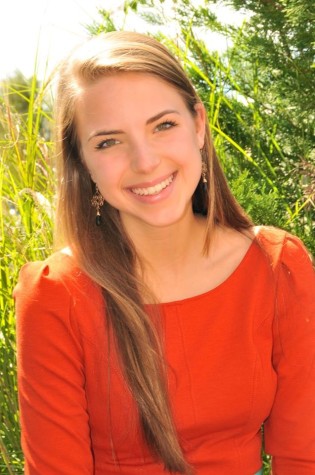 Hannah Gay, Head Editor
Hannah has been with the Bi-Line since freshman year as a writer and a news section editor. She plays Varsity and club soccer with Concorde Fire, and does...