Summer wedding recap
The school community experienced its fair share of weddings this past summer as three upper school teachers all said "I do" in the months of May and June. Spanish teacher Anna Major, English teacher Maggie Bailey (née Blake), and librarian Liesel Good (née Krueger) found themselves planning much of the festivities for their big day during the 2013-2014 school year.
"It was nice to have so much time to plan and for our families to get to know one another," said Bailey, who was engaged in the fall of 2012.
Good, on the other hand, was engaged last August after meeting her husband on a bowling team in 2010.
"I knew hardly anyone as I had just moved to Atlanta," said Good. "He asked me if I wanted to join his team and the rest is history."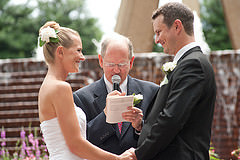 She didn't want a long engagement and planned her wedding in a shorter time span, yet the two brides still ended up getting married on the same day, May 3. Even with the extra time, however, Bailey found herself making arrangements right up until the big day.
"It was sort of like studying for finals," she said. "You have all year, but all of a sudden it's a week before [the date] and you realize that you need to get moving."
Bailey not only had an out-of-state wedding but also many out-of-state bridesmaids.
"My bridesmaids truly came from all over the world," said Blake, "including Australia, London, Seattle, San Francisco, Massachusetts, New Orleans, and North Carolina."
Anna Major, on the other hand, had only one woman in her bridal party: Anthea Economy as her maid of honor.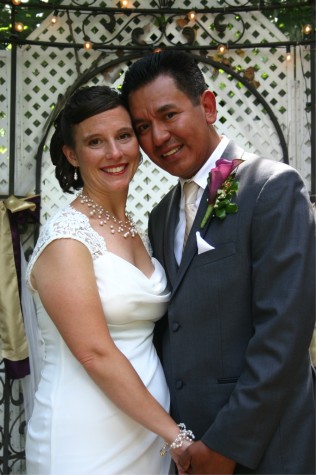 "Anna's wedding was so much fun," said Economy, "and she planned the entire thing entirely by herself in a fairly short amount of time. She really turned into the perfect bride."
With around 75 guests total, Major's wedding took place at the Holy Family Catholic Church in Marietta and had several school faculty members in attendance.
"Maria Russell read scripture in both Spanish and English," said Major, "and we finally got Anthea to dance. We weren't able to at Mrs. Elliot's wedding, but this time we got her to get out there."
Economy reluctantly agreed that she indeed danced with her friend.
"I was clearly caught dancing the entire night," she said.
Good had several faculty members help create her special day as well. Taylor Self, the former admissions assistant, planned Good's wedding and had Reverend Barnes as Wood's officiate for her actual ceremony.
"It was very special for us to have Reverend Woodrow Barnes be part of the ceremony," said Good "and he actually timed the entire thing perfectly, since it started to rain just after the ceremony finished."
Barnes sped up the ceremony when everyone soon realized the rain that was quickly approaching, so the party was able to exit the garden just as raindrops began to fall.
"The last minute change in the weather made it all the more special as we timed it perfectly down to the last minute," said Barnes.
Along with the rain, Good also experienced two other incidents on her big day, including her husband misplacing the wedding rings for several hours and an iPod malfunction which contained all of the wedding music.
"You always think: what's the worst that could occur?" said Good. "That these things won't actually happen. But little snags are inevitable. Thankfully everything worked out."
Good and her husband were married at the Georgian Club in downtown Atlanta.
"I'm blissfully happy now," she said.
Bailey's ceremony and reception, on the other hand, took place in Onset, Massachusetts at the Kittansett Club. History teacher David Drake drove 1,000-miles, approximately a three-day road trip with his wife just to attend her wedding.
"He was the last person I saw sit down before it was time for me to go out and I was currently hiding from everyone," said Bailey. "[Seeing him] really hit me, and it was a great moment."
Drake, along with Bart Griffith, Sabrina Johnson, and other faculty members all attended, to support Bailey on her big day.
"The wedding was absolutely typical of Maggie," said Drake, "and it was a fantastic day. That's what a wedding should be about–fitting the person perfectly."
Major and Bailey are also now both expecting babies and will soon have a new addition to their families.
"I love married life," said Major, "and with a new member on the way it's definitely very exciting."