Club offers students opportunities in service learning
           The Service Learning Leadership Council, SLLC for short, is a group of students in the upper school who work to advocate for service learning on campus amongst both students and faculty. Not only do they work with service programs across campus but they also decide how to distribute the grant money from the Glenn Institute for Philanthropy and Service Learning.
         "We currently have 26 members," said Callie Crabb, program manager for the Glenn Institute and faculty sponsor of the SLLC. "We only recruit two freshmen, one male and one female each year. The majority of our members are sophomores or juniors. We have a handful of seniors as well."
        Within those 26 members, different subcommittees are formed with separate responsibilities for each. Some work with the lower school in Urban Ed, some with the LEAP program in the middle school, and some help with other upcoming projects through various upper school clubs.
         "Every project has a different budget," said junior SLLC member Kensey Cochran."We allot the money and advise the projects to make sure that they're actually service learning projects and not just service projects or learning projects."
         Their main goals are to promote the understanding of service and to foster passions among younger students so that they will be encouraged to get involved in service opportunities. In order to accomplish this goal, they give out grants to fund certain projects. The application process to get a grant approved by the SLLC, however, is a demanding procedure. The first step to applying is talking through the application with a SLLC representative.
         "The application consists of what we consider the standards for service learning," said Crabb. "It's also something that we want our teachers to consider whenever they want to incorporate a service learning project in their curriculum."
         The application was designed to reflect the same questions that teachers would be asked in order to get the students thinking about what meaningful service looks like. They include questions about the organization one plans to work with, its needs, and one's relationship with it, as well as if the service has a purpose and is needed.
         "We have a checklist," said junior Catherine Benedict, another member of the SLLC. "We think about questions like: 'How this grant is fostering a long term relationship?', 'Does it have a commitment to service learning?', and 'Are the volunteers getting something from it?'"
It also asks about people who will help to get the project up and running as well as about the money aspect of the plan, such as expenditures and funding.
         "After that, you'll submit that application to us and will then come present your project to the council," said Crabb. "Next, you'll step outside and we'll take time to discuss and go through the application to see if we have any further questions for you. We'll either approve or deny your application based off of all those standards. Lastly, we'll meet and talk through suggestions we might have and then you have money to get started on your project!"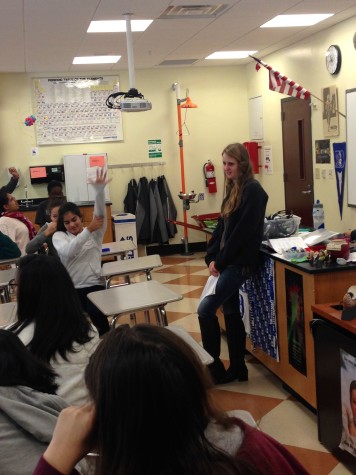 A major piece of the SLLC framework are the required monthly required meetings in which members address important tasks surrounding service.
        "That required meeting usually consists of vetting grant applications that come in from mostly upper school students," said Crabb. "However, there is an opportunity for students from the lower and middle schools to submit applications for funding for service projects."
        In the past couple of years, around 3 applications have been approved and funded each year.
        "It's solely based on what you guys are passionate about and what you want to do," said Crabb. "We have funded one program in particular for 5 years now, and that's the sort of model that we hope to achieve moving forward, because sustainability and relationship is very important in service."
         Though tedious, the grant process often results in the desired outcome for those who apply.
         "We've never turned anyone down," said Benedict. "That's mainly because [the applicants] are self-selecting since it's a lot of work to fill out a grant. So, I feel like people who are applying for grants are really invested in the process and work really hard on their grant because no one would just fill it out half-heartedly. Also, a lot of people don't know about it."
        If there is no application to review during a meeting, speakers will come in to talk about philanthropy. Members of the SLLC get to learn about things like community needs assessments and other elements of working for a nonprofit that will help them if they decide to graduate and pursue a career in that field.
        For instance, the Giving Point Institute is an entrepreneurship program to which high school students can apply that teaches them about marketing skills and how to develop products. A representative from their group was brought in to the SLLC to expose members of the SLLC to the opportunity to apply for that program.
        "The best thing about being on the SLLC is getting to learn how a nonprofit functions, because nonprofit work is all about grant writing and having people approve grants," said Benedict. "We're kind of acting like a nonprofit. That's something that not a lot of people understand."
        While the SLLC might not currently be very well known, the work they do on campus helps service projects continue to occur and be successful.