Hartsfield-Jackson Power Outage Disrupts Thousands, Costs Millions in Damage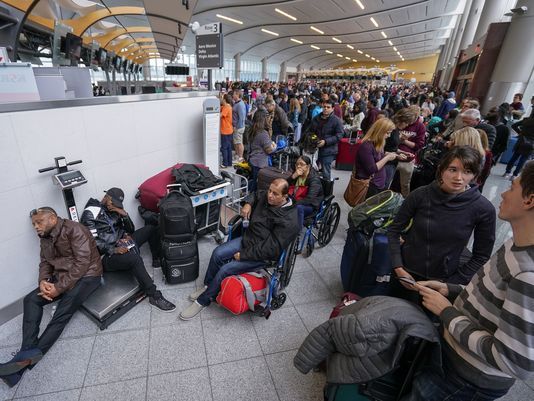 A seemingly normal Sunday afternoon at the world's busiest airport changed when suddenly the lights went out—leaving thousands of travelers in disarray and confusion. On Dec. 17, a power outage at Atlanta's Hartsfield-Jackson airport left over 20,000 travelers stranded for 11 hours and resulted in a loss of over 50 million in cancelled flights. In addition, the disruption led to 1,180 flight cancellations to and from the airport Sunday, also creating problems at other airports. As a result, many had to delay homecomings and cancel vacations on one of the holiday season's busiest days, dampening collective holiday spirit. An estimated 30,000 people were affected by the power outage.
"I know a close family that was stuck at the airport traveling home for the holidays," said junior Hampton Maxim. "It was a very stressful and strenuous period for them, as the outage completely disrupted their plans at home for the holidays."
Passengers at Hartsfield-Jackson were trapped inside airport terminals and planes on the tarmac for hours, while airport staff handed out water and pretzels. Yet the atmosphere was humid, crowded, and tense: water fountains stopped functioning, bathrooms would not flush, and many travelers did not have any source for food as concessions were closed. Around many corners and vents, smoke escaped. Travelers huddled in groups and used phone flashlights to light their paths. Officials handed out rolls of toilet paper, but even then many travelers did not risk losing their spot in whatever line they were in as they thought the power could come back any minute. By 3 pm, major airlines started cancelling flights at the airport.
Multiple Westminster students were affected and travelling during the outage, whether for the holidays, vacations, competitions, or college trips.
"The scene was truly a state of panic," said junior Raymond Zhao, who was already on the runway to an international fencing tournament when news of the outage stopped his flight. "In many places, smoke blurred our vision, and even with flashlights, there was a frenzy of people scrambling everywhere so we couldn't see where we were going."
Other students corroborated Zhao's account.
"It was absolute pandemonium," said junior Will Wallace, who was on his way to an important college athletic visit at the University of Pennsylvania. "The terminal I was in was in total chaos, and after a few hours tempers were flaring."
"I was flying back from St. Louis," said junior Ishta Bahl. "I was by myself, and I sat in the dark at the airport for eight hours. It was terrifying."
For the first few hours, travelers looked for answers as to the scope of the outage and when service would resume. But the officials standing by were just as confused as the travelers, as no information about the cause of the outage or about its scope was provided.
"It seemed as if there was no communication between the workers at the airport and the government, as the officials seemed shocked and responded with blank stares when we sought help," said Zhao.
By 7 pm, all flights at the airport were cancelled, and Georgia Power had officially commented on the issue, saying that power would be restored by midnight. Shortly before midnight, Georgia Power restored power to the airport, and the frenzy of travelers were finally able to resume their itineraries.
Commenting on city's lack of communication the first few hours, Atlanta Mayor Kasim Reed said, "we could always communicate better and more effectively. But I did believe that it would be highly frustrating to hold a press event where we communicated nothing. Everyone knew that we had a fire that occurred, but we could not even know when we could get the airport up and operational."
While many understood the perplexity of the situation as a reason for the lack of communication, others wished that the government still would have gave more help and answers sooner.
"I think accidents happen and you can't always prepare for anything," said Zhao, "but I don't think they necessarily did a great job of taking care of what happened. You've got to think on your feet to form solutions to restore power before more flights get affected, which I don't think they did. Moreover, they should've gave more assurance to travelers and created a more stable atmosphere inside the airport."
By 10:30, the airport was back at 90 percent normal functioning and lines sizes were back to the same as any other day.
But even after the power was returned, the outage still affected travelers with flights Monday morning. Travelers found terminals filled with passengers and zig-zagged lines so long that they reached the baggage claim area. Flights took off without many passengers, as they could not reach their gates on time, and airline officials offered to change flights.
But how exactly did the outage occur and how did the world's busiest airport's systems fail during the height of the holiday season, the busiest time of all?
At 7 am on Dec. 17, Georgia Power CEO Paul Bowers said, "we're going through a process of investigating exactly what happened."
In addition, Bowers said that there was a failure in the switchgear that caused the fire. Officials do not know if the fire was set intentionally. The fire occurred in a tunnel that runs along the path of the underground Plane Train tunnel near Concourse E. The intensity of the fire prevented Georgia Power crews from immediately accessing the tunnels to restore power.
"The issue for us is to ensure the reliability is here and that it doesn't happen again and to ensure that our network is resilient enough to withstand any kind of fire," said Bowers.
On the afternoon of Dec. 18, Reed proposed a series of fixes at the airport that would prevent another electrical fire that knocked out power like the one Sunday night. Reed said the airport would invest in "more aggressive portable lighting capability" to large parts of the airport.
"It's really a learning experience," said junior Peter Huff. "Disasters happen, but it's Mayor Reed and Georgia power's duty to make sure the equipment is fixed and at the very least, that they will resolve issues sooner and give more transparency to what's happening."
Delta Airlines, Atlanta's hometown airport, had the most flights disrupted and thus fielded most losses. The outage will cost Delta at least $25 million and up to $50 million in revenue, as it cancelled more than 14,000 flights on Dec. 17. Delta shares were down 2.4 percent at $55.37 in midday trading, on track for their biggest one-day percentage decline in more than two months. As Delta CEO said that it was "shocking" that it took 12 hours to get the power back, he is seeking compensation for the outage.
"We will certainly be seeking the opportunity to have a conversation, and then seek reimbursement," said Bastian.  "I don't know whose responsibility it is between the airport and Georgia Power, but we're going to have conversations with both of them."