New Civil Dialogue Fellowship encourages conversations on campus
Conversations about topics such as race, religion, and political views are often difficult to have, and Westminster's new Civil Dialogue Fellowship program is teaching sophomores, juniors, and seniors in the Upper School how to have those conversations respectfully. The fellowship advisors hope that the students chosen for this fellowship will develop their understanding and practice how to have healthy conversations throughout campus.
"The course was conceptualized as an opportunity to teach students how to focus on skills, not ideological consensus," said Civil Dialogue Fellow
s faculty advisor John Monahan.
A common theme among student fellows was that they wanted to learn how to have difficult conversations effectively.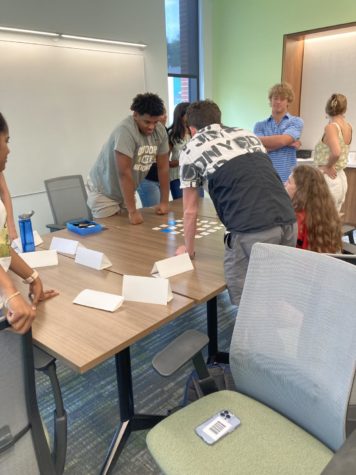 "I applied for Civil Dialogue [Fellows] because I wanted to have an opportunity to not only have conversations with people that are coming from different perspectives but to learn how to have healthy conversations together," said senior Abby Warshauer.
"When I read through the fellowship [description], it really excited me that Westminster was having something like this because I think that it is a great program," said senior Christian Flournoy. "Having conversations with people and learning how to do them effectively, where you're not necessarily winning but you're having the conversation to learn from another person [is important]."
Many fellows also had thoughts on why this fellowship is necessary for Westminster. 
"I do think something that's repeated over and over at this school and in this country is that we are so divided," said Warshauer. "That's something that we hear all the time, but very few people give suggestions on solutions to that. It's just a complaint that we have. I think that this fellowship is a solution, or a step toward having a solution, to that [problem]."
"I think that having this group on campus is so important because we do differ in race, religion, ethnicity, background, political views, and basically everything," said junior Lizzie Hunter. "I think that if other people can see that so many people from all different areas can come together and have such great conversations, and see how to have those conversations, it would be really amazing for Westminster."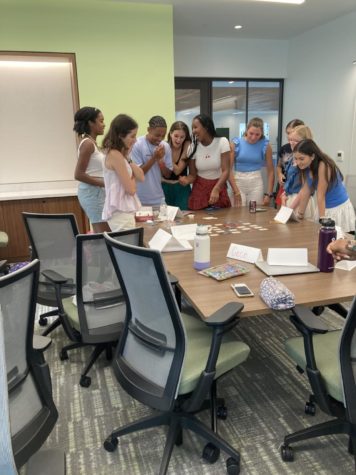 The program meets every Monday during the midday office hours period. The week before, Monahan gives the class a topic to research in preparation for the conversation the next week. Then, at the following meeting, he splits class time into two parts. 
"What we're introducing in the first fifteen minutes of class is a tactic for how to have a conversation," Monahan says. "Then, [the fellows] spend the rest of the class time having the conversation."
At the end of the year, the Civil Dialogue fellows will complete a final project that involves choosing a topic and moderating a conversation among a group of students on campus, such as advisements or sports teams. 
"When students applied for the fellowship, they had to talk about something that they were interested in seeing changed in the school or how they can apply the concepts of the course to something within the school, which is essentially what their final project will be centered around," said faculty advisor Tori Sparks. "The project will be mostly student designed in how they decide to implement it and where they have the conversion." 
With a cohort of 20 students, the fellowship will surely be spreading awareness on how to have difficult conversations in constructive ways. 
"Ultimately, if all you get is just you've listened to someone who believes something different than you, then that's progress—you've had the opportunity for conversation," said Warshauer. "I'm really excited and I hope that this year, we will have really productive opportunities on this campus for that."
Edited by Hazel Thekkekara