Hurricane Ian strikes southeast United States
On Sept. 28, Hurricane Ian made landfall near Cayo Costa on the west coast of Florida after raging a path of destruction through the Caribbean in areas such as Jamaica, the Cayman Islands, and western Cuba. The hurricane first formed over the central Caribbean Sea on Friday, Sept. 23 as a tropical storm and strengthened into a category three hurricane on the night of Sept. 26. 
"The recipe for a hurricane is warm water, low pressure, and wind," said Caitlin Wilson, an Upper School AP Environmental Science teacher. "The warm ocean water and the moist air above it have heat energy that can turn into kinetic energy. Warm air rises and creates movement. The manufactured winds, combined with the natural winds caused by the way the earth turns, can accelerate wind speeds. When this happens around an area with low pressure, areas of higher air pressure will move in on the area with low air pressure. The combination of these three things will cause a swirling mass of wet air—a tropical cyclone that we commonly refer to as a hurricane."
Water temperature was another major factor in Hurricane Ian's rapid development. According to recent data from NASA, waters off the coast in the Gulf of Mexico were two or three degrees Fahrenheit warmer than usual for this time of the year, fueling the violent temperament of the storm. It is becoming more evident that Ian is a part of a global trend in recent natural disasters: climate change. 
"The consumption of fossil fuels emitting greenhouse gasses on earth has increased global temperatures by one-and-a-half degrees Fahrenheit," said Wilson. "A warmer climate can contain more water vapor through evaporation that is released as precipitation, increasing rainfall. The warmer weather has also melted 40 percent of polar ice caps. Storms riding on top of elevated sea levels can worsen coastal flooding. While we have not seen an increase in the number of storms, we have seen an increase in the intensity of these tropical storms."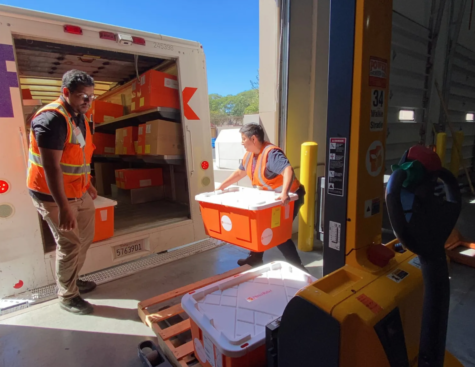 On the morning of Sept. 28, Ian escalated into a category four hurricane over the Gulf of Mexico with maximum sustained winds of 155 mph, only two mph shy of a category five hurricane, the strongest classification on the Saffir-Simpson Hurricane Wind Scale. Ian then struck the coastal city of Fort Myers that day at 3:05 p.m. EDT as a category 4 hurricane, maintaining maximum sustained winds of 150 mph. This ties the record for the fifth-strongest hurricane to hit U.S. territory, and the strongest hurricane to hit Florida since Michael in 2018, according to the National Environmental Satellite, Data, and Information Service (NESDIS). The hurricane made its final landfall near Georgetown, South Carolina two days later as a category 1 storm, leaving a trail of catastrophic damage despite its reduced wind speeds.
"A hurricane containing such extreme wind speeds can cause extensive damage, destroying property and uprooting trees," said Wilson. "The problem with hurricanes is that it can take decades to restore infrastructure and the affected communities. Many tobacco farms in Cuba were destroyed due to Hurricane Ian, and while they may seem like a mere stretch of land for some, it means years of hard work for a farmer. … [Hurricanes] can really displace people from their roots and affect the livelihoods of many."
Since its landing, Ian ravaged various parts of Florida's western coast, bringing heavy rainfall, high winds, disastrous storm surges, and flooding along the coastline. Reports from the National Hurricane Center detail storm surges of 12 to 18 feet above ground level along the southwestern Florida coast, and the city of Fort Myers experienced a more than seven-foot surge. About 2.5 million Florida residents evacuated their homes preceding the storm, and the estimated casualties fall around 119 people, more than any other hurricane had caused in Florida since 1935, according to The New York Times. 
Interviews revealing the personal experiences of Ian's victims allow further examination of the hurricane's destructive influence.
"My aunt lives in Florida," said sophomore Kathryn Johnson. "Luckily, she was in Minnesota to visit my great uncle [during the hurricane]. She was mostly concerned about her friends living in Florida, especially when it took days to get in touch with anyone. Then when she heard her condo flooded, she was really worried about all the things she had lost, including medications, pictures, and all her furniture. She felt sorry for her friends who were in the flooded condos and had to sit on top of tables and counters until the water went down. Some will never return to Florida because they were so scared."
The extensive damage resulting from Hurricane Ian cannot be overlooked. The storm demolished a vast network of infrastructure, including houses, businesses, roads, and bridges. The disaster threatens to destabilize Florida's insurance and real estate markets as devastated residents and civilians file claims for damaged private property. Real estate isn't the only issue, however; the storm also harmed citrus fruit tree farms, which comprise a significant sector of the state's industry. In total, the economic damage caused by Ian could total up to $75 billion based on a projection released by data firm Enki Research. According to the firm, Hurricane Ian will be among the top ten costliest storms in U.S. history and could be among the top four after the damage is fully evaluated. 
The Biden administration has been supporting hurricane response efforts by approving a Major Disaster Declaration for Florida, which provides additional federal aid for public property reparations and supports people with destroyed or damaged homes. The Biden administration also pledged $2 million to Cuba on Oct. 18 for Hurricane Ian emergency relief efforts. Various organizations such as World Vision and the American Red Cross have joined in on hurricane relief—providing food donations, shelter, and emergency supplies and assistance—as the impacted communities prepare to regain stability and recover from the harrowing aftereffects of the hurricane.Direct Relief ships Hurricane Prep Packs equipped with emergency medicine, power systems, and more.
Edited by Hazel Thekkekara