Pride Week at Westminster
Westminster just rolled out the rainbow carpet with the lively celebration of Pride Week, an activity-packed week dedicated to the celebration of and education about the LGBTQ+ community. Part of the grand celebrations of Pride Week were various stickers and bracelets, as well as community dialogue with peers. However, less visible was the meticulous planning by both students and teachers that went into the celebration. 
Pride Week is just one part of the month-long Pride celebration in October, commemorating the first Pride marches in Washington and the impact of the LGBTQ+ community on our society. In Atlanta, the week was celebrated with large Pride parades and educational programs about queer history. At Westminster, this celebratory week was organized by various teachers and students in both the United and Spectrum clubs. United is an affinity group focused on creating a network of support for queer-identifying students, and Spectrum is a club dedicated to community outreach and education about the LGBTQ+ community. 
"I hate that anybody would feel like they don't have a place or that they don't belong, or that somebody wouldn't be there to accept them," said United leader Frances Munger.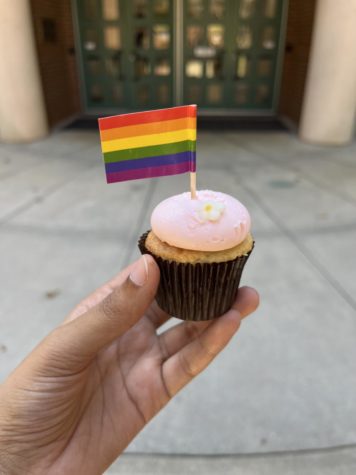 Going into Pride Week, these groups had three main goals in mind: celebration, education, and invitation. They decked out the campus in banners, various Pride flags, and bracelets and ended the week with a surprise treat of cupcakes. 
"It's supposed to be fun," said Munger. "It's a celebration of how far the queer community has come."
Posters of important members of the LGBTQ+ community as well as explanations of what each Pride flag represents were spread throughout the campus. Students engaged in community discussion centered around a TedTalk from Westminster's Director of College Counseling, Steve Frappier, in which he talked about his journey of self-discovery and coming out to his family. This discussion was one of the steps in increasing allyship and support throughout the student body. 
"People have this idea in their head that allyship is like a modicum of perfection that you can reach by taking steps. However, allyship is not some perfect ideal," said Spectrum and United leader Bo Koebler. "Allyship is the taking of those steps, and in doing that you are being an ally. It's also about learning and applying experiences you've had to better interact with the world as a whole." 
Westminster inspired our community by opening its doors to a variety of queer leaders throughout our community, starting with a visit from business leader William Burckart, founder of TIP and Colorful Capital, a venture capital firm focused on investing in LGBTQ businesses. Famous poet Jericho Brown was also invited and gave a meaningful speech about his identity and work. 
"He talked about his process, his work, and his life. It was a really great experience," said Koebler. 
One of the behind-the-scenes aspects of Pride Week was supporting the local LGBTQ+ community. For example, any donated clothes or household items benefited the Lost-n-Found Youth, a local nonprofit working to end homelessness for LGBTQ+ youth. 
As Pride Week came to an end, the support shown by the Westminster community was apparent in many ways. For one of the homecoming theme days, all the grades wore a different color from the Pride flag to show their support for the community. 
"It's really reassuring because you'll find students that you didn't know were staunch allies as they are being very out about how much they care during Pride Week," said Koebler. "That sort of experience can be really reassuring for queer students that didn't know that they had as many people that stood with them as they do."
This show of support also radiated throughout the faculty, as many teachers, allies, and queer people alike, came together to plan and support this event.
"I teared up the first time I saw it because it was so affirming and amazing," said United faculty advisor Karen McCarthy. "It meant so much to me as a queer adult, let alone thinking about how this is supportin
g the rest of our LGBTQIA kids." 
Edited by Kelley Lu