Senior launches new club to empower women on campus
This August, Westminster Upper School students established a variety of new clubs, ranging from food and movies to books and discussions. Among these clubs is the Women's Empowerment and Leadership club (WEL), which has a mission to empower girls in the community by inviting successful women to campus to learn from and look up to. 
"Our goal is to inspire girls," said senior Ava Wong, the founder of the WEL club. "We want to help girls understand their potential and ultimately believe in themselves."
Wong's own inspiration for launching the club leads back to the JanTerm class "Leadership in Atlanta" she took in her junior year. Led by Jaime Saunders, Brooks Batcheller, and President Keith Evans, the three-week JanTerm course's main premise was to invite and hear from leaders all over Atlanta about their stories, struggles, and successes.
"I've been immersed in leadership before, but not the one-on-one interactions with the women leaders in particular, and the stories of their lives and progression changed me as a person," said Wong. "I started wondering, what if more people could experience this? After this JanTerm junior year, I started thinking: I'm going to be leaving soon. I want to leave something lasting behind, a mission and message that could do a lot of good within the community. I was always told to believe in myself, but after listening to these women speak, I truly felt the message instead of hearing it."
Additionally, Wong said that the "sisterhood," the name for the supportive community of girls in Westminster's cross-country team, had a huge influence on her decision to create the club. 
"I've been on the [cross-country] team for four years, and it's had such a big impact on me as a person," said Wong. "Coach Eubanks, the core value of women empowerment, and the encouragement and mutual support from all the girls on the team have been one of the best gifts of my life and a big part of my inspiration."
Recently, the WEL club held its first formal event, inviting guest speaker Dana Spinola, founder of the successful and popular clothing boutique Fab'rik, to Westminster. Known through a personal connection, Spinola has been a role model to Wong for a long time as both an entrepreneur and businesswoman who remains passionate about her faith and her brand. The biggest challenges of the event were spreading awareness and encouraging students to attend, but the meeting turned out to be a huge success.
"I was nervous no one would join or that my vision wouldn't be impactful to others, that it only sounded good in my head but not in reality," said Wong. "All of that was quickly put aside after hearing Ms. Spinola speak. She was charismatic and captured everyone's attention, and I was hugely inspired by all she had to say. Even after her speech, people came up to me and said how empowered they felt, and it made me so excited."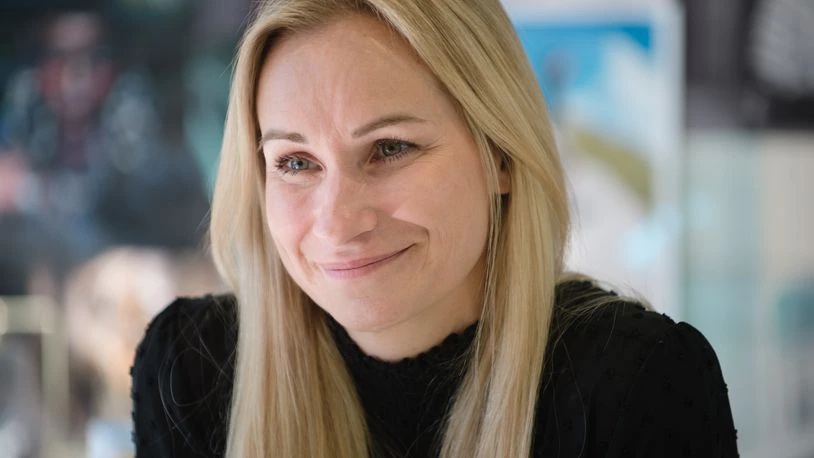 The club's faculty advisor, English teacher and grade chair Jaime Saunders, was initially hesitant to sponsor the club. 
"Grade chairs usually avoid taking on extra work due to our busy schedules," said Saunders. "After Ava approached me with the idea after last year's JanTerm, I was a little nervous about how things would turn out. But seeing Ava so inspired and driven, how could I say no?"
Saunders met Ava during the 2021 "Leadership in Atlanta" JanTerm course. One morning, guest speaker Dana Ugwonali, a marketing professional and mother to two Westminster students, was invited to speak to the class.
"[Ugwonali] was absolutely spectacular," said Saunders. "I remember seeing Ava after the speech, [and she was] completely transformed by this brilliant woman's story and by her mission of always looking for new ways to inspire and shape women's lives."
Saunders believes that the WEL club is a perfect place for young women to see themselves among these successful women leaders, and to realize that they are not alone in their struggles and dreams. 
"The WEL club is the place to be if you want to be inspired by people's stories or are easily inspired," said Saunders. "Ugwonali was so fun, accessible, and down to earth. She went through so many real struggles and was able to connect with so many young women that way: first, she failed, but then she flew. She challenged us to think about why we do something, and why to keep going despite all our obstacles. The goal of WEl is to 'find your why.'"
One of the club leaders, Carmie Abegaz, met Wong on the cross-country team where the club founder introduced her idea. 
"Ava means a lot to me, and being told that I'd be a good role model for the club sparked this sort of inspiration within me," said Abegaz. "I stopped by at the club fair and fell in love with her speech and her passion for the subject. That's when I knew I had to join. It came from a place of necessity based on my own personal experience, like a need I hadn't even thought of." 
As someone who has attended Westminster since pre-first, Abegaz states that the uniqueness of the club was another aspect that drew her in. 
"I wanted to be part of a first-year club that spotlights women's power and leadership," said Abegaz. "It's important to spread awareness, but even more so for young girls to understand that even the 'most successful women' have had the slip-ups we think are the end of the world, and have overcome [them]." 
Abegaz reaffirmed that it is the community of girls and the strong leadership that makes WEL such a safe and encouraging place. 
"It's a really, really strong group of people that push each other to do their best both socially and academically," said Abegaz, "and I have such a great admiration for everyone in the club."
Additionally, Abegaz has expressed her excitement about inviting guest speakers and becoming more immersed in her role as a club lead. 
"Collaboratively we all have people who we want to come to speak to us, and as leads, we each have roles within the club," said Abegaz. "For example, there are advocacy leads, service project leads, and I'm the social media lead. It's fun being engaged online, and I'm looking forward to seeing how everything works out, hearing more stories, and becoming even closer with the amazing group of girls that is our leadership team."
All in all, the WEL club has high hopes to advance the strong foundation of which it began with Wong and the other inspired club leaders. 
"Our biggest goal is the sustainability of the club: we want to create something that will still be here many years into the future," said Saunders. "As a club, we are hoping to reach out to four to six guest speakers who all represent and advocate for women's empowerment and the conquering of challenges that many young women face. It is my hope that the mission we are advocating for continues strong."
Saunders strongly believes in the importance of bringing in inspiring guest speakers to feed into the fire of enlightenment that stems from the young ladies at the club. 
"Ava and I want to start small, but hopefully as new student leads come in, we can add more dimensions for the program to motivate young girls by bringing in women in all sorts of leadership positions," said Saunders. "We'd like to bring in multitaskers, or women who can 'do it all': women who help with college resumes, job interviews, and hands-on experiences on and off campus. Women who are successful within their homes, personal life, work, and especially those who are going after difficult careers. We want to instill inspiration, and distill fear, doubt, and worry."
Edited by Hazel Thekkekara