UVA shooting sparks gun control conversations on campus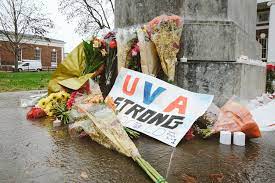 On Nov. 13, 2022, a tragic mass shooting occurred at the University of Virginia in Charlottesville, Virginia. Former UVA football player Christopher Darnell Jones opened fire on a bus of students returning from a field trip to see a play in Washington, D.C. The three students who lost their lives, Devin Chandler, Lavel Davis Jr., and D'Sean Perry, were all members of the UVA football team. 
Mike Hollins, who is also a member of the football team, was shot whilst running into the gunfire to help his classmates, but he survived his wounds and was released from the hospital a few days after the shooting. 
This event comes as a shock, and it has sparked discussions on gun laws and safety on campuses in America, especially since Jones was in the middle of a school-led investigation surrounding his possession of a gun on campus. According to the student who reported him, Jones had been talking about having a gun on campus in September, although no one had seen the gun. Jones' roommate also had not seen him with a gun. While investigating this, UVA learned that Jones had been convicted of concealed weapon charges in 2021, which he did not report to the school. Due to his unwillingness to cooperate, Jones was to be reported to a student-run judicial council, similar to the Westminster Upper School's Disciplinary Council. Nonetheless, this report was never made. 
Following the shooting, authorities searched Jones's room and found several weapons. According to the search warrant inventory, police found a Ruger AR-556, two Glock 9mm, a Smith & Wesson Pistol, a Winchester 223 Rem, a PMAG with 29 rounds, and multiple attachments including magazines, holsters, and scopes in Jones's on-campus dorm. The possession of these weapons in a dorm violates Virginia state law, but the possession of weapons is not specifically prohibited per UVA's on-grounds housing policy.
According to the Sandy Hook Promise, 12 children die of gun violence every day in America, and this most recent shooting has opened up the topic of the future of gun control in America. 
"It would suit me just fine if the legal age for buying a gun were raised from 18 to 21," said Westminster's Young Conversatives advisor George Berry. "I just feel like a great deal of maturity takes place between 18 and 21." 
There is more to the laws regarding gun control than just the purchase and selling of weapons. One of these aspects is the polarizing topic of mental illness's impact on gun violence. 
"Yes, there is a gun control issue in this country," said history teacher and former UVA student Tori Sparks. "Some people argue that it is a mental health problem and that people kill, but people are killing with weapons that are pretty destructive in terms of recovery."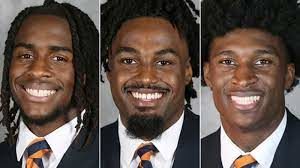 "The problem, even with a high-powered rifle, is not as much the gun as it is the person," said Berry. "We've got to do something to change the hearts of people, to change the minds of people. There needs to be something that we can do to leave people with the idea that there's more to life than whatever you're dealing with, whatever would compel you to do this."
Since Jones was in the middle of an investigation about the possession of a firearm on campus, the effectiveness of UVA policies has been called into question. 
"It's really unfortunate because the shooter was on the school's radar, and the incident happened anyway, so I definitely think their policies need to be reviewed," said Sparks.
"Schools should have people in place who are able to stop things like these from happening at appropriate times," said sophomore Ravi Parikh, who is a member of the debate team and has debated on issues regarding gun control. "Obviously, there was not a sufficient amount of reaction time to be able to stop [the UVA shooting]."
With all of the mass shootings happening across America, schools around the country, including Westminster, have begun implementing strategies on how to combat these horrific events. Just earlier this year, the Upper School practiced an armed intruder drill to teach students what to do in the case a shooter enters campus. Westminster has also increased security by adding extra guards who are off-duty members of the Atlanta Police Department around campus.
Sparks praised Westminster's efforts to mitigate the dangers of school shooters on campus. 
"I think that people are aware of [shootings], but I also think that schools are doing what they can and should be doing to make campus as safe as possible."
Although Westminster might be very secure, not every campus is equipped to handle situations like these. 
"Westminster's security is well aware of [the issue regarding shootings]," said Berry. "I don't know if Westminster needs to do any more, but there are places that should. If you have to have an armed policeman in every building, do it."
This horrific event at the University of Virginia was a tragedy, and support began to pour in for the families of those who were killed. Dozens of people wishing to pay their respects, both students and regular citizens, gathered on the bridge near the shooting with flowers to honor those injured and killed. At the university's Scott Stadium, notes and flowers for the victims of the mass shooting line the walkway.
Edited by Sophia Cunningham