Westminster community comes together for 16th annual Alternative Gift Fair
On Dec. 2, Barge Commons hosted one of its biggest events of the year as students and community members gathered together for the 16th annual Alternative Gift Fair. The festive decor and the spirit of giving fit the theme of the night, "Presents for a Purpose." 
The event, started by Stan Moor and Sally Finch in 2006, is open to students of all ages and their family members and has been a part of the holiday season at Westminster since then. Its goal is to foster a philanthropic environment of generosity through fundraising, educating Westminster community members about the social entrepreneurial experience, and bringing the campus and community together to celebrate the season of giving. 
"The Alternative Gift Fair is important to the Westminster community because it brings everyone together to serve the common good," said Jessica Dent, the head of the fair. "The annual event provides an opportunity for faculty/ student groups and community partners to fundraise and to bring awareness to their missions while selling unique items that would be perfect for family and friends." 
Dent has been coordinating this event for the past six years. She works hard each year to make this happen, working for about two to three months to coordinate the event.
Along with Dent, The Glenn Institute Team (Meghan James, Hartley Glass, Stacy Chalmers, and Emily Horne), the PAWS Community Service Committee, the Office of Institutional Advancement (Marisa Crissey and Molly Morris), and the leads of the Community Service Club all contribute to planning.
From reserving the space to requesting catering, event setup, security, audio-visual resources, and housekeeping, the event is a significant undertaking for the school. 
First, Dent creates the registration form and gathers pertinent information from interested faculty, student groups, and community partners and connects with OIA to create effective communication and marketing plans for social media platforms, the Weekly Parent Update, and the Alternative Gift Guide.
 The Westminster community comes together to help Dent put on the fair. The PAWS Community Service Committee, recruited parent volunteers, the Upper School MAC and WAC, and the Upper School Community Service Club are just some of the groups that participate in executing the event.
Dent goes on to make the small touches like ordering Santa hats and reindeer antlers, providing Pero's pizza, ordering balloons, and creating flyers and yard signs around campus to build momentum for the event. Her last step is to do a full run-through of the event with facilities.
After all her hard work, Dent officially releases the gift guide to the Westminster community and enjoys the fair.
Many organizations and individuals have participated in the fair in past years. The items that are sold range from artwork to homemade creations, jewelry, baked goods, and much more.
A big portion of vendors is made up of Westminster student-led organizations.
Junior Foster Berlin ran a booth for Circle of Women, an Upper School club. She has been involved with Circle of Women since her freshman year and this is her second year on the leadership team and participating in the alternative gift fair with the club.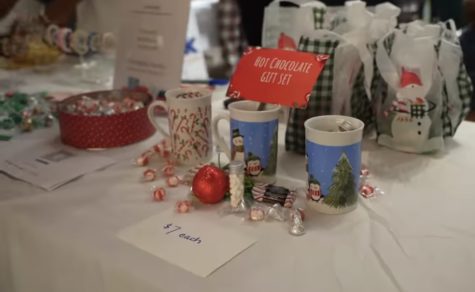 "I'm very passionate about women's education and fundraising with Circle of Women so I thought I'd step it up a notch and even sell some of my own art for charity this year," said Berlin.
Circle of Women raises money to support women's education around the world. This year they sold art made by Berlin, junior Alexis Mcdonald, and sophomore Cate Lockerman, as well as hot chocolate jars made by club members and raffle tickets for a Woo Cosmetics basket worth $160. 
"My favorite parts are seeing some friends and getting to know new friends who stop by our table while getting a fulfilling feeling of making a sale with money that will be donated to help others," said Berlin.
Senior Shayla Lieu also had a booth at the Alternative Gift Fair. Lieu raised money for the PERIOD Atlanta chapter, a global youth-fueled nonprofit that strives to eradicate period poverty and stigma through service, education, and advocacy. Their main focus centers around not only distributing menstrual products but also de-stigmatizing menstruation. This year they sold cookie boxes, vegan and gluten-free brownies, and cupcakes to help raise money. 
"I loved the festivities of it all. With our booth being near the Christmas tree, the Christmas headbands, and Christmas music, it truly put me in the Christmas spirit," said Lieu.
"It was so much fun getting to walk around and see all of the different handmade gifts my classmates made," said sophomore Lauren Foglesong. 
Not only is it a fun school-wide event, but it also serves to make a difference. A total of 48 student groups and community partners participated in the 2021 Alternative Gift Fair and raised a total of $15,567. 
This year is projected to be similarly successful and make a big impact on the charities and organizations that participate.
Edited by Sophia Cunningham