2023 JanTerm overview
Every January, Westminster Upper School students look forward to returning to school for one special reason: JanTerm. A program like no other, JanTerm allows students to immerse themselves in one topic for the first three weeks of January, exploring unique interests and partaking in once-in-a-life-time opportunities. With over 40 courses to choose from, students make their mark by taking field trips across Atlanta, or better yet, traveling around the world. 
Sophomore Ansley Yeoman took part in International Atlanta. She learned about the importance of immigrant communities and how they shape Atlanta into a "melting pot" of different cultures. 
"My favorite part was that we were able to eat out for lunch everyday, trying different dishes from various restaurants established by immigrants," said Yeoman. "One day we went to a Malaysian restaurant where we all shared noodles and rice, and it was really delicious."
Sophomore Jack Stewart participated in Aviation and Flight School, a program in which students learn real-life flight training through Westminster's simulators. 
"My favorite part of the course was the challenge at the end where the whole group battled each other for the title of 'Best Pilot,'" said Stewart. 
Although they were unable to practice their new skills outside Robinson's simulators during the month of January, Stewart looks forward to soon taking flight alongside an instructor in a few weeks.
"I'm really excited to fly over the skyline of Atlanta and see the whole city," said Stewart.  
Freshman Jasmine McGee's first JanTerm experience in the Southern Art course included traveling to Alabama to visit the Alabama Legacy Museum, as well as visiting many other art exhibits filled with rich southern history. 
"It was fun learning about Black history and being able to understand stories about my own history and culture told through unique art forms and paintings," said McGee. "I had a great time, and I'm definitely looking forward to JanTerm next year."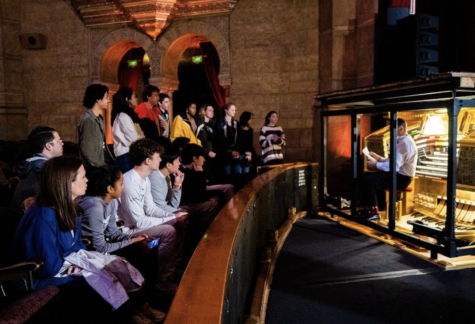 Westminster students also had the opportunity to engage in global education programs, traveling to various places around the globe. Destinations included Guatemala, Kenya, Rome, England, and Israel. Students were able to practice their foreign language skills while gaining the experience of a lifetime. 
Junior Ives Connell took the Guatemala JanTerm and said that the trip left a lasting impact on her. The group of 20 students and four teachers traveled to Antigua, Guatemala, an ancient city located inside of the region of Sacatepéquez.
"We then traveled to a small village along the countryside to build a house for the less fortunate indigenous communities," said Connell. 
Each student was responsible for raising at least $1,000 for the cost of building materials for the house, healthcare, and education for Westminster's sister school in Guatemala, Kemna'oj. Building four houses in total, the students divided into teams of five, working alongside construction experts from the organization From Houses to Homes and making connections with the families.
"Although I enjoyed spending time with classmates and doing fun activities like zip-lining, dance classes, and a beautiful bike tour, my favorite memory was giving the keys to the family when we finished building their home and enjoying a freshly cooked meal with them inside their new house," Connell said. "It taught me how much you can impact someone else's life, and it really put things into perspective for me."  
Sophomore Hailey McGruder is one of the eight students participating in the Mount Kenya Academy Exchange Program. During this exchange, Westminster students have the opportunity to travel to Kenya for 11 days and stay at the Mount Kenya Academy boarding school. In turn, these students also have the chance to host a Kenyan exchange student when they visit Westminster. During the course, the group learned all about the country, ranging from Kenya's economy to its geography and government, in preparation for their trip. 
"My two favorite parts of JanTerm were learning Swahili, the native language in Kenya, and trying foods from East African countries. Kenyan tea and cookies are really good," said McGruder. 
Though students in this course will be traveling during spring break instead of the month of January, the group of eight was still able to have a memorable JanTerm while getting excited for their upcoming trip.
Whether students stayed home or ventured out into the world, Westminster's JanTerm program once again succeeded in its overall mission: the cultivation of close community and active learning. 
"I was a bit nervous coming into this," said Michael Reese, one of the chaperones for the Kenya JanTerm. "However, I learned how incredible this group of students are, and we became, if you will, a small family in itself," said Reese.
Edited by Sophia Cunningham