AAPI Heritage Month assembly
The Asian American community at Westminster showcased their vibrant culture with an Oscar-themed assembly for May's AAPI Heritage Month. The assembly featured graceful and energetic dances, mesmerizing martial arts, and melodic vocal performances from the talented American Asian students at Westminster. The experience was enhanced with a Hollywood and Bollywood touch with the addition of the photobooth and student paparazzi taking pictures to provide more of an Oscars-like feel. The theme this year was a deliberate and fitting choice as Asian representation and success had an unprecedented night in the recent 2023 Oscars. 
Seniors Kanav Kakkar and Kelsey Li emceed the event, kicking off the fun by asking the audience some Asian American related trivia. The incredible acts that followed captivated the Upper School audience. Senior Aanya Chaganthi, junior Sunanya Guthikonda, sophomore Sapna Goel, and freshman Lahiri Nooka performed a traditional dance to the Hindi film song, "Nagada Sang Dhol."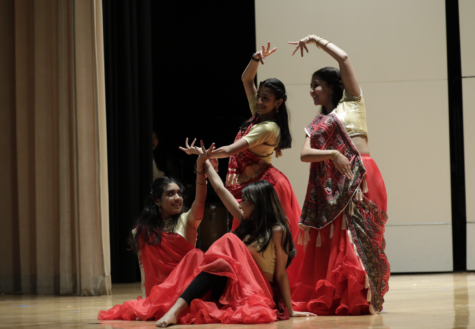 In addition, senior Melanie Zhang,  junior Albert Tang, and sophomore Anthony He followed with an amazing martial arts performance in which they ran down the aisles of McCain. They demonstrated various martial arts movements. The students wrapped up the demonstration with He using Mooncakes faculty advisor, Eric Khong, as a base to do a mid-air jumping side kick, snapping a wooden board mid-air.
Audience members were called on stage to try out some moves as well. Senior Quinn Schaeffer and history teacher John Monahan were given the chance to kick wooden boards of their own, which they both succeeded at snapping. 
Sophomore Iman Merchant and freshman Asha Laskar wrapped up the performances  and sang "Kashmir Main Tu Kanyakumari" from the Hindi movie Chennai Express.
Students in the audience shared their enjoyment in watching their fellow classmates showcase their talents. 
"I loved this assembly," said sophomore Eloisa Bloom. "Every year it is always so interesting and captivates the audience."
In addition to the performers, many hands went into making this assembly a success. 
"It was fun to be a part of the assembly," said sophomore Zainab Barodawala. "It was nice to be given the opportunity to celebrate my heritage."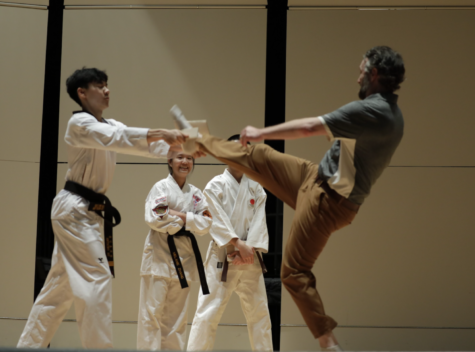 The behind-the-scenes included a lot of moving parts. A goal was to make the show entertaining for the audience but also meaningful in that it delves deeper into Asian culture. 
"The planning process was definitely an exhausting and time consuming process, but overall super worth it," said senior Shayla Lieu. "We had to plan out performers, presenters, and interactive parts so that the entirety of the assembly was enjoyable for everyone."
On top of the hours the performers put in after school rehearsing their performances, planners had to consider the many logistic details involved in a successful assembly. 
"For my role as a performer, the planning process looked like this: rehearsals, costume planning, and tons of practice. The first rehearsal was so long and hard because we spent about two hours choreographing," said Goel. "​The costume planning was also difficult considering we had to find something cheap and something that would arrive on time."
The show could not have been successful without the help, guidance, and time of Mooncakes and South Asian Affinity Group (SAAG) advisors, Khong and Amy Patel. 
Overall, the Asian American assembly was a success, not only in recognizing the talents of Asian Americans at our school but also in promoting cultural awareness and appreciation among the student body. It provided an opportunity for students and faculty to learn about and appreciate Asian culture, and it helped to build community by bringing people together in celebration. 
As the school continues to promote and embrace the understanding and appreciation of different cultures, assemblies like this one will no doubt continue to play an important role in building a stronger and more diverse Westminster community.
Edited by Kelley Lu