AP African American History
         Westminster's newest course, AP African American Studies, will offer students a class that dives into the complexities of the African American experience in America as well as the history of African nations. 
         According to the College Board, AP African American Studies centers around "the literature, the arts and humanities, political science, geography, and science— to explore the vital contributions and experiences of African Americans." This course is currently in its pilot year and only taught in 60 schools, but it will be introduced to additional schools in the 2023-2024 school year, including Westminster.
"Our department is always working to make sure that our curriculum reflects the world that we live in," said Upper School history department chair Laura Drewicz Ewing. "Having an African American studies course here allows us to make sure that we are indeed giving students a global history experience, as well as an experience that is tied very deeply to US history"
This interdisciplinary course is divided into four main units. The first unit is "The Origins of the African Diaspora," which covers early African societies and kingdoms. The second unit covers "Freedom, Enslavement, and Resistance," a section about the transatlantic slave trade as well as the abolition movement and the fight for freedom. The third unit focuses on the "Practice of Freedom," which covers early Black freedom and racial uplift. Finally, the last unit is "Movement and Debates," which includes topics such as the civil rights movement and Black power and pride.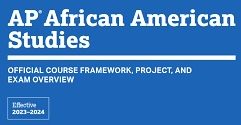 "The unit that I'm probably the most excited about is the last one that focuses on movements and debates," said course teacher Tori Sparks. "It does talk about the civil rights movement, but it also talks about Afrofuturism, and it looks at things like the Black Panthers." 
The class wraps up with a final project where students are given the opportunity to do an independent research project on a topic of their choice within the field of African American studies. Westminster will be giving this project a special twist by expanding and applying the course themes to involve the local community. Sparks is also including a project about music, in which students will make a 15-song playlist, with each song relating to a specific historical event. 
"It's an assignment that I created where students pair a song to some of the big pop culture events," said Sparks. "Music is a big part of all historical traditions."
Though the overall attitude toward this course within our community is mainly positive, this course has received significant backlash around the country, particularly from a handful of Republican politicians. Their main concern is that the curriculum includes critical race theory, a controversial topic that has been banned or partially restricted from being taught in 44 states. 
"People are afraid that this class is about critical race theory," said Sparks. "It's not."
The most vocal critic of the course is Florida governor Ron DeSantis, who described the course as "indoctrination" and is pushing to ban the course, saying that its curriculum is not historically accurate. As a result of this backlash, the College Board omitted several topics from the curriculum, such as Black Lives Matter, Black feminism, incarceration, and the study of authors that write about critical race theory. Those topics became optional, allowing states to decide on what they want to include.
Several other states have followed DeSantis's lead and are pushing for a further change in topics taught in this course. Other states like Illinois are strictly against the College Board decision to change the curriculum for political reasons and are threatening to ban the course if the College Board continues to do so. Recently, the College Board announced it was continuing to consider what would be included in the final curriculum.
         "I think if you really look at what the course is about, you understand that you're studying a culture and hard history indeed," said Drewicz Ewing. "It can be upsetting history, but we can't ignore those things, or they repeat." 
         Despite this controversy, many students are very excited for this addition to our curriculum, with over 60 students signing up for the course this coming year, 
         "I'm really excited for this course," said sophomore Suhani Sharma. "I feel like African history isn't talked about as much as European history, so that's one of the main reasons I chose this course."
Edited by Kelley Lu