Victory achieved by boys XC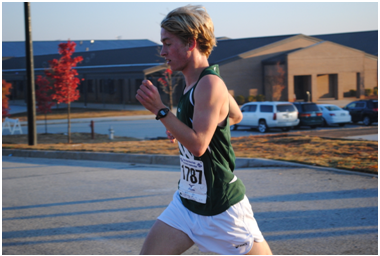 On a cool Saturday, Nov. 5 morning, seven gifted runners put their toes at the line, started their watches, and began the most high-stakes race of their season. Head coach Joe Tribble had one key piece of advice before the state championship race began.
"He reminded us of all the work we had done to get to that point," recalled senior captain Jake Candler, "and how it was time to show what we had worked so hard for."
Shortly after the race began, the Wildcats had taken the race by storm, finishing with runners in the first and third slots and winning their fifth state championship in a row.
Winning the school its 21st cross country state championship title was no easy feat for the Cats. Running well over 30 miles per week, filled with challenging interval, speed, and endurance practices, the team has worked throughout the season using Tribble's trusted workouts.
"We owe our success to the coaches for their dedication, their workouts, and the schedule they have for us," said sophomore Jordan Flowers.
"Discipline and patience," Candler said to describe the sources behind the great success of this season.Strategy also played a key role.
Tribble places a large emphasis on the effect of grouping during races in order to succeed. The goal is to push one another within a small cluster of runners with similar times in order to improve and stay together as a unit, thereby overwhelming the competition.
"Basically, when we see a Lovett runner or another runner who is inside of our group, the idea is that we all try to pass him and keep going," said junior Gaston Quantz.
After a dominant performance at regions, the Cats felt secure going into the state meet.
"We were confident but realized that we had to do the job that we knew was ahead of us," said Candler.
The top seven runners, seniors, Candler, Sean Smith, Kyle Dhillon, Kirby Carlisle, Trip Henningson, and Currell Berry, and sophomore Flowers had established strategies and techniques going into the race.
"[Candler, Smith, and Flowers] like to go out fast at the start. [Dhillon, Carlisle, Berry, and Heningson] are basically going to move up and try to close the gap between those front three and themselves," said Quantz before the race.
The top seven also kept two other goals in mind: to place as many runners as possible in the top ten overall, as well as to place as many as possible ahead of Lovett's number two runner, Hugh van Heesewijk.They also had to focus on their health in the days leading up to the meet.
"[Our main obstacle] was trying to stay away from sickness and injury," said Candler.
The team's emphasis on grouping paid off, with Flowers, Candler, and Smith finishing within about 30 seconds of one another, and Dhillon, Berry, and Carlisle finishing within two seconds of one another, with Heningson only 20 seconds behind them.
"We had some really solid grouping during the race," said Candler.
After finishing in eighth place overall last year as a freshman with a state time of 17:20.09, Flowers shaved off fifty seconds to reach a state time of 16:32.24, winning the AA race.
"Throughout most of the race I was motivated by the guy in front of me, [Model High School's] Chris Akins," said Flowers.
"Once I'd passed him, the main thing going through my mind was, 'Don't let him catch [me].'"
Akins had bested Flowers by 30 seconds when the two last raced at Carrollton.
"I knew before the race that he would be a front runner. I really tried to stick with him for the first two miles," said Flowers. "I also knew that there were six other guys running with me who all wanted me to succeed, as well as about 40 other guys who we were running for and they all would have given almost anything to be out there with us, so I had to run my best."
As a whole, the runners place this same importance on their teammates in all aspects of running.
"I know my personal success has been affected by my teammates. We always encourage each other," said Flowers. "The captains, who also keep us in check on and off the trails, have also influenced our performances."
"Cross country taught me how you have to commit to something, how to be a part of a team, and how to not let your teammates down. I've learned to support them and put them ahead of myself," said Candler. "Everybody works to support the guy in front of him and the guy behind him."