Girls basketball gains confidence with practice and victory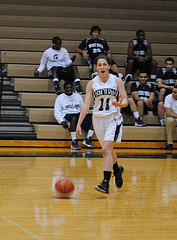 Despite a sluggish 0-3 start, the girls basketball team has rebounded in recent weeks to improve its record to 2-3, thanks to crucial wins over region opponents Clarkston and Cross Keys. The Cats' perseverance and determination to win are what make this team unique.
"This is the first team I've been on that truly wants to do well," said senior Wyn Ponder. "We know what we are capable of."
Borrowing from Mark Twain, head coach Heather Karvis has implemented a new mantra this year, "Confidence is contagious. So is lack of confidence." The Wildcats lost three seniors from last year's team, including leading scorer Charlotte Butker, and were thus faced with the challenge of rebuilding the team. The team also lost senior Isabelle Tehrani due to a knee injury. Tehrani, however, provides important support and encouragement as a captain of the squad. With just six returning players and the inexperience of six freshmen, the Cats are indeed a very young team. In spite of their youth, the Cats hope to improve their record.
"From our character off the court to our performance in practice and games," said Karvis, "we want to be bold and confident in everything we do."
The Wildcats starting lineup include seniors Sam Battey, Catherine Johnston, Wyn Ponder, junior Spencer Izlar, and sophomore Liza Lingenfelter. What the Cats lack in height they make up for with speed and aggression.
"Even though running sprints in practice stinks," said Ponder, "it helps us improve. We are incredible at the full court game."
Karvis is a proponent of fitness, and this is evidenced not only in the Wildcats' up-and-down, full-court style, but also in their relationships with one another.
"No one else really understands the bond you create from running ten down and backs in a row," said Ponder.
Padeia, Riverwood, and St. Pius were the first teams to take down the Wildcats.
"We weren't mentally prepared to play against Padeia or Pius," said Johnston. "We came out scared and really struggled with turnovers."
The Wildcats also failed to make important baskets and were not aggressive enough defensively. However, against Riverwood the Cats established a reputation of intensity.
"That was one of our best games this season," said Johnston. "We put up a strong fight and played good defense."
After the three early losses, the team had to refocus its intensity at practice. For any drill in practice that the Cats did not perform successfully, they ran sprints.
"This helped us develop good habits in preparation for games," said Johnston.
Additionally, the Wildcats have been working on transition drills to create more offensive opportunities and to use their speed to get down the court quicker.
The Wildcats beat Clarkston 50-39 and allowed a mere six points against Cross Keys. Against both teams the Cats made important steals and lowered the number of turnovers from the first three games.
"We came out knowing that as a team if we started off strong and carried that through until the end, then we could win," said Johnston.
Over winter break, the Cats will maintain their intensity through numerous practices and open gym shooting sessions. Additionally, Westminster will host the annual Holiday Classic tournament. Because none of the tournament games are region games, they will not affect the Cats quest to play in the state tournament. Nonetheless, the tournament will only help the Cats retain their fitness and will provide crucial competition as the they prepare for key games upon their return, including those against Lovett, Buford, and Greater Atlanta Christian (GAC). The Lions boast two Division I recruits, Tatiana Jackson and Chris Johnson, and have been a force to be reckoned with over the years. Defending 2A state champion Buford has a legacy of dominance in girls basketball, as does GAC.
Despite these strong opponents, Westminster stays confident as the season progresses. They hope to reach the state playoffs for the first time under the leadership of Karvis.