Injuries and inexperience cause struggles early on for varsity girls basketball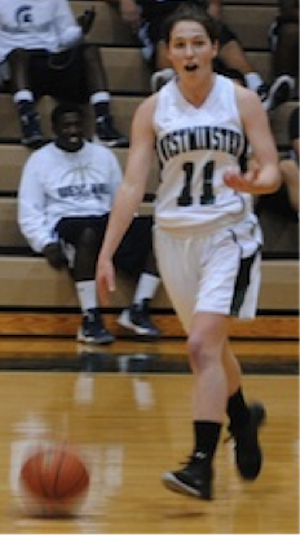 Nothing has come easily for this varsity girls basketball team this season; a series of key injuries have made sure of that. Recently, however, successes have shown that the Cats' early slump may be passing. Following a frustrating eight-point loss to region foe South Atlanta, the team rebounded to defeat other region opponents Maynard Jackson and Therell, marking he Cats first consecutive wins of the season. Their success of late and their new-found confidence are results of the hard work of the four senior captains, and perhaps surprisingly, the play of five freshman on the team this year.
Despite the graduation of leading scorer Charlotte Butker and loss of senior captain Isabelle Tehrani to injury, the Wildcats began their season in mid-November with high expectations. The Cats brought in eight new players this year, including senior Sam Battey.  With all of the new players, the team initially faced difficulties in combining its strengths, resulting in a less than desirable start to its season. However, the girls pressed forward with the knowledge that their record was simply a number and did not quantify level of effort or determination.
"The first six weeks we were solid in what we learned in practice, but not confident to apply them to game situations," sad head coach Heather Karvis. "We've set a lot of goals, and have starting practicing with pressure situations which is now translating to our games."
The winter break brought a new start to the team, and the Wildcats have managed to turn what Karvis called a "frustrating" beginning to a commendable record in January. At press-time, the team already has three wins under its belt, of which the latter two were specifically special. In one win, the girls defeated Maynard Jackson 47-21, more than doubling their opponent's score—an impressive accomplishment.
"We're really developing as a team," said senior captain Catherine Johnston. "We've done a lot better in practices and it's exciting to see it that it's starting to translate in games."
This win undoubtedly provided the team with the confidence that helped them achieve yet another victory just three days later. The girls defeated Therrell High School 44-31 in a game that displayed what the girls have been working towards. The Wildcats were not only able to get ahead early, but, for the first time this season, they were able to maintain their lead for the duration of the game.
"It was super competitive," said junior Spencer Izlar. "We're really growing as a new team. We had to get a feel for each other. It was evident that everyone could play, but now we can all work really together."
Though confident going forward, the girls are still facing facing setbacks that they will have to work around. Injury has left the usual point guard, sophomore Liza Linginfelter, and senior captains Battey and Tehrani incapable of playing.
In their place have risen two freshman stars: Andi Carrandi and Conoly Cravens have both played well beyond their years. Jacqueline Baltz, Jazmine Lester, and Christina Lopez round out the rest of the freshmen.
"We practice really hard," said Carrandi. "Knowing that you deserve a spot is an awesome feeling."
The freshmen have stepped out in an unpredictably great way and risen to the challenge of being varsity members. On average combining for over half of the points of each game, the freshmen have shown that the risks of developing such a young team will ultimately pay off for the program.
"We expect [the freshmen] to play like varsity players, and realize that they have to play to a high level, which they have," said Johnston.
Though the freshmen are an undeniable source of talent, Karvis applauds the four senior captains, Battey, Johnston, Wyn Ponder, and Tehrani for their incredible efforts. The seniors have always had ample talent, but with such a young team the girls have stepped up their skills in leadership as well.
"The freshman make it exciting for the future, said Karvis, "but these seniors are truly amazing in how they show what it takes to win."
With a new sense of confidence the Cats are eager to move forward in their season and obtain their overall goal: second place in their subregion. Some tough teams stand in their way as the Cats face must win games against Lovett and three- time state champions Buford Highschool, which has one of the tallest starting line-ups of any team.