Young squash program looks to overcome competition with strategy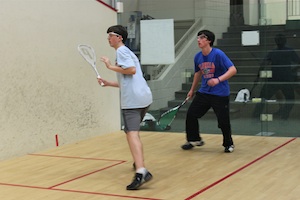 Size, strength, and experience often sway the odds in athletic contests. However, the Westminster boys and girls squash teams have been finding ways to overcome deficiencies in these areas.  Since squash is not very popular in high schools across the south, the teams often find themselves playing college students, and in order to overcome the differential created by years of maturation and experience, the Wildcats have depended on their depth and knowledge of the game.  Among the collegiate competitors that the varsity boys have faced are Emory, Illinois, North Carolina State and Vanderbilt.  Amazingly, the Cats have managed to stay unbeaten throughout these four contests.  According to head coach Rick Byrd, the Cats have relied on their "awareness and familiarity of the court."
"The game itself is a measure of your ability to control the ball in such a way that regardless of the size of your opponent, it's an even playing field," said Byrd. "Squash is a game of geometry and physics, and if your skill level is high enough, then the geometry of the court can offset some of the size differential."
As a comparatively young team, comprised of three seniors, two juniors, three sophomores, and four freshmen, the team has benefited immensely from the experience gained through college-level competition, which will prove advantageous in early February when the team travels to Yale University to compete in the US High School Nationals.
Increased student involvement in squash has not only helped the boys team, but has allowed for the creation of the school's first ever girls varsity squash team–which now accompanies the boys' squad to all the games and tournaments.  A large amount of student participation in squash has given the team tremendous depth, which has made them more balanced across the board.  As one of the Cats' top players, Garrett Donnelly knows that winning against the opponent's top players is never a guarantee, but he believes the team's ability to win the fourth, fifth, sixth, and seventh match-ups sets them apart from other teams.
A recent trip to Mercersburg, PA reminded the team that squash's prevalence is much more concentrated in the northeast as both teams struggled against northern schools housing decadent squash facilities with more than ten courts–compared to the four in our multi-purpose room.  At times, the space limits the team, especially with the increased numbers and the addition of a varsity girls team, but, in a region where squash still emerging and trying to expand, the teams take full advantage of their resources and travel often.  In fact,  the first home games of the year for the boys team and the first ever home games for the girls team were just two weeks ago.
As a result of the team's sixth place finish in Mercersburg, it will enter the national tournament with a low seeding. Nonetheless, recent success against their collegiate opponents has made the coaches and team hopeful. Byrd is assisted by assistant coach Tom Rumpler, who brings a wealth of experience to the program, having served as head squash professional at Midtown Athletic Club for twelve years and as a Westminster squash coach for the eleven years the program has been in existence. Both Rumpler and Byrd are confident in the Cats' ability as they prepare for Nationals where seniors Joe Cullen, Kyle Dhillon, and Andy Stormont will play for National recognition and possibly a fast-track to an Ivy League college.