Girls' Cross Country wins state
The Westminster boys' and girls' cross country teams completed another season with the girls winning first place in both the region and state championships, and the boys winning second place at region and third at state. This year, the cross country programs also had to adjust to Westminster's reclassification from AA to AAA in order to uphold the longstanding Westminster tradition of cross country success. For the state champion girls' team, this season was especially meaningful; this year's team will be remembered for its exemplary senior leadership and the way the girls came together as a competitive unit.
"This year's seniors have been phenomenal," said girls' cross country team head coach Amy Eubanks. "They started out strong and remained strong all season long."
Eubanks, who has been coaching the girls' team since 1991, is well known among the runners for her uncanny ability to unite the girls and make competitive running an experience as fun as it is rewarding. A testimonial to the popularity of Eubanks' style of coaching is the fact that many of the girls consider the cross country season to be the best three months of the year, and they refer to the team as "the sisterhood."
"Starting way back in August, I could tell it was going to be an amazing season because of how well everyone got along and how every girl brought something different to the team," said junior Lily Morgan. "As the season went on, we all grew really close and made some great friendships, and I think that bond is what makes our team different than any other team I've seen. It also helped us with the actual running part of cross country, because we were all able to work together really well and push each other during practices and meets."
Eubanks is proud of the winning tradition that both cross country teams have at Westminster, as evidenced by the countless GHSA state and region trophies that are on display in Turner. For the girls, this year's cross country state title was the 27th since 1981 and the 19th in the last 23 seasons. Despite their tremendous success, Eubanks does not think this year's team did anything significantly different than in past years, but is grateful for the "winning program" that both the girls' and boys' teams have in place. Before going into the state meet, Eubanks expressed confidence in the training and talent of the team.
"They've run well all year, and especially this week," said Eubanks, "so now I know they're ready to do what they can do."
For the girls' cross country team, hard work did indeed pay off.
The boys' team was led by head coach Joe Tribble, who has been coaching the Trail Cats for 26 years and was recently inducted into the Atlanta Track Club Hall of Fame for his outstanding commitment to the sport. The Westminster boys' cross country team has won an impressive 24 State Championships dating back to 1962. Tribble was assisted this season by Westminster cross country alumnus Ricky Dimon.
"This year's team worked extremely hard and showed dedication during Coach Tribble's demanding but meticulously thought-out practices," said Dimon. "This year's team was attempting to reload after losing five seniors from last year's top seven on the state championship squad. While this young team did not achieve its primary goal of winning another state title, it was not for a lack of effort. The season was also not without some outstanding results."
The boys' team was led by captains seniors Graham Huff, Sang Jin Lee, and Aaron Shaw and juniors Clare Draper and Ruben Roy. The captains put in an exemplary performance guiding the team through a difficult transition into the AAA division.
"The captains did a great job of turning the season around at the Atlanta Classic meet," said junior Pranav Rekapalli. "We had a slow start, but beat BT in that race for the first time. We also won the Wendy's Invitational for the first time in recent memory, which was a huge moment for the team."
The Wendy's Invitational is a cross country meet held each year in Charlotte, North Carolina, attracting many of the South's top programs for a challenging day of interstate competition. The Westminster boys use the Wendy's meet as an end-of- the-season test leading into the important region and state meets.
"Really great training and really great guys with a lot of great comebacks," said junior Billy McGahan. "Everyone stepped up and did what they had to do to put the team in a position to make a run at state."
However, the boys' placement in state was disappointing, as both the coaches and the runners held high expectations of the team's performance.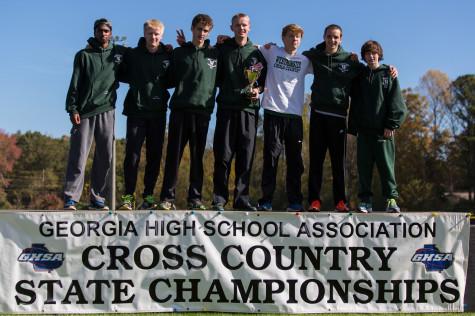 "For almost any other school, a third place in any sport is phenomenal," said Dimon. "It's simply that the Westminster cross country program has created a monster, in that it has been so good for so long that anything less than a state championship is in a way considered a shortcoming."
While the boys team might have fallen short of their own expectations at state, they can be proud of how well they came together and ran as a team all season long.
"From start to finish, the season was filled with valuable experiences that we can use to our advantage next year," said Dimon. "Largely the same group should be intact in 2015 and with another year of cross country under its belt, it should be even more of a factor at the state meet next season."