Meet New Athletic Director Tim Downes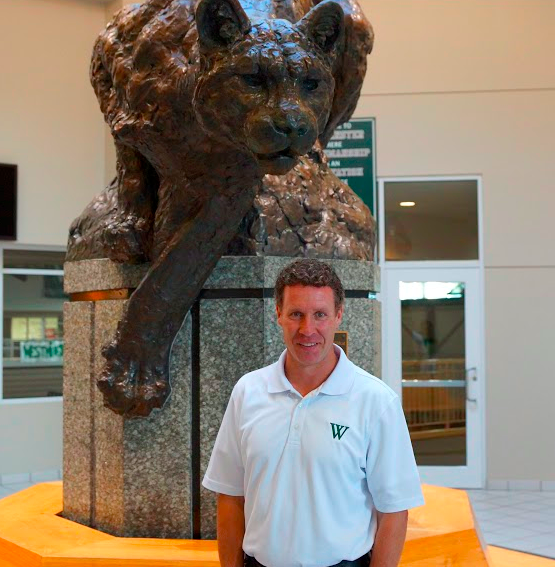 Among the mass arrival of new faculty on campus this year, the one who most stands out in the crowd is Tim Downes, the new athletic director. After the retirement of former athletic director Rusty Hudson last year, administration eagerly sought a comparable successor, finding Downes. Known for his track record of success in nurturing the athletic and academic achievements of student-athletes, Downes eagerly dived into his new position, immersing into the life on campus. Thrilled to have finally joined the community, Downes holds both short-term and long-term goals for Westminster athletics.
          Thanks to the 19 years of Hudson's hard work as athletic director, the athletic department has expanded and strengthened to offer students more opportunities of athletic success in a diverse variety of programs. Thus, Downes targets his focus on a different aspect of athletics: how the school can rise as a leader in sports.
          "By all standards, the Westminster athletic program is excellent and has a long record of success," said Downes. "However, now it's more trying to understand what the next great thing is, and, that is, where Westminster can become a leader."
          Downes discussed how a student-athlete could possibly use their engagement in athletics, concentrating on nutrition, health and wellness, sports psychology, other factors on the periphery that may emerge as important, to further his or her growth success. In addition, Downes questioned the different ways the teacher-coach model could be improved.
          "All of our coaches here are teachers, and looking at that teacher-coach model," said Downes. "In this day and age, the question becomes what's the best way to facilitate that program and how can we sustain it?"  
          Enhancing the teacher-coach model, Downes challenges how well our facilities assist the future growth of the athletic department, primarily concerning the sense of community among teams.
          "When we are going into a master planning process for the campus," said Downes, "how will our facilities support our programs and how can we think about our facilities to development community here?"   
          Working at the college administration level for a little over 25 years, Downes comes to Westminster with experience and expertise. During those years, he spent time at colleges such as the California Institute of Technology, Emory University, and Franklin and Marshall College. Before coming to Westminster, Downes worked as the head athletic director at Emory University for eight years. During his Emory administration, Downes, as one of four recipients, received the Under Armour Athletic Director of the Year among Division III schools in 2014.
          Determined to find the perfect candidate, President Keith Evans and Interim Head of Upper School Jim Justice went through a long and difficult process to find a new athletic director.
         "We started out with a search committee that included a range of people from former athletic director Hudson, the very first athletic director, coaches, other administrators, alumnus," said Evans. "We wrote up a description of the position and the person that we were looking for, and we blasted it out across the country. At first, we had a huge pile of candidates to go through, but eventually we whittled that down to a small handful who we actually Skyped with on the television in my office. Then, we got that group down to a smaller group of three that went through a more thorough interview."
         As Evans and Justice narrowed down the pack of potential candidates, they felt that Downes exhibited best the qualities that they were looking for.
         "Mr. Downes has three things that make him stand out," said Evans. "He is an excellent communicator and is very good at reaching out to people, listening, and making them feel like they are a part of what's going on in athletics. He has a real good sense of, and knew before we even started talking, what the values of our athletic program and school are. That is really important to us because we feel like our athletic program is on the right path, and we don't want someone who would run off the rails with our program. Having incredible experience at this position, there was no question that Mr. Downes is the person for the job."
          With Downes now officially positioned in place, Evans and Justice share their thoughts and anticipations of the future of the athletic program.
          "I think the thing that I'm most excited for is really using our athletic program as a way to develop leadership in the student body in a more intentional way," said Evans. "Athletics can be fantastic in terms of teaching values, staying in shape, and competing which will all still be true, but I think there is a great opportunity for leadership development."
          Justice too shares his anticipations for the athletic program's future, stating his excitement for the connection between athletics and academics.
          "I think he brings an incredible depth of experience, a very high level of professionalism, and a sense of the interplay between athletics and academics," said Justice. "He and I have already had a lot of great conversations about how we can support coaches in their work with students, and how coaches can support teachers' work with students. This is crucial to our community because coaches really are the most influential people aside from parents."
          Recalling on his past as a student-athlete, Downes recollects his own career in high school.
         "I grew up in a school up in Baltimore, Maryland called St. Paul's," said Downes, "It had a challenging but also nurturing and caring environment that wants the students to have the opportunity to do great things, very similar to Westminster."
         The hiring of Downes was one without hesitation.
         "He has the experience, thoughtfulness, and vision for where we are headed," said Justice, "I have no doubt that Downes is the right man to lead Westminster's athletic program, and I'm excited to see what he does with the department this year and in the future."