BarnCats wow regional and national communities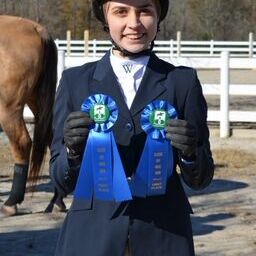 The Westminster equestrian team is without a doubt one of the schools least-known athletic teams. Although Westminster always had a barn and stables, the equestrian team was first established in 2009, and since then the team has kept a low profile despite success in competition.
"I knew people rode horses," said junior Naitiah Ulysse, "but I never knew that Westminster had an actual team."
Westminster used to have a barn and a practice ring at the summer camp about 30 years ago, called the Westminster Stables. The Westminster Stables offered riding lessons and horseback riding. Riding ultimately became a part of Westminster's physical education program.
Unfortunately in the 1980s the Westminster Stables was taken down and the equestrian program at Westminster ended. But in 2009, due to the enthusiasm and perseverance of several parents, students, and faculty members, the equestrian program was resurrected. Since 2009, Westminster has had a full-fledged equestrian team coached by community coach Betsy Aliffi, even though they do not have a barn on campus anymore. Betsy Aliffi works at the Atlanta Hunts Club and brings her lifelong love of horses and coaching to the team, known to a few at Westminster as the "BarnCats." Her unwavering dedication to the success of the equestrian team has helped team members as they train and compete in interscholastic events throughout the southeast. Equestrian is sanctioned by both the NCAA and the International Olympic Committee. Because the Georgia High School Association (GHSA) does not recognize equestrian as a varsity sport for now, the BarnCats are classified as a "club" team at Westminster.
"The team practices out of the Atlanta Hunt Club, one of the top show barns in the Southeast," said senior co-captain Charlotte Warren. "Typically we have 16 to 20 members made up of both middle and high schoolers. We practice every other week for over an hour. Most of us on the team also ride individually outside of school which is why we don't practice that often as a team."
The BarnCats compete in the Interscholastic Equestrian Association (IEA), a national association started by Westminster alumna Roxanne Lawrence. IEA has placed difficult rules and regulations to make the sport very challenging.
"In IEA you always ride a random horse, which your coach draws out of a hat for you at the beginning of every show," said senior co-captain Frances Spencer. "This makes it challenging because it is a horse you have never ridden before."
Because the riders do not compete with their own horses, competition is challenging because each horse has its own unique temperament, which the rider must adjust to in order to compete. The judges will then judge the rider based off of their position and form on the horse while going through the riding course.
Success in local competitions sends the team to regionals where it represents a section of Georgia, followed by zones, which are designated sections of the country, and then onto nationals. Nationals is the final stage of competition in which teams from all over the country compete for national rankings.
On Jan. 9, the BarnCats competed in a competition at Wills Park in Alpharetta. Although only four members of the team competed in the competition, the team performed well. In her possibly last show as a BarnCat, Spencer placed first. Middle School student Sara Ann Brackett also placed first in her event even though it was only her second time competing.
The Equestrian team also won first in a competition in early December which qualified them for the regional competition in February. Looking ahead, the BarnCats hope to qualify for zones and IEA's national competition in April.
The BarnCats have never made nationals as a full team but team members can qualify individually and Westminster has historically sent at least one individual rider to nationals since the team's inception in 2009. Their previous success is a driving force behind their team motivation as they head towards nationals this spring.
"Nationals is always our team goal," said Warren. "Maybe this year we'll make it."
In preparation for their team competitions, the team has many strenuous practices at the Atlanta Hunt Club in Smyrna.  The practice involves not only perfecting their horseback riding form but also caring for their assigned horses.
"During a typical practice, we'll get there, groom our assigned horses, clean their hooves, tack up, and get on," said junior Anna Harrison. "Once on, we warm up, both with and without stirrups."
For the equestrian riders, warming up includes walking, trotting, and cantering. After that, the riders practice jumping fairly simple courses for about 15 minutes. They then spend time caring and cleaning for their horses including hosing them down, brushing them, cleaning their feet again, and if the weather is cold, putting on their blankets. Their long practices and time-consuming commutes to the Hunt Club show their determination and dedication to the sport.
The team is composed of a boy and girls from a wide range of ages starting in middle school through high school. They go to the same competitions together even though they do not compete in the same events. Currently, there are 15 girls on the team and one boy, sixth grader Noah Wahl.
"I don't know why more boys don't ride, because it's an extremely difficult yet rewarding sport," said Harrison. "At the highest levels, boys and girls are usually split about evenly. In Europe, there are typically also a lot more boy riders."
For the rest of the season, the BarnCats are working hard to qualify for the first time as a team for IEA National Championships.
"That's the dream," said Harrison, "for our whole team to make it to Nationals where we can represent Westminster."