Football team begins historical fall season
Wildcat football has always been an essential part of the Westminster community, and although it was up in the air for a while, the GHSA has allowed the Cats to return to action this season. Hoping to make a deep run in the playoffs and compete for a state championship in December, the team has gotten off to a hot start.
Taking down rival Pace in a defensive battle with a final score of 7-3, along with defeating a tough St. Pius X team in a nail-biting 27-24 victory, the Cats started off the year 2-0 before falling to a strong GAC team. After starting 0-2 last season, this solid start has impressed many football fans across the state.
"I am really encouraged by the fact that this team is playing at such a high level so early on in the season," said special teams coordinator Adam Pullen, . "We are in a tough region with four teams being ranked in the top ten in the state, so we need to be at this level to compete."
While Wildcat success is nothing out of the ordinary, many changes have come this year as a result of COVID-19. Most, however,  are willing to accommodate these changes in order to play.
"Everyone really appreciates the days we get to go out there and play more than they used to," said Pullen. "The players are grateful and more motivated."
In some ways, things are returning to normalcy after the season was up in the air for a while. This is due to many of the safety precautions taken by the coaches and players to ensure that the Cats will continue to be able to take the field each week.
"We now have to wear masks on the field, and when we are not hitting, we have to spread out," said senior George Corbin, starting center for the football team. "The one positive is just that we get to play. I could not be happier that we are allowed to play each week, but this team definitely has a different dynamic than previous years with us not able to bring all the players to the game. Many of the young players do not get to experience being on the sideline for a varsity game."
As a result of the pandemic, WCAT has also been forced to step up big time, being tasked with the job of bringing Friday night football games to students and fans digitally. Thousands of fans have relied on WCAT, and through three games, the team has delivered flawlessly. Many have been thankful to see the Cats in action despite the current state of the virus.
"Football games have always been super fun to watch and support so I'm so glad I have been able to still experience them through WCAT," said senior Nick O'Reilly.
While the viewing experience is certainly different for fans, there have also been big changes in WCAT broadcasts this season. 
"Broadcasting has been extremely different this year," said senior broadcaster James Carr. "In the past, we brought teams of about 20 people to every game, and had a large and intricate broadcast at the game. This year, we have had to greatly alter how we operate on a game-to-game basis. For the past two away games, we have had the bulk of our crew at the stadium in the box, which is where we broadcast coverage of the game."
As such, the award-winning WCAT crew has had to improvise and adapt. Each setup presents new hurdles with respect to different schools' varying COVID-19 policies. 
"Our strength is that we have a group of leaders that are great at thinking outside the box and coming up with new ideas to make all of our content interesting and unique," said Carr. "Especially this year, our group deeply cares about making these broadcasts the best they can be. The seniors have taken charge in order to ensure that happens."
Both behind the WCAT cameras and on the field, many upper-level students have stepped up and become leaders during these uncertain times. With lots of young and fresh faces, leadership is a key for success for the Cats. 
"The seniors have done a great job of keeping everyone motivated," said Pullen. "Senior Lowell Jones is one in particular who has really stepped up, commanding the defense after being a key contributor for these last few seasons."
Other leaders, like junior Robert Clarke, a warrior on the field who plays every snap on both offense and defense, have also led by example. While there are many positives about the team thus far, all members of the program seem to agree that there are definitely some things to be worked on.
"We are definitely working on developing some of the younger guys, as depth is something we really want to improve on," said Pullen. "Right now, we have a bunch of guys who play both sides of the ball and we want to improve our other players in order to give them a rest."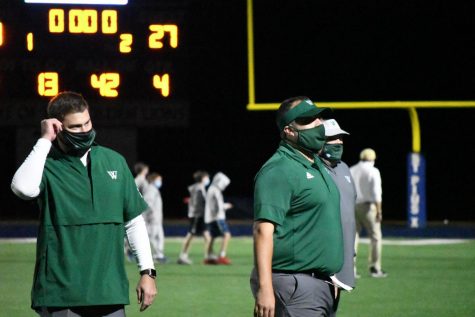 While a lot is different about this football season, the Cats plan to continue their early success and follow in the footsteps of the 2015 team by bringing home a ring. Be sure to support the players and WCAT members as they continue their season.