Varsity football player Ejike Adele to continue athletic career in college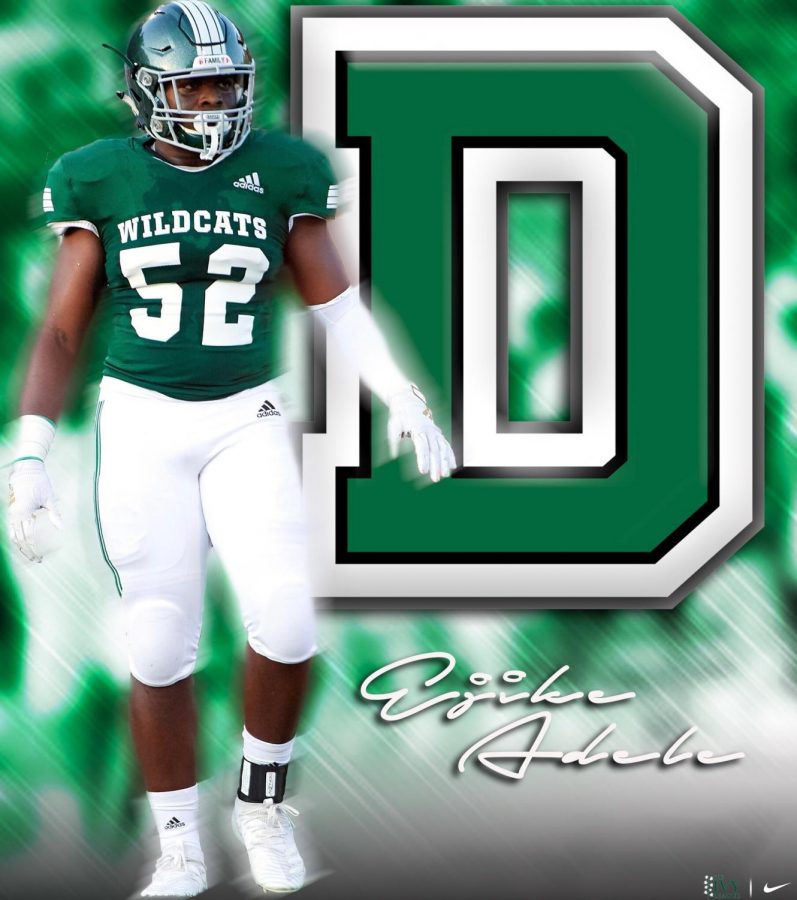 Unlike the previous years when fans flocked to the stands to cheer on the Westminster varsity football team, the school has taken extra safety precautions and enforced restrictions on both the team and fans due to COVID-19. Luckily, Westminster was recently able to accommodate more fans in their stands for the GAC, Redan, and Douglass games. After their hard-fought loss against Cedar Grove, 10-24, the Cats are 4-3 on the season. The defeat against Cedar Grove nearly pushed Westminster out of the state playoffs, but they squeaked in due to positive COVID-19 tests on the Sandy Creek football team that removed the Patriots from playoff contention. 
However, the players understand that they are fortunate to be a playoff team this year, as they have recognized some areas for improvement throughout the season. During the most recent games against Redan and Cedar Grove, the Cats were emphatic in their goal to have better control of the ball. 
"For the Redan game, we put a lot of focus on avoiding making mistakes that we could control," said senior George Corbin. "The Cedar Grove game was also us really focusing on that idea of control and possession of the ball, especially since we wanted to give our defense some rest and ultimately, we just didn't want the game getting away from us so easily."
After a strong performance against Cedar Grove, the Cats hope to carry this momentum into the playoffs, where they will be facing Oconee County. They look to extend what will be the last season of football for the majority of the seniors. 
However, senior Ejike Adele will continue his football career after this season. Adele recently announced his commitment to continue playing football at Dartmouth College. As a defensive end and an offensive guard, Adele has been a vital part of the Westminster team thanks to his leadership and tenacity in practices and games throughout his years on the team.
"I am incredibly proud of Ejike and I know that he will continue to amaze me as he heads up to Dartmouth next fall," said head coach Gerry Romberg. "I appreciate his teachability and perseverance and I know he has so much to offer to the Dartmouth team."
Adele credits his coaches and the workouts at Westminster for helping him get in shape and ready for college ball.
"Getting out there every single day for about six weeks in the summer for practice, lifting every morning, and then having long practices everyday after school is super intense but so worth it." said Adele. "The coaches are incredible and they have taught me so much about myself and about teamwork. I can see that Coach Romberg believes in instilling great values in us and he has coached me to be tough and to not let bad things get to me and affect my playing capabilities."
While determining where he would spend the next four years, Adele considered both the academic and football opportunities various colleges offered.
"During the time that I was still unsure of what college to commit to, I was also highly focused on places where the school's academics were revered since that was my first priority," said Adele. "I chose Dartmouth because I believe they offer me the opportunity to be successful as both a football athlete and a student."
With the season nearing its end, Adele is eager to continue fighting to advance in the playoffs and is equally excited for the opportunity to play on the Dartmouth football team for the next four years.
"It's a bittersweet feeling since I have gotten so close to everyone on the Westminster team and have made so many great memories with them that I know I won't ever forget," said Adele. "I know it will be weird at first to not be playing with my friends from school, but I am really looking forward to hanging out and spending some more time with my new team. I am excited to apply all that I have learned from my great Westminster coaches and friends into this next chapter of my life."