All-state chorus tests school's vocalists
Attendees of the All-State Chorus concerts on Feb. 25 were treated to a variety of hand-picked voices from around Georgia. The concert came after 250 vocalists successfully passed regional and then state auditions. The chorus is composed of six divisions: middle treble, middle mixed, 9-10 mixed, 11-12 mixed, senior women, and senior men. Each division is full of either high school or middle school students who successfully made it through regional and then state auditions, and they all share one common interest: a love of singing.
This year, multiple Westminster students were chosen to represent their school in Savannah, Georgia as members of the state chorus. In order to be selected, students must pass two different auditions.
"The first audition is the most difficult," said freshman Lyric Christian. "This is where they test your music theory skills and tone quality."
Many students agree that the first audition is generally the more difficult one, especially due to the variety of skills the judges test them on.
"In the first audition, the singer sings scales, a solo, does sight reading, takes a vocabulary quiz as well as a mixed audio-written test," said junior Sandy Sharis. "If [a] score makes the cutoff, they put the singer in a choir and send them the music for it and a rehearsal CD."
Those who survive the first audition then learn the music they are sent, which is comprised of the same music that will be performed during the concert on Feb. 25.
"In the second audition, you sing for two judges," said Christian. "They usually pick the hardest passages for you to sing. Those who sing at least 70% of the designated passage correctly are accepted into the chorus."
This year was Christian's third year auditioning, and Sharis's fourth. Despite their experience, both experienced pre-audition jitters.
"I normally get very nervous during these auditions, especially since anything can be thrown at you," said Sharis. "In some types of auditions, all you have to do is memorize the way you'll sing a certain song or perform a monologue, but you never know what to expect."
Christian has developed a few tactics to help her calm down before she sings for the judges. "Before each audition I have to listen to the radio on my way," said Christian, "and I cannot eat a lot before the audition."
The audition process has changed a little since both girls auditioned for the first time.
"Last year, they added the vocabulary and tricky audio multiple choice questions to the auditions, and got rid of the tonal memory," said Sharis. "This year's audition was a relief because the audio malfunctioned during a lot of auditions, so they decided not to even count that entire section, which I might have failed."
The scoring system for the first audition has also changed significantly.
"The first year I did it, they scored the audition with everyone starting with 10 points, and each pitch you got wrong they would add a point to the 10," said Christian. "So getting a 10 would mean you got a perfect score. This time, the scoring was done out of 100, taking away points if you missed a pitch."
Those who make it to the chorus have a lot to get excited about.
"I looked forward to hearing what everyone would sound like together and working with some of the best directors and learning new techniques," said Christian. "The music our choir sand this year was my favorite of any All-State music so far," said Sharis.
Socially, All-State is an exciting time of year for young singers as well.
"Last year I made some great friends," said Sharis, "and we planned on meeting up and hanging out sometime during All-State this year."
As amazing as the experience in Savannah is, what each singer brings home is even more important.
"This year," said Christian, "I hope to grow as a musician even more, as well as learn new vocal techniques."
Sharis hoped that the concert would truly show what unites every student on the stage.
"Though it's a competitive audition process on the surface, we could all show the audience our passion for music," said Sharis. "I love how everyone at All-State loves what they're doing. It's a lot of hard work, but art is truly art when it inspires people."
About the Contributor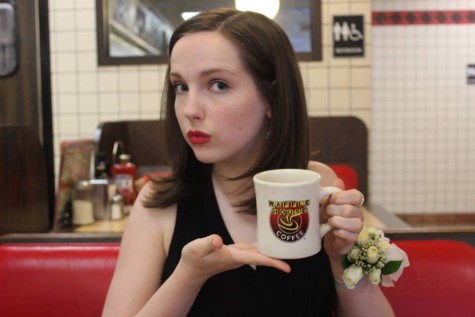 Laura Russell, Online Editor
Laura Russell is the Online Editor for the 2014-2015 school year. When she's not updating the Facebook page or inputting new Bi-Line articles, you can...