Content changes made to Spamalot
Every year around April, the hot topic discussed among all of the Westminster Players is what productions will be chosen for the next season.  Everyone has a different opinion on which productions would be best and rumors circle as the year comes to a close.   Meanwhile, Kate Morgens, Head of the Theater Department at Westminster, gathers all of the directors at Westminster as well as Linda Cherniavsky, Head of the Arts Department, and any other faculty members involved in theater productions to pick next year's shows.
"We have a panel of people that's basically all of the performing arts people from the middle school and upper school except for the band faculty," said Morgens. "We make a huge list of musicals and plays, and my dream is that we have at least one Shakespeare or classically-minded piece.  Then we also try to balance out our season; for example, last year we did Legally Blonde, which is sort of a girl-focused show and this year Spamalot was more of a boy-focused show."
The Theater Department at Westminster also considers the students when choosing the productions for the upcoming year.  They keep in mind what kind of talent the Westminster Players are bringing to the stage and use this knowledge to pick productions that will best showcase the actors that year.
"We try to create a varied program year to year," said Cherniavsky. "When we are looking at different plays we don't pre-cast, but we do think about the strengths of the student body that we know of; for example, people that have been in the Westminster Players before and might be cast.  We try to match what we have [in our student body] with the play we select."
Students who participate in the theater productions at Westminster generally enjoy every show's unique story and the variety that Westminster encourages within its season.
"I find Westminster's theater really interesting because they are very into the diversity of their shows," said Westminster Player and junior Jake Smith. "They love putting on huge comedic musicals because that's what grips the audience; the funny Broadway is the thing that grabs people.  They also like doing shows like An Experiment with an Air Pump which deals with really interesting scientific and historical issues.  I find it really interesting that Westminster loves doing the crowd-pleasing comedies but they are also willing to challenge the viewers' intellect, understanding, and own personal beliefs with the theater productions they choose."
When choosing shows for Westminster, however, there is a line that has to be drawn between what is appropriate and inappropriate for high school productions.  Selecting plays or musicals that have more mature content always comes with the question of whether or not it is appropriate for Westminster to show this production to its high school.  The theater department, though, has come up with ways to put on more mature shows while keeping them appropriate for high school, such as putting warnings on the posters and advertising that the play may be for mature audiences.
"We have to be really careful [when dealing with mature content]," said Morgens. "In An Experiment with an Air Pump there is written into the script that there is a hanging onstage of the servant and we chose not to do it.  I think with some of the stage directions you are able to choose not to do some things.  We also have to be careful with the copyright for things because sometimes you are not allowed to do them.  We try to be conscious of material and copyright, as well as our audience, and if it is mature then we do put a warning."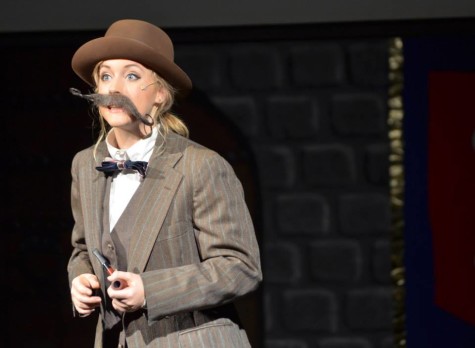 Allowing students to be involved in plays that have mature content gives them more freedom to explore interesting issues and topics.
"The themes like in An Experiment with an Air Pump, Legally Blonde, and Spamalot were kind of mature revolving homosexuality and scientific issues," said Westminster Player and junior Alex Bean.  "I like that Westminster is letting us do shows like that, although we do censor a lot of language and we could not do the Jewish jokes [in Spamalot].  So there is some leeway, but I wish there could be more."
Westminster specifically chooses what kind of content should be left out of each individual play in order to make the production more presentable to the high school.  They have, however, kept some mature material such as in An Experiment with an Air Pump and Clybourne Park, to challenge the audience and bring up academic questions that are relevant for a school environment.
"[Westminster] deals with mature content in a lot of ways," said Smith. "I feel like there are certain shows where there is material in it that if cut defeats the point of doing it.  To use An Experiment with an Air Pump as an example, one of the big points of that show is morals of science and stem cell research and many people at Westminster would disagree with the show's views.  Westminster could have easily cut things like that from the show and swayed the argument but they didn't and I love that they were willing to not cut it."
Choosing a variety of shows from comedies to dramas with different levels of mature content allows Westminster to also attract different types of audiences from its student, faculty, and alumni body.
"It's funny, I think different audiences like different things," said Morgens. "People like to come see comedies likes Noises Off and Legally Blonde and that's why we pick those.  But then, I think there is a different set of people who will like Hamlet or An Experiment with an Air Pump.  So if we market it in a way so that the audience knows what they are in for, they'll come for different purposes."
A lot of consideration was put into the appropriateness of Spamalot, the musical for this year, and what the theater department could do to shape it properly for Westminster's audience.  Spamalot is a Tony Award winning musical based of the British movie, Monty Python and the Holy Grail, which does feature crass jokes as well as a type of humor that can be offensive to some viewers.  In the end, a whole song was changed for Westminster's production of Spamalot along with the usual cuts of vulgar language and jokes.  This reshaping of the song was a result of much discussion among the faculty members and the cast of the show as to whether or not it was appropriate for Westminster.
"I think [Westminster] gets too scared sometimes when something is presented that isn't harmful at all and in certain situations more disrespectful to take out rather than to just leave in," said Smith. "I think Westminster sometimes lets its fear take the best of them and doesn't trust their audience as much as they should.  In theater you want to be able to trust your audience to be able to handle what you're throwing at them because you are offering them what the writers wanted to portray.  If we were willing to keep in a bunch of the other material [in Spamalot] I don't understand why we backed away from that song and personally it's almost more offensive that they weren't willing to give us a shot and trust us to take it in stride.  They were so certain of the scariness of the topic that they weren't even willing to give it a shot."
Although the rewrites that were made to one of the songs in Spamalot caused lots of discussion, Westminster's production of the show was a huge success among its student and faculty body.  The cast was able to honor the humor of Monty Python while keeping the show appropriate for Westminster's school environment.
"I think Monty Python is pretty funny and like all other comedy, they make fun of everybody," said Bean. "It's like South Park or Family Guy where everyone gets made fun of and it's fair that way and funny as well."
In a school environment there is always a boundary on the types of shows that can be produced because of the content involved in some more mature shows.  Westminster tries to push its audience and allow them to view thought provoking shows while also giving them comedic relief in other productions.
"[Content] is a consideration," said Cherniavsky. "We are constantly thinking about how there are plays we haven't done yet and we are constantly examining whether it is the right time to do a certain production.  There are plays that we choose not to do because it may not be the right time now but that doesn't mean they might not be right in the future."