Small cast brings big laughs to production of Boeing Boeing
A classic farce written by French playwright Marc Camoletti, Boeing Boeing elicited shouts of shock and laughter when it was performed by a small cast of Westminster players on Nov. 14 and 15.
 Set in the 1960's, the play revolves around swinging bachelor Bernard, who lives in Paris. His attempts to juggle three fiancées who are all air hostesses go awry when the mistresses begin to meet each other.
 Director Thad Persons and  his cast of six, rehearsed tirelessly to put on a hilarious production.
"It's a zany, wacky, fun comedy," said Persons. "When one of the mistresses is with Bernard, the other two are up in the air. It all goes well until a new plane is invented that brings the women to their destination quicker. Things go south when they all start to meet each other."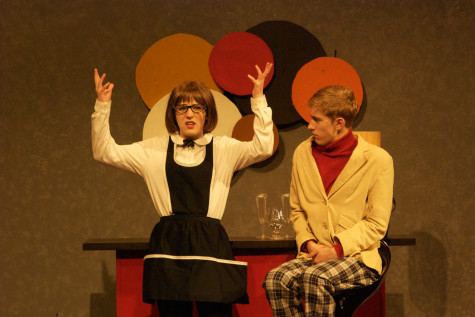 Sophomore Isabelle Dadd worked alongside the cast as the show's student director and agreed with Persons's assessment.
"I think the play itself is a very comical one, and a lot of it is through physical comedy, said Dadd. "In certain scenes, it is definitely hard for the actors to keep a straight face, because there is a lot of crazy and outrageous blocking."
The theater department realized that there would be two comedies performed back to back: Spamalot and Boeing Boeing. Fortunately, department head Kate Morgens put careful thought into her selection of this year's lineup.
"She kept two main questions in mind," said Persons. "'How can students have a variety of experiences?' and 'How can they have a lot of different options on stage?'"
Although now it may seem like the players are only performing comedies, this is certainly not the case. They will soon be attacking Shakespeare's Hamlet, which is most definitely not to be laughed at.
Morgens's balancing act extended into other areas as well. While Spamalot is a predominantly male musical with its focus on the knights of the round table, the king, and Patsy, the theater department created a counterpart in Boeing Boeing, which has four female and two male roles.
The audition process for the comedies was extremely convenient for students. There were joint auditions for the two productions, and each student had to fill out a form indicating their preference of show. Of course, the directors also made choices based on who they felt could best fill a particular part.
Since the cast of Boeing Boeing was so small, the students chosen to act in that play developed closer relationships with each other.
"I have really enjoyed being in a cast with only six people," said senior Alex Foote, who plays Gloria in the show. "It is great being in a show with a large cast, but there is also something really intimate about being in a show with a small cast."
Each actor put forth an outstanding effort when playing their part. However, there were some apprehensions as to whether or not the audience would understand the use of the French language and cultural jokes. Fortunately, Persons's directing techniques encouraged viewers to laugh.
"Mr. Persons has a lot of good direction, and you can tell he is experienced," said Dadd. "He makes the lines into human interactions, making them as outrageous as possible, yet still keeping them rational."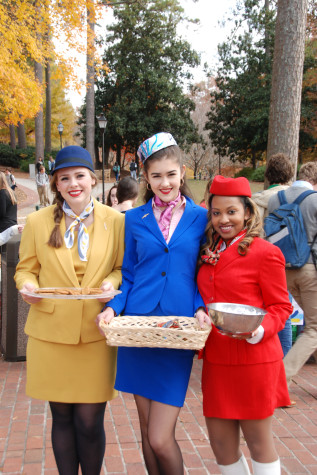 And Boeing Boeing is outrageous-outrageously popular. In 1991, the play was listed in the Guinness Book of World Records as the most preformed French play throughout the world. One of Westminster's French teachers, Patrick Mourjan, even remembers the play's debut.
"I was in elementary school when Boeing Boeing came out," said Mourjan. "I was too young to pay attention though. Now that I look back on it, I realize it is a bit of a touchy subject. It is in fact about a man with many mistresses, so for our school, being Christian, it is a bit risqué."
The show as performed at Westminster bore a very close resemblance to this original version. However, for the cast, the directors, and the audience, Boeing Boeing was just all about having a good laugh.