Kevin O'Gara Lands Deal with Target for Interior Design
While most high school students are still searching for their passions, senior Kevin O'Gara has already found his – interior design, and has already begun pursuing it beyond the classroom. Two years ago, O'Gara started a personal blog, which documents his ideas and finds. The blog first started out as a general lifestyle blog, but has now evolved into a blog focused on interior design, which O'Gara eventually discovered to be his true passion. While being a student at the Oxbow School in California for a semester last year, O'Gara spent time honing his skills and interests for interior design, focusing on home interior design for his final project. Through this project, he explored the meaning of interior design in a contemporary context.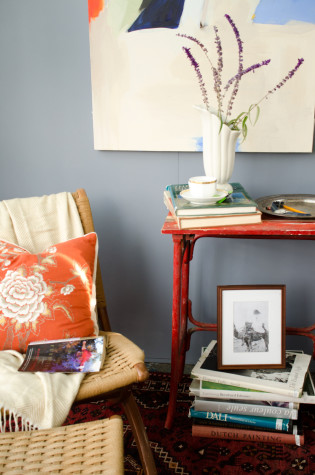 "Because interior design is so personal – because it tells a story, it feels special to me," said O'Gara, "Thinking about how homes are a reflection of its inhabitants and thinking about how you can create a space that is perfect for you is interesting."
        Residential design has become O'Gara's favorite type of interior design, in which he has developed a style of mixing the old and new.
        "I think classical design can be even more appreciated when mixed with modern and contemporary pieces," said O'Gara.
        Along the way, there were several factors that affected O'Gara and his style of design, one of the most important ones being his family dynamic.  
        "Growing up in a family really rooted in our home life was definitely important," said O'Gara,  "We eat family dinner every night together, and that's a really important part of our life. Having that kind of experience every night in our home has been very influential. "
        Apart from personal experience, several role models have also influenced O'Gara in his art career.
         "James Turrell – he's an artist works with light to expand your definition space and sense of place," said O'Gara. Turrell has played a factor in O'Gara's preference for light spaces and large windows. Another major influence is Gaston Bachelard, a French philosopher of poetics and the philosophy of science, who has shaped O'Gara's philosophy of the home.
        O'Gara has interned the last two summers at Lineweaver Design and Communications, a graphic design and branding boutique agency focused on clients in the interior design, home furnishings, and gourmet food and beverage categories. O'Gara was not only able to offer artistic ideas, but also business perspectives which helped him work well with various client projects. O'Gara's creative talent, enthusiasm, and professionalism impressed his advisor, John Lineweaver. Lineweaver helped O'Gara on the business and creative side, taking him on through projects from start to finish and immersing him in several jobs and providing guidance along the way. He noted O'Gara's deep and unique perspective made him stand out.
         "Kevin has the voice and eye of someone well-beyond his years," said Lineweaver, "He is already a creative leader in the blog world and will continue to amaze us with great things as he pursues his creative and professional path."
         O'Gara not only gained experience from the internship, but was also able to contribute to the agency.
        "Kevin pulled together a beautiful ad campaign for Jerry Pair Leather as well as brainstormed new interactive initiatives for interior designer Suzanne Kasler," said Lineweaver, "They were top notch. He also conducted numerous photo shoots for clients as he is a great photographer. He shot a new campaign for home store CK SWAN in Highlands, North Carolina, which was a highlight as we had a store full of items to work with to create vignettes and product shots. It was a two-day shoot. Kevin was a creative leader on the team and brought great images to life for the start and the brand at large."
        O'Gara's blog has undoubtedly been the stepping stone to his success. To attract people, he was proactive. Instagram has served as an important part of that process, as he has used it as a visual realm and creative platform to engage the online creative community. Besides Instagram and social media, O'Gara also sent emails to individuals and brands, reaching out to people about his blog and brand and possible collaborations. He also participates in an event every year called the One Room Challenge, a biannual event that takes place every April and October. Each round, twenty designers are invited to take the challenge and transform a space. Every Wednesday, the designers document their process while sharing their sources and professional advice over the six weekly posts. O'Gara found the challenge to be a great way to be immersed in the community of home décor.
        O'Gara struck a deal with Target for dorm designs this past summer.
        "I was connected to this network," said O'Gara, "They knew that Target was getting ready to have a back-to-school campaign, and was looking for bloggers."
         Participants created their own posts around Target's dorm designs, and would post the assignments to be evaluated. O'Gara created his own design in his sister's bedroom and photographed it. Amongst the group of designs from other bloggers in the campaign as well, O'Gara's was picked, and for each assignment, receives a stipend of approximately $200 to $300.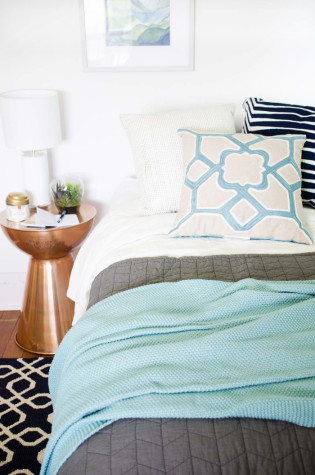 O'Gara also has some advice for young artists or young bloggers with similar interests who are pursuing their passion in this area.
        "I think one of the best things of blogging is being able to start out with not a very specific focus," said O'Gara, "It was the best place where I could write and share a couple times a week, which was fantastic for practicing and honing in on my own style. It definitely takes a lot of patience and attention to detail to ensure your reader has a cohesive experience throughout the whole blog."
        Lauren Sleat, a former art teacher at Westminster, taught O'Gara in the classroom.
        "He has a distinct sense of sophistication and design, being sensitive to contemporary fashion design and home décor." said Sleat. "Keep your eyes open for this rising star. You can say you knew him when he was a successful high school designer."