Running Through History: celebrating 20 years of victory
This summer, Running Through History will embark on its 20th anniversary trip as a group of 36 rising seniors leave for Europe on May 31. History teacher and boys cross-country coach Joe Tribble, who has led the excursion since the outset, first established Running Through History in 1995 as a way to train his runners. The original concept, however, was first introduced by then-freshman Brandon Summers in the 1992-1993 school year.
"It was his idea," said Tribble. "He asked me, 'Coach, what if we did history and trained for cross-country in Europe?' So I said, 'Brandon, that's a great idea.'"
The initial seed having been planted, the course came into being a few years later when those freshmen were about to become seniors. Though Summers had been involved in a horrible accident and had been experiencing numerous physical health issues, he was still able to attend the trip and see his idea come into fruition.
"He eventually got to go and take the course, and that's how it all started," said Tribble. "I had always wanted to do something like this, and I knew that I had a good enough foundation where I eventually could open it up to the school."
The class originally started with 12 boys and four girls but has grown to be quite large over the years with as many as 40 students interested in trekking across Europe. Destinations include Paris, Switzerland, Berlin, Normandy, Rome, London and Germany, to name a few. The Westminster students traverse the whole continent in about a month, during which they are able to experience a wide array of what Europe has to offer. While visiting various ancient landmarks, they learn about the history that took place right under their feet.
"I like every place we visit," said Tribble. "All these places… how can you say which one you like better?"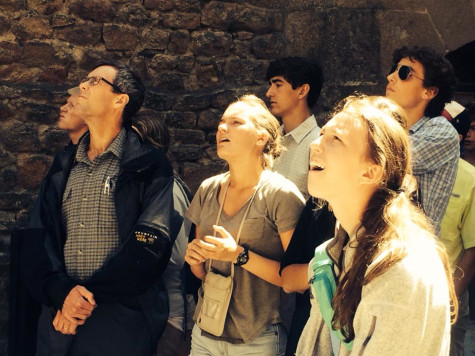 Although the course destinations change throughout the years, the group always visits several of the same locations and destinations, those that are important to the history of the world. For instance, every course will visit the legendary Louvre museum, as well as places like Stonehenge or the Vatican.
"My favorite memory of the trip was the Matterhorn," said senior Mallie Egan. "Never have I been so cold or so tired, but it truly made our group come together towards one common goal."
History and friendships go hand in hand on this trip, with the students supporting each other and working together over the difficult month. Although many of the participants belong to the girls or boys cross-country teams, new relationships arise between people from all types of school backgrounds.
"We've all done cross country for a long time so we already enjoyed running, but just the idea of running with classmates abroad was really cool to me," said senior Elizabeth Ferguson. "It's the best trip ever and everyone definitely needs to do it."
Furthermore, due to its hands-on, on-the-move mentality, the class allows students to grow and educate themselves in ways much different than those in a conventional classroom environment.
"I never thought that history from so long ago could feel so alive today," said Ferguson. "Experiencing everything abroad that we had studied in our classes enabled me to learn in a completely new way."
As a result of its own extensive past, this program has evolved into something of a ritual that has become a major part of the lives of rising seniors. Younger students already look forward to spending their summers abroad after junior year.
"I can't wait to go on Running Through History. It's going to be awesome to hang out with my friends while learning in Europe," said junior Andrew Taylor. "It's great to be a part of such a cool tradition at Westminster."
This revolutionary course, one unique to Westminster, has allowed over 500 rising seniors to go through an unforgettable, life-changing experience, and will continue to do so for years to come. As Running Through History nears it's 20th year, its development and progress over time has helped it become an important aspect of the school's very own history.
"The students are a part of a history that goes back 20 years," said Tribble. "It's bigger than they are."