Peer leadership expands to Middle, Lower School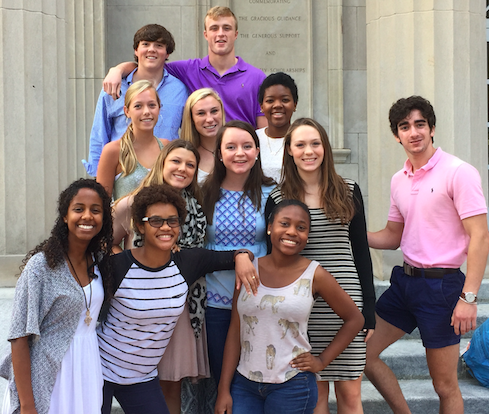 A prominent Upper School tradition, the Peer Leadership program has undergone a major redesign for the 2015-2016 school year. Spearheaded by diversity coordinator Judy Osborne, the new Peer Leadership program has taken on a different form. Expanding beyond the traditional freshman-senior advisement program, the revamp has expanded to broader initiatives.
For many students, freshman year seems daunting, and it can be difficult to acclimate to the unfamiliar environment of high school. As such, in years past, peer leaders have served as guides to the incoming freshmen.
"My peer leaders took on the role of mentors, old enough that they had bags of experience and helpful tips, but not so old that I found it difficult to relate to them on a student-to-student level," said sophomore Alan Xu. "It felt genuine when my advisement group gathered in a single room with our two peer leaders, as we shared whatever was on our minds, knowing that nobody would judge or rat you out."
Helping freshmen transition into high school used to be the main goal for peer leaders in previous years, but now they create relationships with students of varying ages and are even going on field trips to work in various communities.
"The main difference is that the frequency in which we will be working with the freshmen is less," said Osborne. "We will be working with both Lower School and Middle School students. We will be off campus as well, going to some community programs to get involved with folks out in the world."
The administration's desire to revamp Peer Leadership can be attributed to a number of fundamental changes that have started this year.
"The advisement program is different, the schedule is different, which is a big part of it, and we weren't doing as much for Peer Leadership in previous years," said Osborne. "So, this year gives us the opportunity to leave campus more often because we have longer schedule blocks, and while this impedes the after-school portion—which is when we used to conduct Peer Leadership—it made room for more field trips."
These adjustments generated confusion among current peer leaders because they were largely unaware of how the program would be redesigned.
"We as freshmen really enjoyed the Peer Leadership program, but we didn't know what [this year] was going to be like," said senior peer leader Zack Saffran. "Because, although it's going to be great that we're going to charities and giving back, that's not what we thought Peer Leadership was going to be when we signed up."
Saffran's feeling of surprise was a common consensus.
"I think a lot of people were looking forward to working with the freshmen, and although I can't speak for them in general, most people were very excited to interact with them, myself included," said senior peer leader Joseph Rodriguez. "So, I think other people in the class were a little bit upset."
Despite all the changes that favor a larger range of students of different age groups, Peer Leadership is as much about the seniors as it is about the younger students they mentor. According to Osborne, the program was centered on the seniors' ability to hold leadership positions in general, and so many activities on and off campus are for the seniors' personal growth. These include listening to guest speakers and interacting with diverse communities within Atlanta. Moreover, Peer Leadership fosters an environment where seniors can learn to gain a greater perspective on what it means to lead.
"Peer Leadership is a self-discovery course where you are learning about yourself, what you believe, why you believe, and how all those things influence how you become a good leader," said Osborne. "The Peer Leadership course is set up in chapters. We talk about race, faith, spirituality, family, and personal stories, so by the end, you will have felt that you've been on a journey to figure out who you are."
Although it may be too soon for freshmen to confidently assess how valuable Peer Leadership has been for them, it appears that the response among them has been positive despite the program's de-emphasis on freshman-senior advisement.
"I definitely enjoy Peer Leadership, and I think that it has been a very helpful," said freshman Caroline Clark. "The senior that was with us just seemed very knowledgeable, [and made me] feel more comfortable about my transition into the high school."
Similarly, despite the initial ambiguity surrounding the new nature of the program, many seniors still feel as though Peer Leadership affords them the opportunity to help shape and guide younger students.
"We're twelfth graders, so we've experienced a lot in high school," said Saffran. "Now we can give back not only to the ninth graders but also to other students, getting a real chance bond with them and help them through the next few years."